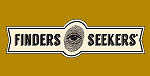 This story is sponsored by Finders Seekers.
With Thanksgiving celebrations coming up and Christmas just around the corner, impress your friends and family with something different to do as a group. Rather than sitting at the kitchen table playing the same old board games or watching the same old movies, add a little mystery to the night. Give yourselves a challenge to solve where everyone works together and wins. Spice up your gathering with mystery, clues and the thrill of solving a Finders Seekers puzzle.
The Utah company began when three friends who share a love of mystery and puzzles wanted to combine their passions and create an experience that can be enjoyed at home and costs a lot less than going to an escape room. "We want to bring friends and family together for collaboration and mystery while also learning about world cultures," said co-founder Cody Dingus.
Now shipping for Thanksgiving – for only $20
Adventure boxes are shipped on the 23rd each month, so order now and you'll receive it in time for your Thanksgiving gathering. Then you can finish the pie, let the dishes soak and spend a mysterious night experiencing something new. Use the coupon code KSL5 for $10 off and free shipping. That means you'll be able to try this new game for only $20 and you'll be the real superhero at Friendsgiving. Visit FindersSeekers.com to order.
Finders Seekers just launched a free online version of their game that allows detectives to solve a series of puzzles and see if they can finish within 15 minutes. Get started on the free mission here!
The mystery
Finders Seekers brings the escape room experience to your home, with monthly boxes that contain lots of cryptic clues and puzzles that you use to make your way through the "find" and reach the end of the game.
It's convenient and ready to play at home on a cold night or when your friends and family are gathered for a party. Each game experience is set in a different city around the globe, making it feel like you're anywhere but the living room. Each box contains clues, like a napkin, a torn sheet of paper, maps, ciphers and more. You use these pieces of evidence to solve the puzzle of each box. With 3-4 people, it can take 1 to 2 hours to complete.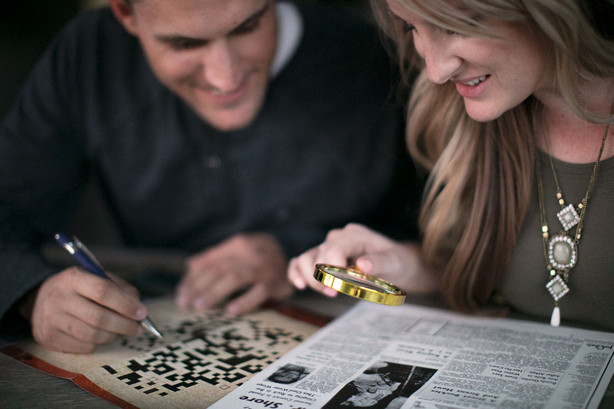 Culture and travel
Each month is a different city or country, making the adventure different every time. The Finders Seekers team does extensive research in person to be sure each adventure feels real and fresh. Past boxes include Paris, Beijing, San Francisco, Boston and London. November's box will take sleuths to Mont St. Michel, France, where they have to uncover the secrets of the quiet island.
"When we started, we thought it would be challenging to come up with new clues every month," Dingus said. "But two years later we've done over 150 puzzles and clues, and it hasn't been difficult at all. We get immersed in the research and traveling, and then we let the place dictate the feel and the puzzles themselves." It's almost like traveling to a different place with each box, minus the crowded airports and expensive travel fees.
Educational
You can also rest easy knowing that these games will be a good fit for your family, with no objectionable content. "We really want to provide an uplifting option," Dingus said. "You're able to solve fun, challenging mysteries and puzzles, but the educational, historical aspect means there's also learning involved."
Game nights with Finders Seekers is a win-win. Your group gets to spend time together pooling ideas and insights, having fun and even learning a bit. It's also worth mentioning, that for every box you successfully complete, you'll be entered to win prizes! Order yours on the Finders Seekers website to get started.
Want to check it out? Enter your email below and you could win a six-month subscription for Finders Seekers mystery boxes.
×