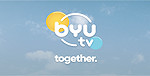 This story is sponsored by BYUtv.
Whether you subscribe to cable, satellite or a streaming television service, finding family-appropriate viewing fare is a challenge. Fortunately, BYUtv allows you to see a variety of great programming without subscribing to a monthly service.
Whether you want to watch on your TV, tablet, laptop or phone, you can skip the monthly bill and still stay entertained at home with these 10 shows. Best of all, it's free.
'Battle of the Ages'
Those pop culture references your parents and grandparents don't understand are finally relevant in this game show for the whole family. "Battle of the Ages" is a trivia show where the contestants are all in the family — literally. Three generations make up each team on this show, so everyone in the room can relate to someone.
The winning family of the show can take home a cool $10,000 for showing off their smarts. Stream it on BYUtv.
'Dwight in Shining Armor'
Teen life is anything but ordinary for Dwight. His accidental fall into an ancient, underground chamber awakens a whole world from the past that he is now part of. The teen is spellbound to protect a princess as villians from her world invade his modern hometown.
Season two is coming soon, but you can stream the entire first season on BYUtv right now.
'Dinner Takes All'
Figuring out what to make for dinner is more fun when a cash prize is on the line! Watch as families whip up delicious dinner dishes in the kitchen, all the while competing for $10,000. Seasons one and the start of two are online already — check back weekly for more episodes.
'Making Good'
Star of "The RM" and co-star of "The Singles Ward," Kirby Heyborne is the showrunner in the new show, "Making Good." From the popular vlog-style video to professional shots, watch as Heyborne joins different charities and volunteer organizations — no matter how unqualified he might be.
Heyborne applies for and works at a restaurant run by at-risk youth in the first episode of the show. Though he is neither a teenager or experienced in cooking or serving, Heyborne brings his light, comedic personality to what could be an awkward situation.
To keep up with his adventures in service, stream the show for free on BYUtv.
'The Fixers'
If demolishing, painting, sanding and fresh starts are what you prefer to watch on TV, you'll love "The Fixers" on BYUtv. This show isn't an ordinary home-renovation show because the team doesn't renovate homes. They visit impoverished and in-need communities around the world to help build and fix community buildings and other projects with one mission: to improve lives.
Watch their first episode — online now — as they head to Nicaragua to build a well and do some major repairs on a school.
'The Parent Trip'
"The Parent Trip" is for parents, pop culture experts and travel enthusiasts alike. Different celebrities have the opportunity to take one of their parents on an unforgettable trip and bond in ways only adventure can cultivate.
Watch celebrities like Annie Murphy ("Schitt's Creek"), Jennie Garth ("Beverly Hills 90210"), and Jaleel White ("Family Matters") and more take one of their parents on a trip of new experiences and emotions.
The first season airs September 2019 on BYUtv.
'Relative Race'
Genetics meets reality show in this popular program. Already four seasons in, the "Relative Race" is a competition for people of all walks of life to find new family members, complete challenges and win a $50,000 grand prize.
Each team has some mystery relative they're hoping to meet and learn more about, whether that be a biological parent, long-lost grandparent or siblings. Along the way, they must compete in obstacle course-like challenges against the other teams.
Watch season five on BYUtv, now streaming. Season 6 premieres September 22 on BYUtv.
'Studio C'
Your favorite sketch comedy group is back for season 10 on BYUtv. "Studio C" first began airing in 2012, and the sensational show is still going strong all these years later. The family-friendly comedy involves sharp-witted humor, goofy storylines and lots of talented performers.
Catch a lineup of new cast members and returning favorites, Tori Pence and Dalton Johnson on season 10 of "Studio C," as it premiers on September 30 on BYUtv.
'Tricked'
Practical, everyday jokes are the punchline of this show. Magician Eric Leclerc goes undercover in bakeries, stores and parks to prank and trick unsuspecting people. You can watch his mind-bending antics in all of season one online now, and the new season two of "Tricked," on September 30.
'Show Offs'
Fans of musicals and fans of improv can come together and enjoy the hilarity that is "Show Offs." With no rehearsals, scripts or forethought, this live show tests the talents of improv comedians and performers. But here's the catch — they get all of their prompts for the musical improv from audience members. So every episode is something very unique and new, just like every studio audience. Catch season one on BYUtv online beginning September 30 — for free.
Watch these shows and many more on BYUtv absolutely free — no subscription required (ever). See the full selection of shows on the BYUtv website.
×