This archived news story is available only for your personal, non-commercial use. Information in the story may be outdated or superseded by additional information. Reading or replaying the story in its archived form does not constitute a republication of the story.
This story is sponsored by Robert J. DeBry—more than 200 years of combined experience practicing personal injury law.
If you reside in Utah for any length of time, you're likely to have the opportunity of hosting guests who are first-time visitors. Whether your guests are family, friends or business associates, you want their first impressions to be at least memorable and perhaps even remarkable.
The Beehive State is home to countless attractions, including everything from ski resorts and national parks to great dining and entertainment.
Here is a list of Utah attractions that should have your guests wanting to return often:
Incredible lakes
Boating, fishing and all types of water recreation are alive and well in Utah, and for good reason: Utah is home to some of the greatest lakes in the western United States.
Everyone has heard about the Great Salt Lake. You can take guests to the lake's state park and visitor center. As the largest saltwater lake in the Western Hemisphere and the largest natural lake west of the Mississippi River, it's definitely a landmark worth seeing.
You might also consider a trip to Lake Powell. The second largest manmade reservoir in the country offers spectacular red rock scenery and 1,900 miles of shoreline, so you should be able to find a secluded beach.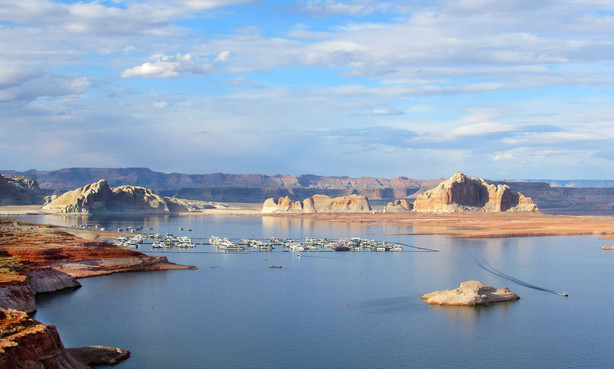 The sparkling blue waters of Bear Lake leave most visitors surprised and awed. In summer, its beaches and amenities are always popular and it's just about a two-hour drive from Salt Lake City.
These natural gems are top of mind for many who come to Utah for the first time. National Geographic offers a pre-planned road trip to take you and your visitors through all five of Utah's National Parks: Zion, Bryce Canyon, Capitol Reef, Arches and Canyonlands. They all offer abundant majestic views and visitors who are hands-on can try river rafting, mountain biking or just hiking through Utah's famous red rock. Just make sure you take an expert with you to ensure safety and enjoyment as you navigate the trails and rivers of these gorgeous lands.
City life
During the 2017 NBA playoffs, the Golden State Warriors mocked Utah for its lack of a metropolitan nightlife. While there is nothing that compares to the glitz of the Vegas Strip, several of Utah's communities provide unique experiences.
Park City offers top-rated dining spots such as Riverhorse on Main and the Twisted Fern eatery, along with world-class biking trails, ski resorts and an Olympic legacy. In Moab, travelers can go river rafting, mountain biking and hiking on the same day. St. George has museums, ATV tours and access to some world-class natural beauty.
And Salt Lake City has concerts, professional sports and special events every week of the year. As for nightlife, there are brewpubs, night clubs and bars all over downtown, as well as a wide variety of excellent restaurants.
Ski resorts, winter fun and snow!
Skiing while visiting Utah during the winter goes without saying, but deciding which resort to visit can be overwhelming. Depending on what type of adventure you and your guests crave, you can enjoy ski-only time at Alta, or fun for kids (under 10 are free) at Brighton. Park City Mountain offers some incredible views and Olympic legacies, and Solitude is perfect for those looking for a quiet day on the slopes. With 14 resorts in Utah, there's likely one or more that fits your needs. Snowboarding, snowmobiling, and even snowshoeing are all great alternatives when you need a break from skiing.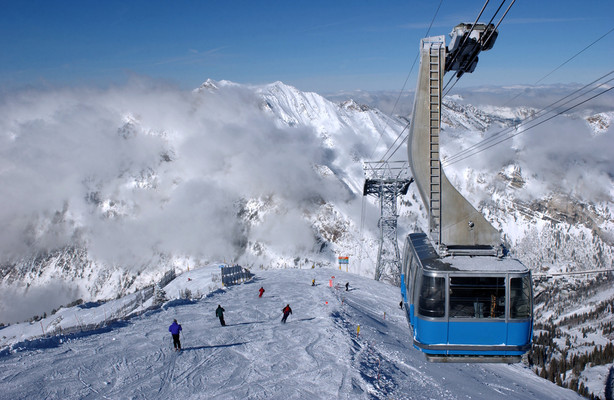 And if your guests come from someplace warm and just want to experience snow, take heart. This year's impressive snowpack means you'll be able to take them up a nearby canyon for a snow fix well into the summer.
Relaxation spots
Utah has a variety of ways to relax, and if you're serious about unwinding, one of the best places to start is at the Homestead Crater in Midway, Utah. This natural vacation spot offers a geothermal spring that's consistently between 90-96 degrees. Snorkeling, swimming and scuba diving are all ways to enjoy the natural spring.
If you're looking to stay in the city, you can always visit the Spa at The Grand America Hotel or the Sagestone Spa at the Red Mountain Resort in St. George. Whichever spot you choose, you're well on your way to some real pampering!
Kid-approved outings
Kids and families make up a notable chunk of Utah's population, and often those who are visiting the state as well. As such, your planning should include activities that are geared towards a younger age group. See the animals at Hogle Zoo or the Loveland Living Planet Aquarium. Tracy Aviary and the Discovery Gateway liven up a day in Salt Lake City, and if you're down south, be sure to visit the Museum of Natural Curiosity for a fun-filled day. Plane enthusiasts will always enjoy seeing what Hill Aerospace Museum in Roy has to offer.
Religious sites
Because Utah has a rich pioneer legacy behind its settlement, countless historical and religious sites exist to interest any history buff. Temple Square in Salt Lake City is a great place to start, with the Salt Lake Temple, Tabernacle, and then there's always the Joseph Smith Memorial Building. The Church of Jesus Christ of Latter-day Saints isn't the only organization to have religious sites and buildings in Utah, though.
The website Visit Salt Lake offers some lesser-known places to see including the Cathedral of the Madeleine, Gilgal Gardens, the Masonic Temple and even a pyramid — the Summum Sanctuary.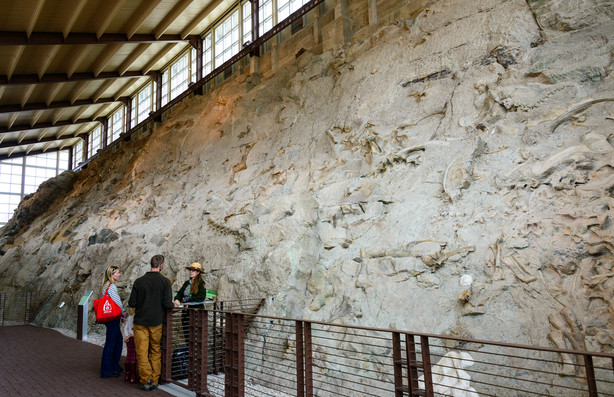 Prehistoric places
You can prove that dinosaurs once roamed the earth, right here in Utah. Take your visitors to Dinosaur National Monument where you can dig for fossils, learn at the visitor's center, and even camp where dinosaurs once lived.
Utah also boasts numerous sites where visitors can see remnants of ancient civilizations. There are dozens of places visitors can see ancient petroglyphs close-up and personal. Newspaper Rock hosts symbols and markings from multiple Native-American tribes, some of which are several thousand years old. Find it along the Indian Creek Scenic Byway.
Modern artistic marvels
It's doubtful anyone can list all Utah's art galleries or even just those in Salt Lake City. One way to enjoy art on a budget is by attending Salt Lake's monthly gallery stroll, where galleries and businesses work together to give the public a free event. The Springville Museum of Art houses more than 2,000 works, and the Brigham Young University Museum of Art in Provo offers regional art that often speaks to the beauty of Utah itself.
Shows and productions
If your visitors are a fan of the theater, then buckle up. In Orem, the Scera hosts shows, theatrical performances, and concerts. This open-air theatre is the perfect activity for a summer night. The Tuacahn Amphitheater is also a great place to catch a show in the warm seasons, with amazing productions that wow audiences around the state. If it's cold weather, Hale Centre Theatre is Utah's professional family theatre company, so there's always something to see all year round.
×