This archived news story is available only for your personal, non-commercial use. Information in the story may be outdated or superseded by additional information. Reading or replaying the story in its archived form does not constitute a republication of the story.
Memory, all alone in the moonlight, you can dream of the old days — you were beautiful then. But luckily, since you're not a sad cat in a Broadway musical, you can make new memories while celebrating old ones. Memorial Day, unofficially the first day of summer, is the perfect time to dust off your photo albums, fire up the grill and/or hit the road. Whether your holiday plans have you dancing on rooftops and shouting "Tradition!"or wondering what's around the river bend, we've got you covered, with itineraries for staying put or wandering. If nothing else, at least this tortured musical mixed metaphor is over!
Remembrance
Before you get the wakeboard out of the garage and start buffing it with hotdogs grease, take a moment to remember the actual significance of Memorial Day: honoring those who died fighting for freedom and American ideals. Here are a few of the special events around the state that pay tribute to the sacrifice of those brave men and women.
Fort Douglas Museum (Salt Lake City)
Memorial Day program at Fort Douglas Cemetery
Monday morning 9:15 a.m.
Music, wreath laying, gun salute, memorial prayers and remarks
Memory Grove (Salt Lake City) - Visit memorials for Utah's veterans and a replica of the Liberty Bell
City Creek Canyon road is great for walking, jogging and cycling
This holiday, keep it simple by keeping it close.
Ogden
A hop, skip and a FrontRunner ride north of Salt Lake City, Ogden has it all — miles of hiking trails, straight shots to ski resorts and a downtown so cute you'll want to squeeze it to death. Start your weekend by heading to the hills and hiking your heart out. Meander by springs on Birdsong Trail, or kick it up a notch and scale iconic Ben Lomond. Swap two feet for four wheels and drive up scenic Ogden Canyon, which passes fishing holes, ski resorts and reservoirs on its tree-lined path.
Head back to the city and bring the outdoors inside with Ogden's premier selection of extreme (indoor!) sports. Get vertical at iRock, an indoor climbing gym with routes for beginners and experts. Get wet at Flowrider Utah, a 10,000-gallon wave that double-dog dares you to surf it. Get airborne at iFly, a (you guessed it) indoor skydiving center where you can take to the air in safety.
Speaking of taking to the air, don't forget to stop by Hill Aerospace Museum to learn about the history of human flight. End the day on historic 25th Street for some shopping, dining and drinks.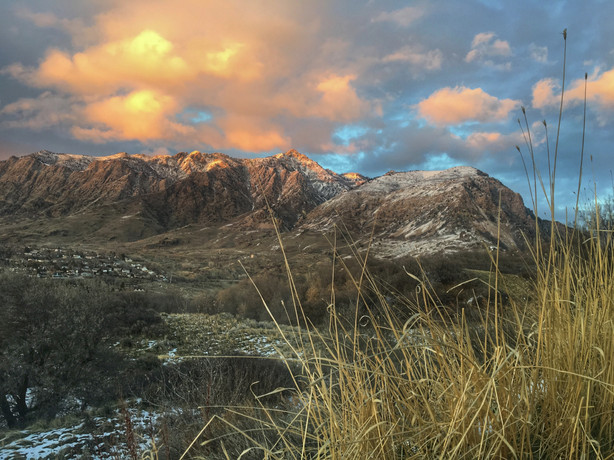 Utah Valley
With miles of mountains and trails, a yawning cave and a nearby star-studded ski resort, it's no wonder they call this place Happy Valley. Get your smile on with our two-day itinerary, which takes you from the dinosaur museum at Thanksgiving Point on Friday to dinner in downtown Provo Saturday night.
Heber Valley
Get the Swiss Alps without the chalet budget in Heber Valley, a pastoral swath of earth squished between mountain peaks. Are your boots made for walking? The nearby hills are alive with the sound of hiking, (yeah, we know The Sound of Music is in Austria, but it's still the Alps, okay?). More of a sitting-sport type? Saddle up and take in the sights on a horse, or drive the scenic routes through the nearby mountains, where a whole world of lakes and ponds is waiting for you and your fishing pole. Expecting the unexpected? Head over to the Homestead Crater, a geothermal hot spring tucked into a five-story rock dome, where you can snorkel, scuba dive or paddleboard.
Destinations
Memorial Day is the perfect time to take your first road trip of the year. Here are a couple awesome endpoints.
Kanab
In a world of mind-bending redrock, the little town of Kanab is what the kids these days call an influencer – it's way cool and is close to all the right people national parks, national monuments and canyons. Kanab is the jumping-off point for everything from Zion to the Grand Canyon, but it's got its own thing going, too. Follow our three-day family itinerary and you can't go wrong.
Castle Country
You're not in Kansas anymore, Dorothy. You're in Castle Country, a red rock swath of high desert in eastern Utah. As always, we've got your three-day itinerary on lock, which takes you from a morning in Arches National Park to lunch in nearby Moab before a drive to San Juan County that is packed with as many ruins as there are ogle-able overlooks.
Bryce Canyon National Park
Bryce Canyon is a high-elevation cathedral and reads like the who's who of hoodoos — skinny spires of orange rock that defy both gravity and your teenager's determination not to be impressed by anything. Take the scenic byway into the park and then take a hike. Revel in the scenery on the Navajo Loop trail, a series of switchbacks that will make your heart pump and your head spin (in a good way). Still not tired? Take the Fairyland Loop Trail to the Tower Bridge (9 out of 10 fairies can't be wrong), or chill at the overlook and watch the sunset. If you want 100 more things to do (not a joke), peruse our unabridged guide for more Bryce Canyon shenanigans. And don't forget dinner and an overnight at one of the surrounding inns and motels!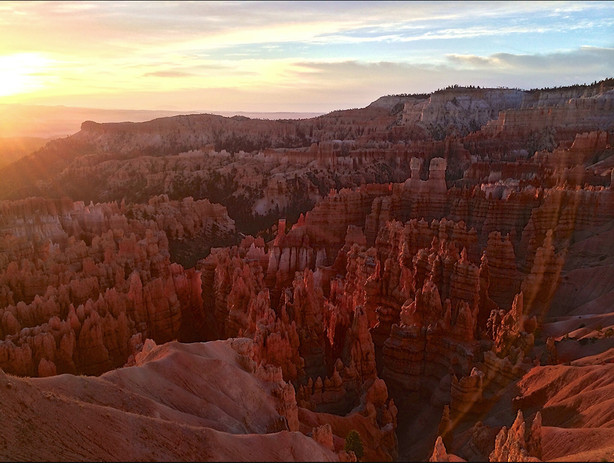 Camping/Hiking
You finally had that persistent eyebrow twitch examined and you've been diagnosed with cabin fever. We're so sorry. In lieu of flowers and soup, take this list of campgrounds and hiking trails. Feel better soon.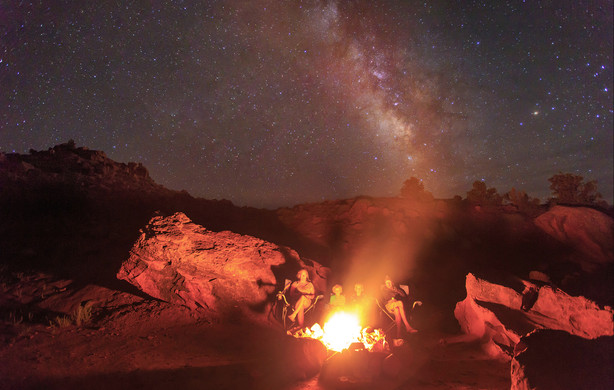 Campgrounds
Zion National Park Campgrounds
Arches National Park Campgrounds
Bryce Canyon National Park Campgrounds
Canyonlands National Park Campgrounds
Capitol Reef National Park Campgrounds
Hiking Trails
Zion National Park Hiking Trails
Arches National Park Hiking Trails
Bryce Canyon National Park Hiking Trails
Canyonlands National Park Hiking Trails
Capitol Reef National Park Hiking Trails
Events
Utahns knows how to have a good time. We pretty much invented dry wedding receptions, after all. Here are a few ongoing shindigs into which you can dig Memorial Day weekend.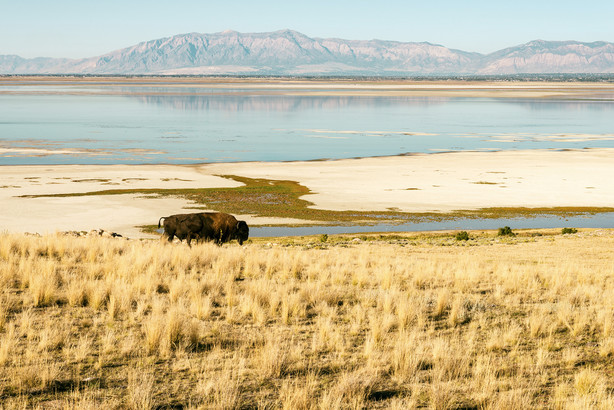 Antelope Island Cowboy Poetry & Music Gathering
Antelope Island State Park | Fielding Garr Ranch
• A four-day event with the best western musicians and cowboy poets in the state of Utah
• Take a historic wagon ride, visit booths with saddle makers, hat makers, spurs, chaps and other cowboy collectibles
• Two dinner shows (Friday and Saturday evening)
• Cowboy church on Sunday morning
• Potluck campfire sing-along Sunday evening
• Games and educational activities for kids
• Western food for breakfast, lunch and dinner
Rodeos are held nightly, Wednesday – Saturday all summer long.
Get tickets at Ruby's Inn or at the gate.
Bull riding available for any interested adults.
Steer riding and sheep riding available for the kids.
Summertime? Baseball time. Kick off your summer with a night at the ballpark.
Heber Valley Railroad's Wild West Days
Train ride, magic show, Wild West show, photography and all things fun for the family.
Golden Spike Railroad Reenactment
When two railroads really, really love each other they link together and become one. Then they seal their union with a golden trinket, put up a museum and reenact the occasion all summer.
The Golden Spike ceremony happens Saturdays and holidays at 11:00 a.m. and 1:00 p.m. from early May to mid-September, and locomotive demonstrations with replicas of the original Jupiter and No. 119 run daily from May 1 to mid-October.
×