This archived news story is available only for your personal, non-commercial use. Information in the story may be outdated or superseded by additional information. Reading or replaying the story in its archived form does not constitute a republication of the story.
With spring in full bloom, more and more kids are spending their time outside. However, between organized sports and other outdoor activities, injuries are a real risk. And even though high school-age children account for 2 million injuries each year, it is not just older kids taking a beating.
In fact, more than 3.5 million kids under age 14 receive medical treatment for injuries, with 5- to 14-year-olds accounting for nearly 40 percent of sports-related injuries treated in hospitals, reports the American Orthopaedic Society for Sports Medicine.
Fortunately, more than half of all sports injuries in children are preventable, says the CDC.
Use the following tips to help prevent injury this season and keep your child on the field.
Beware of specialization
Youth sports can be a great outlet and tool for healthy childhood development. However, pressure from parents, teachers and coaches can direct children into focusing on a single sport with greater intensity, leading to a higher risk for overuse injuries.
Because of this shift toward specialization at a young age, overuse injuries now make up nearly half of all sports injuries to middle and high school students, according to information from the American Orthopaedic Society for Sports Medicine.
Luckily, you don't have to sacrifice proficiency in a single sport to stay safe. But you do need to recognize the signs of overtraining and work with your child to maintain a healthy balance. Based on recommendations from Consumer Reports, this might include:
Scheduling a rest day after 2-3 days of training
Cross-training to relieve stress on specific parts of the body while maintaining fitness levels
Communicating with your child about any lingering or chronic pain
Emphasizing the value of enjoyment over hyper-competition
With the right approach, your child can continue to practice safely and effectively.
Properly prepare for physical activity
Properly preparing for physical activity is another simple way to reduce the risk of injury. Make sure your child is well-versed in the rules of play before stepping onto the field. Just understanding how the sport works can help your child avoid making dangerous moves or taking unnecessary (or illegal) risks.
Additionally, be sure they are equipped with the right gear, says KidsHealth.org. Whether that's supportive running shoes for track and field or the right helmet and protective gear for football or baseball.
Once they understand the game and are properly equipped, injury can be prevented by warming up before practice and games, and taking needed breaks to rest during and after physical activity.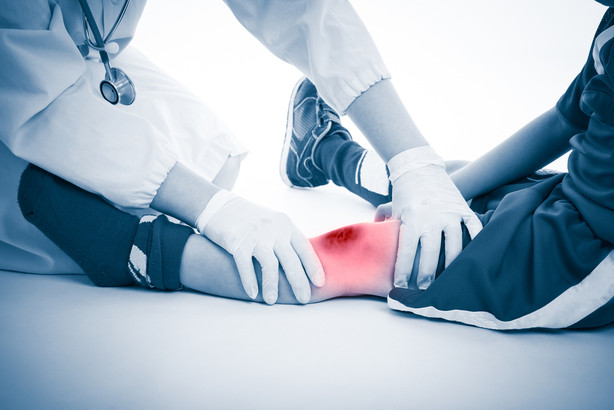 Allow injuries to fully heal
If your child does get injured, allowing the injury to fully heal is one of the most important ways to prevent chronic injury or long-term complications. This may take longer than either you or your child hope, but missing a few big games or practices in the short term will serve your kid better in the long run.
Moreover, by allowing injuries to heal completely, your child can also help prevent reinjury later. For best results, work with the doctor to come up with a treatment plan and timeline. Don't allow your child to participate in sports until he or she has the doctor's approval.
Even when your children are ready to return to activity, make sure they do so gradually to avoid reinjuring themselves. Keep coaches and physical therapists aware of the situation to ensure your child isn't thrown back into the ring too soon or too intensely.
Life will always bring with it some risk, but you don't have to lock your kids in a padded room to protect them responsibly. Although sports injuries are common, you have more control than you might think.
Use the tips above to help your child participate safely in sports and physical activity. For more information on how to reduce the risk of injury on the field, talk to medical professionals like those at Steward Healthcare.
×