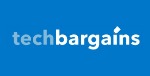 This story is sponsored by TechBargains.
Welcome to TechBargains' Weekly deals featuring the best current deals on electronics, computers, TVs and more. Prices and stock are accurate at time of posting. Act fast as these deals may not last.
Better than Black Friday: 55" Samsung UN55MU6300 4K HDR-Pro Smart TV + $225 Dell Gift Card for $579.99 at Dell Home (list price $799.99). We've promoted this before and this is now the best price we've seen on this very popular TV. With the huge $225 Dell gift card you effectively pay only $355 for that gift card. You can watch March Madness and more importantly the Final Four in 4K. Use that gift card on a 4k Blu-ray player, Nintendo Switch, Bose headphones or anything else Dell sells (like computrs).
Luma Home 802.11ac Dual-Band WiFi Mesh Router (3-Pack) for $139.99 at PCMag Shop (list price $199.99). At only this is the best price we've seen on a mesh router system. You can place 2 of the adapters around your home to cover up to 3,000 square and help to eliminate dead zones on bigger houses. This is just under $60 a unit, which is a far cry from the $100/unit average cost we see on other mesh router systems.
Blink XT Home Security 1-Camera System for $99.99 at Amazon (list price $149.99). This is the lowest price we've seen on a completely wireless security camera. Depending on the recording mode you set, the batteries will last up to 2-years. It compares favorably to the far more expensive Arlo and records in HD quality. At $100 it is exceedingly difficult to find a better deal.
Dell Inspiron 15 7000 Intel Core i7-8550 Quad-core 15.6" 1080p IPS Laptop with 256GB SSD for $629.99 at Dell SB (use code: 180MORE - list price $959.99). This all-around performing laptop has everything. Sleek aluminium build, lightweight 4.4lbs and the newest Intel processor. It even has a full HD IPS display - so you can see colors more vibrantly. At $650 this is a steal for a premium laptop.
SanDisk Ultra 128GB Class 10 MicroSDXC Card (100MB/s) for $37.99 at Amazon (list price $49.99). If you needed to upgrade the memory on your phone, tablet, camera or Nintendo Switch, at $37.99 this is an excellent price for a fast card.
Ecovacs Deebot N79S WiFi Smart Robotic Vacuum Cleaner with Bonus Accessory Kit, Upgraded Max Suction and Alexa compatibility (Add both to cart) for $199.98 at Amazon (Clip $50 Coupon and use code: 2PHKUW9E - list price $249.98). This upgraded Ecovacs includes a bonus accessory kit and is one of the best selling lines of robot vacuums around. The upgraded N79s model has more max suction power and a ton of strong Amazon reviews behind it.
DROCON U31W Navigator Beginners 720p Video Drone with Headless Mode, One Key Takeoff and Altitude Hold for $39.90 at Amazon (use code: YDME7ABG - list price $79.99). AT only $40 this is the most affordable price on a drone with some higher end features that make flying a drone much easier. Headless mode means you won't have to worry about adjusting for you orientation versus the drone's, which is one of the easiest way a novice gets into a wreck.
Weider Ultimate Body Works Exercise Machine (Just like the Total Gym) for $119.99 at Amazon (list price $189.99). We own one the Weider and it is an excellent way to build strength and flexibility in a range of motion that weights cannot replicate. The pully design that uses your bodyweight against you also helps reduce cheating on form. It is far more affordable than the overpriced Total Gym, and it is actually pretty fun to use.
JASTEK 60,000mAh 220Wh Portable Generator with Dual AC Outlets for $215.19 at Amazon (use code: KOTDOBLD - list price $268.99). If you need a large but portable source of power this 60,000mAh battery should easily suit your needs. Unlike other power banks this will support AC outlets to power your electronics with a clean sinewave. This is also built to take up to a 50-100 watt panel if you are going off the grid and want renewal power.
×