Estimated read time: 2-3 minutes
This archived news story is available only for your personal, non-commercial use. Information in the story may be outdated or superseded by additional information. Reading or replaying the story in its archived form does not constitute a republication of the story.
"If Barack Obama had sucked it up and put Hillary on the ticket, it would be a whole different ball game." Sam Donaldson talked with Tim and Amanda this morning about the benefit to John McCain that Barack Obama named his running mate first. Sam also talked about what he would ask Sarah Palin if he, instead of Charlie Gibson, was doing the interview. He said he'd ask about policy. "They're going to have to come up with something better than Alaska is close to Russia." Click here to hear more from Sam.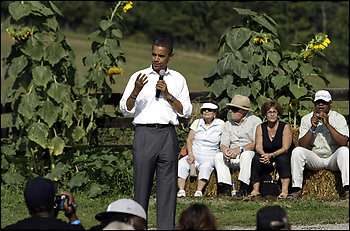 **What's in a name?**

Barack Obama has poked some fun at his Arabic-derived first name to explain the need for the constitutional right of prisoners to appeal their detention. It happened last night before a loud and friendly crowd in a high school gym in Farmington Hills, Michigan, a suburb of Detroit. Obama answered a woman's question about restoring civil liberties by saying U.S. authorities sometimes arrest the wrong person by mistake. He says they can confuse "Muhammad the terrorist" with "Muhammad the cab driver" or "Barack the bomb-thrower" with "Barack, the guy running for president." Obama says there's no conflict between keeping America safe and respecting the Constitution.

**That's a lot of Special Sauce**

Talk about a Big Mac attack! Don Gorske says he's eaten 23,000 Big Macs in 36 years. The Wisconsin prison employee says he has every burger receipt to prove it. Gorske's Big Mac obsession began in May of 1972 when he got his first car. He's eaten a Big Mac every day since, except on the day his mother died. Gorske knows lots of people will think he's a few mental ounces short of a Quarter Pounder. But he doesn't care. He says Big Macs are the best part of his day.

×
Most recent News stories