Estimated read time: 5-6 minutes
SALT LAKE CITY — Nia Maile said her family, along with the family members of other victims of a fatal Jan. 13 shooting near Hunter High School, say they put a lot of trust into the justice system and the juvenile court judge, but they don't feel like either fought for them.
Maile, 22, organized a vigil held in front of the Salt Lake County District Attorney's Office building Thursday after learning about the sentence given to the teenager who admitted to shooting and killing her 15-year-old cousin, Paul Tahi. She said she heard about it from her uncle, who was "heartbroken."
A teenage shooter, whom KSL.com has chosen not to name, was sentenced on Monday to stay in juvenile detention until he turns 21, which will amount to about six years. At that point, he will be released with no criminal record following him. The sentence came on the same day that he admitted to two counts of manslaughter, which is the juvenile court equivalent to pleading guilty.
Multiple charges were dismissed or changed through a plea deal. The teenager was initially charged with two counts of murder and discharge of a firearm causing serious injury, first-degree felonies; illegal discharge of a firearm and obstruction of justice, second-degree felonies; possession of a dangerous weapon on school property, a class A misdemeanor; and possession of a handgun by a minor, a class B misdemeanor.
Paul and Tivani Lopati, 14, died from gunshot wounds at the scene of the shooting. They were both students at Hunter High School. A third student, 15-year-old Ephraim Asiata, was seriously wounded.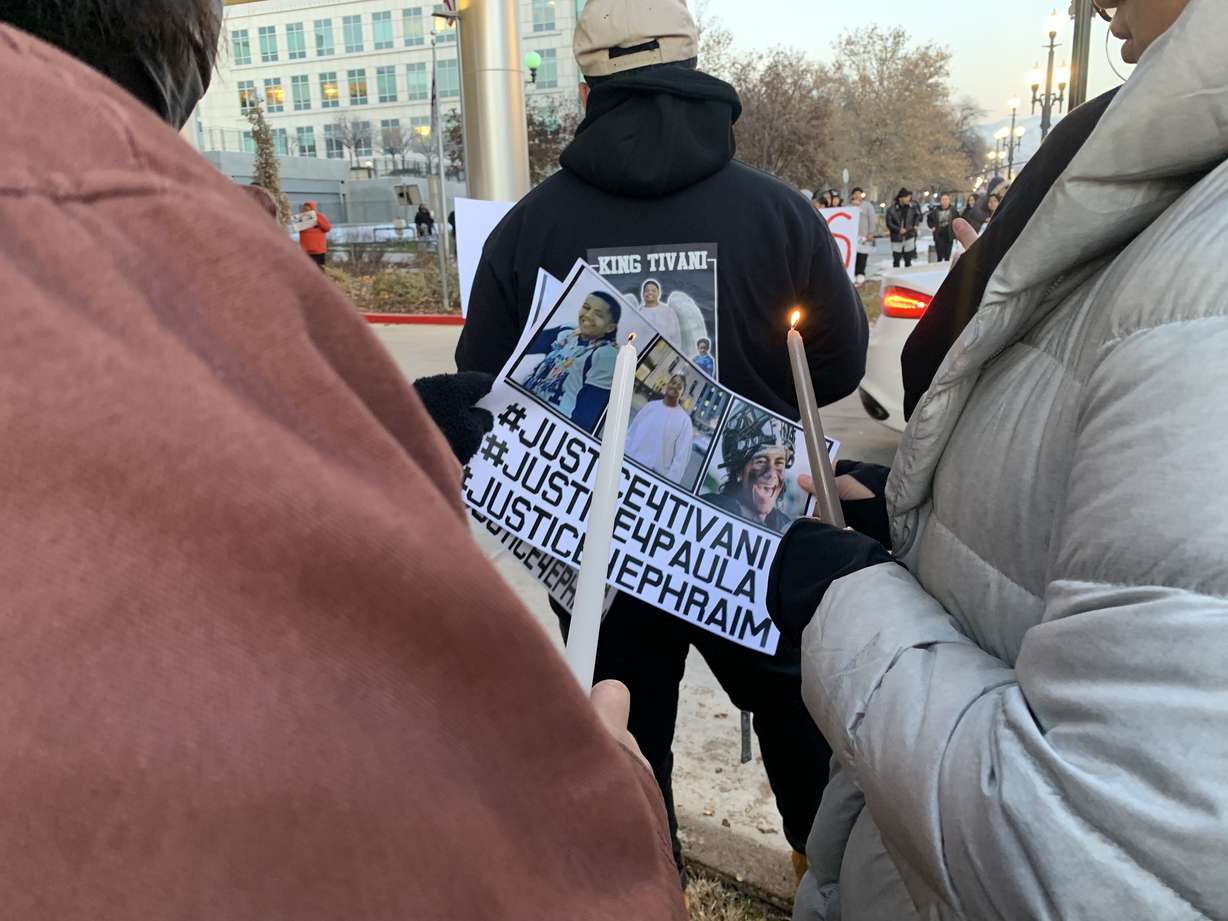 Paul is Maile's second cousin, but she said the family is close; he was like her little brother. Maile told the group on Thursday they were gathering for "our boys." She led chants of, "No justice, no peace."
"We put a lot of trust into the system. We put a lot of trust into ideas, put a lot of just into a judge," she said. "We just felt like the (district attorney's office) didn't want to fight for us. The judge didn't see that our lives were hurt."
She was glad to see it wasn't just family members of the boys who showed up at the vigil, but the community. Most of the people who came were from her neighborhood. There were almost 100 people, including many children, gathered outside the district attorney's office.
"Just because you guys gave up on us doesn't mean we will," Maile said.
She said they feel that in addition to the justice system failing them, the education system failed also them. There were reports that the shooter took a gun to school because he was being bullied, but Maile said the victims' families would not be expected to know about the bullying and take action without the school stepping in and letting them know.
Maile said the whole thing is based on racial tension and her family is hoping to add their perspective to the narrative.
"For them to tell us that it was our fault that our boys are gone is a spit in the face," Maile said. "I want everybody here to know that these people work for us, they get paid through our tax dollars. Most of our community is working class, and for them to not even try to fight for us is a great injustice."
---
We put a lot of trust into the system. We put a lot of trust into ideas, put a lot of just into a judge. We just felt like the (district attorney's office) didn't want to fight for us, the judge didn't see that our lives were hurt.
–Nia Maile
---
She read a prepared statement from Tivani's family, some of whom were at the vigil but chose not to speak to the crowd.
Lata Tahi, Paul's mother, said she has forgiven the teenager who shot and killed her son, but she is upset at the system. She said there is a bigger picture: Polynesians have been let down "time and time again." She said it was "like a slap in the face" that the teenager who admitted to firing the shot gets six years of incarceration and is only in juvenile detention.
Tahi told the people gathered at the vigil that she feels the situation was treated differently because of the race of the victims. If her son was white, she said, things would have gone differently.
She remembers when her brother was involved in a shooting, and her mother's sadness when everyone in the group was incarcerated for years. In this case, only one person was charged, and he ended up with less time incarcerated.
"We need to fight for what we believe. And if we've been mistreated in the past, or if we've been affected by this system, then we need to champion this change. And something needs to change, something needs to come … out of this story, out of these three boys. Something greater needs to come out of it," Tahi said.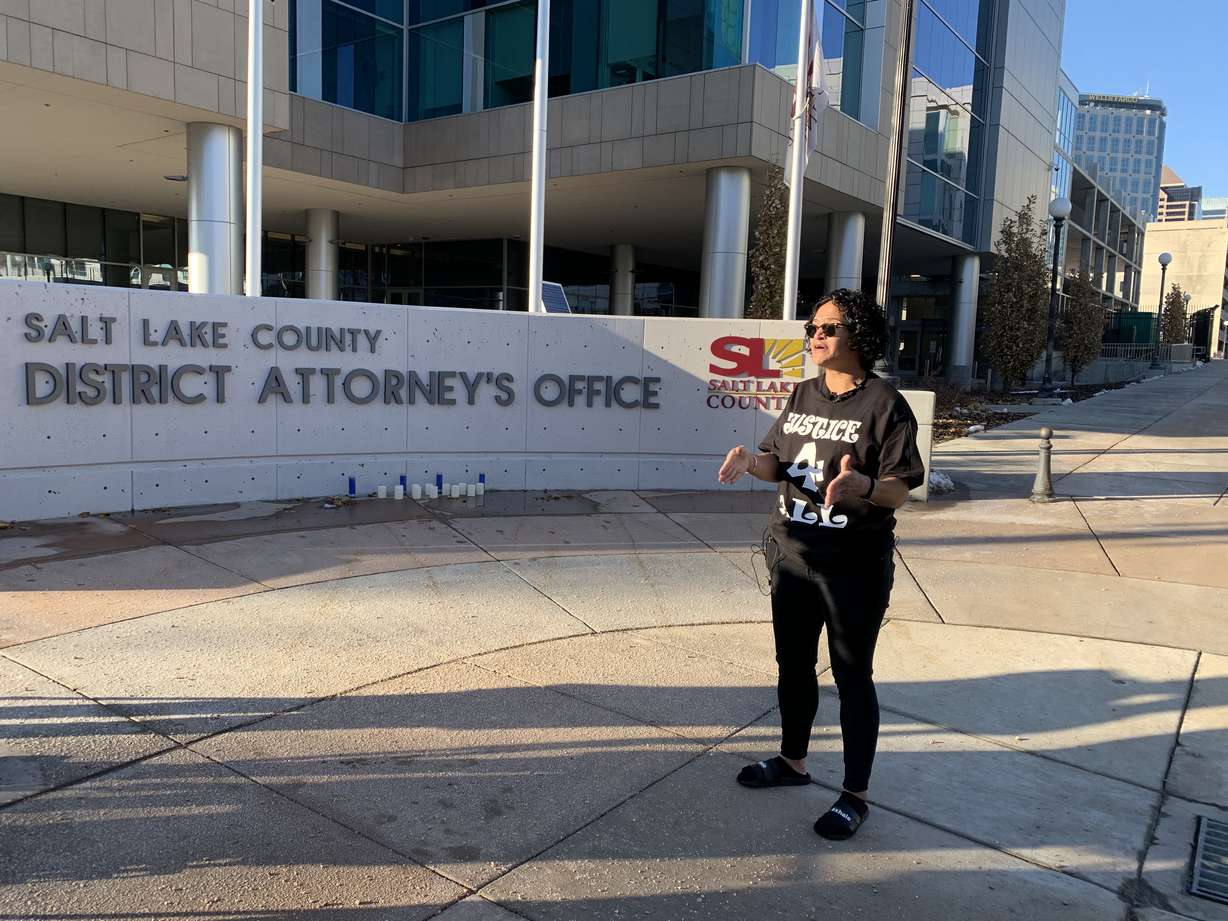 She believes the system repeatedly fails people. She came to support not only the victims in this case, but others who are not given equal treatment in the justice system — whether that is people who are waiting for a chance at parole or other victims and their families.
"We need to be able to trust in the judicial system that we have so that we can move forward as a people, or just move forward as a state. And it keeps failing us," she said.
Tahi said something bigger needs to come from this tragedy. She, and others in the group, wore a shirt that said "Justice 4 all." She said she came for justice and equality for everyone.
"Everybody that's been impacted by the judicial system that continues to fail us. That's what I'm here for," she said.
Salt Lake County District Attorney Sim Gill issued a statement Thursday expressing condolences for those who are hurting because of this tragedy.
"Family, friends and our community have suffered a terrible loss," Gill wrote. "Their frustration, sadness, and pain are completely valid. This was a matter handled in our juvenile justice system consistent with what the evidence dictated."
"Whenever there is a loss of life, we will only ever be able to achieve imperfect justice," the district attorney continued. "Perfect justice would have been the loss never occurring in the first place."
×
Photos
Related stories
Most recent Police & Courts stories