Estimated read time: 2-3 minutes
This archived news story is available only for your personal, non-commercial use. Information in the story may be outdated or superseded by additional information. Reading or replaying the story in its archived form does not constitute a republication of the story.
Whit Johnson ReportingSouth Salt Lake police are exploring the possibility that an attempted carjacking may not have been a random act of violence.
Wednesday 36-year-old Tommy Dixon was shot several times in broad daylight while driving on 300 W. 2700 South. He has been in and out of surgery since then, and while he is fighting for his life, police are trying to piece together what has turned into a very complex investigation.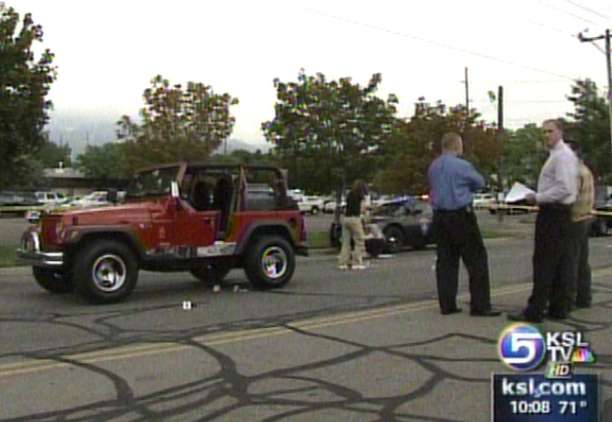 Lenora Buck, Dixon's mother, said, "Right now I'm feeling good about him recovering, but it's a shock, and to know that somebody actually stalked your son and shot him."
It was a brazen crime in the middle of the afternoon.
Dixon's girlfriend, Mindy Pace, said, "He didn't deserve this, that's for sure, because he, Tom, doesn't do anything to anybody. I don't really think that it's all really hit me yet, because it's just all so hard to believe."
Pace is Tommy's girlfriend of two years and owns the red Jeep he was driving at the time of the shooting.
Tommy's mother says he is in bad shape, one bullet in his spine, another in his liver. "It's hard for him to talk because he's got the breathing tube in and a few other tubes," she said.
Meanwhile, questions have surfaced as to what actually happened Wednesday afternoon.
South Salt Lake Police Capt. Tracy Tingey says, "We don't believe that the public in general is in danger at this point."
Police have located a silver Saturn, the believed getaway car, and questioned the owner, who is a person of interest in the case.
"I can't really comment on what was gleaned from that interview or the seizure of the vehicle, but it did help us in the investigation," Capt. Tingey said.
As the search continues for two suspects, Tommy's family hopes for a full recovery and the answer to one seemingly simple question: Why?
Doctor's have told Tommy's family that he will likely survive, but his injuries will be long-term and possibly permanent.
Police say they are very close to making some arrests.
×
Related links
Most recent Utah stories