Estimated read time: 2-3 minutes
This archived news story is available only for your personal, non-commercial use. Information in the story may be outdated or superseded by additional information. Reading or replaying the story in its archived form does not constitute a republication of the story.
Amanda Butterfield ReportingOn the day a corrections officer is laid to rest, the man accused of his murder is himself facing a death sentence. Legal experts say the case filed against Curtis Allgier yesterday may very well end up in a guilty verdict and a death sentence. It could be a very tough battle for his defense team.
We talked with a former prosecutor turned defense attorney, Greg Skordas. We got a good idea about what kind of case the district attorney's office and the defense could have. Skordas says, "Yeah, I wouldn't want a case like this."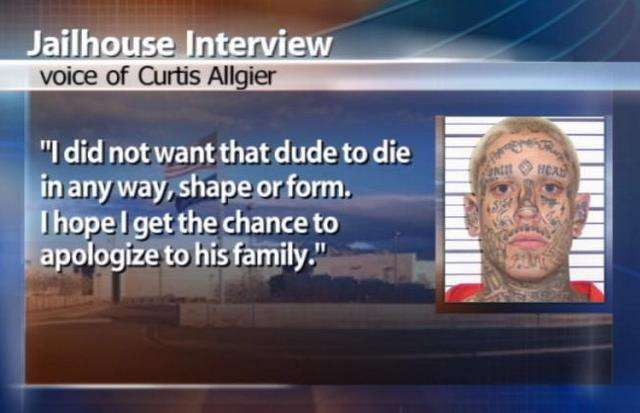 As a defense attorney, Greg Skordas will tell you Curtis Allgier would be a tough client to represent given the information the district attorney's office has released.
They have charged Allgier with aggravated murder, which is punishable by death.
Prosecutors must prove Allgier intentionally killed Anderson. The four "aggravating circumstances" they've already identified are: the victim was an acting peace officer, Allgier attempted to kill more people, the homicide was committed during an escape attempt, and he was an inmate.
Skordas says the district attorney's office has a good case.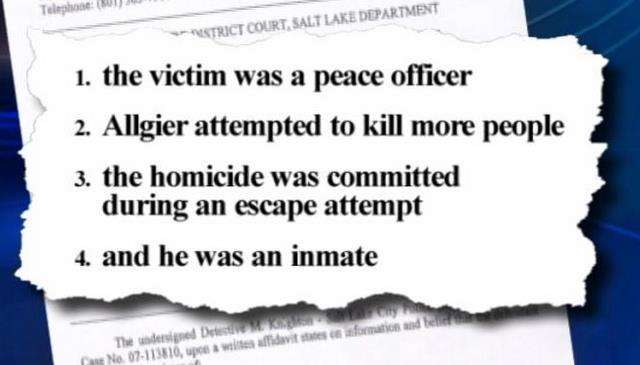 But the defense may also have a case. Allgier told KSL in a jailhouse interview that he did not intentionally kill Stephen Andersen. He said the gun went off while the two were wrestling. Allgier said, "I did not want that dude to die in any way, shape or form. I hope I get a chance to apologize to his family."
Skordas says, "He has said, 'I didn't intend to kill.' The first hurdle to a murder charge is the attempt to kill."
Helping prosecutors is the fact that the evidence shows the victim was shot twice. Skordas says, "A gun that goes off twice implies an intentional act, and the gun that goes off in the direction of a person's head and chest seems to be more of an attempt to kill."
As for the district attorney's office seeking the death penalty, it's not a sure thing. Skordas says, "The victim's family will have a lot to say on how far the DA's office pushes the death penalty aspect of it."
Another reason the death penalty might not happen is Allgier could plead guilty in exchange for life in prison.
There's still a lot of time for things to happen.
Curtis Allgier is scheduled to make an initial appearance in court Monday morning at 9:00.
He is charged with multiple crimes, including disarming a peace officer, aggravated robbery, attempted homicide and aggravated homicide in the death of corrections officer Sgt. Stephen Anderson.
Documents filed today in the case of State of Utah vs. Curtis Allgier are available by following the link at the right.
×
Related links
Most recent Utah stories