LOGAN — Utah State's 2020 football season received a little bit of clarity Tuesday when the Mountain West Conference released the full broadcast schedule, with several kickoff times, for the eight-game conference season.
That includes the Aggies' opener Oct. 24 at Boise State for a 5 p.m. MDT kickoff that will be broadcast on FS1. Coincidentally, the Broncos will host another Beehive State program less than two weeks later, when No. 14 BYU visits Friday, Nov. 6 (7:30 p.m. MDT, FS1).
"I'm sure these kids look at that and say, 'If you want to be the best … that's going to go through Boise,'" Utah State head coach Gary Andersen said. "Each and every year, at some point, it's going to go through Boise."
Utah State will also have four Thursday night games beginning Nov. 5 at Nevada and including Nov. 19 at Wyoming, Nov. 26 against New Mexico, and Dec. 3's home finale against Air Force.
So the when, where and what time have been solved.
The next question is who: as in, who will be leading the Aggies into the 2020 season?
After record-setting quarterback Jordan Love was drafted in the first round of the 2020 NFL Draft by the Green Bay Packers, his primary backup opted to transfer. Henry Colombi settled on Texas Tech, reuniting with former Aggie head coach Matt Wells and offensive coordinator David Yost.
But that left plenty of question marks in his wake back in Logan.
The odds-on favorite to start at quarterback is Utah transfer Jason Shelley, who has two seasons of eligibility remaining. In three years prior to enrolling at Utah State as a graduate transfer, Shelley threw for 1,205 passing yards and ran for 223 more in 19 games with the Utes, including five starts.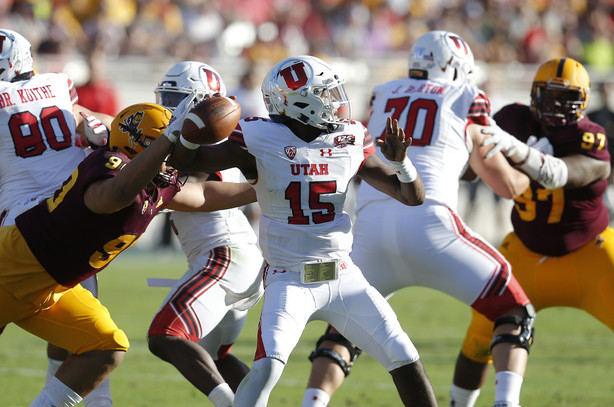 "Jason was a late addition to our quarterback room, and he brings a level of experience, competitiveness and leadership that I think is a big boost for us," said USU offensive coordinator Bodie Reeder in a school-produced video. "We can all learn from his game experiences and being in a different program. His level of athleticism is obviously his big attribute."
But other candidates are emerging, most notably Andrew Peasley. The sophomore played in four games during his first two seasons with the Aggies, including a one-game campaign in 2019 cut short by injury. He's completed 5-of-10 passes for 24 yards and added 10 carries for 159 yards and a touchdown for an impressive 15.9 yards per carry.
"Andrew is a tremendous athlete, as well," Reeder said. "He has a little bit of a stronger arm, but he hasn't played a lot of football coming off the injury and not getting spring ball. He just needs reps and he's going to be a great player."
Those two lead a quarterback room that also includes redshirt freshmen Josh Calvin of Mayfair High in Bellflower, California; former Orem High standout Cooper Legas; and one-time Davis High signal caller Garrett Larson.
Still, with limited collegiate experience from the rest of the group, Shelley appears destined to lead the offense. He's the latest Utah transfer in Andersen's brief second tenure with the Aggies, including Siaosi Mariner and Caleb Repp — and the Aggies could add another if recent Utes transfer Jaylen Dixon's reported desire to reunite with his ex-high school teammate proves true.
The Aggies also added former Utah running back Devonta'e Henry-Cole over the summer, though the one-time Utes spent much of the spring and summer at BYU prior to enrolling in graduate school in Logan.
"Fall camp has been really fun and interesting," Shelley said. "We're getting the hang of everything, and I think I'm throwing the ball well, leading the offense and doing a good job overall.
"I'm just trying to better myself as a passer — dropping back and making sure I can get my guys in an open space to make plays. I'm having to learn the offense, of course, with a new offensive coordinator and a new team, but I'm for sure trying to be a better passer and a better leader."
×
Related Links