Estimated read time: 2-3 minutes
This archived news story is available only for your personal, non-commercial use. Information in the story may be outdated or superseded by additional information. Reading or replaying the story in its archived form does not constitute a republication of the story.
WEST VALLEY CITY — Police arrested a 15-year-old boy and were looking for two more individuals after four armed robberies overnight that they believe may be connected.
The first robbery took place at a 7 Eleven store at 2287 E. 3300 South in Millcreek around 10:20 p.m. Sunday.
Three masked men confronted the clerk, who was outside the store, Unified Police Lt. Brian Lohrke said in a news release. One of the men had a black handgun and held the clerk outside the store while the two others stole cigarettes.
All three robbers fled south in a maroon Nissan Altima police said. Several people passing by saw the robbery take place, Lohrke said.
About 20 minutes later, robbers hit another 7 Eleven, this one at 6852 S. State Street in Midvale.
Two males dressed identical to the previous robbery entered the store. The pair were carrying a black garbage bag. One of them pointed a gun at the clerk and demanded money and cigarettes. The clerk complied and the robbers fled southbound on foot.
Police described two of the robbers as 16-17 years old.
One was 5 feet 7 inches tall, about 130 pounds with short dark hair, a dark complexion, wearing a gray T-shirt, gray gym shorts, black Nike shoes, a red bandana over his face and armed with a black semi-auto handgun.
The other teenager was 5 feet 6 inches tall, about 130 pounds, with a dark complexion. He was wearing a gray shirt, dark jeans, white shoes and a black bandana over his face.
The third robber had a lighter complexion. He was wearing a red hat and red bandana.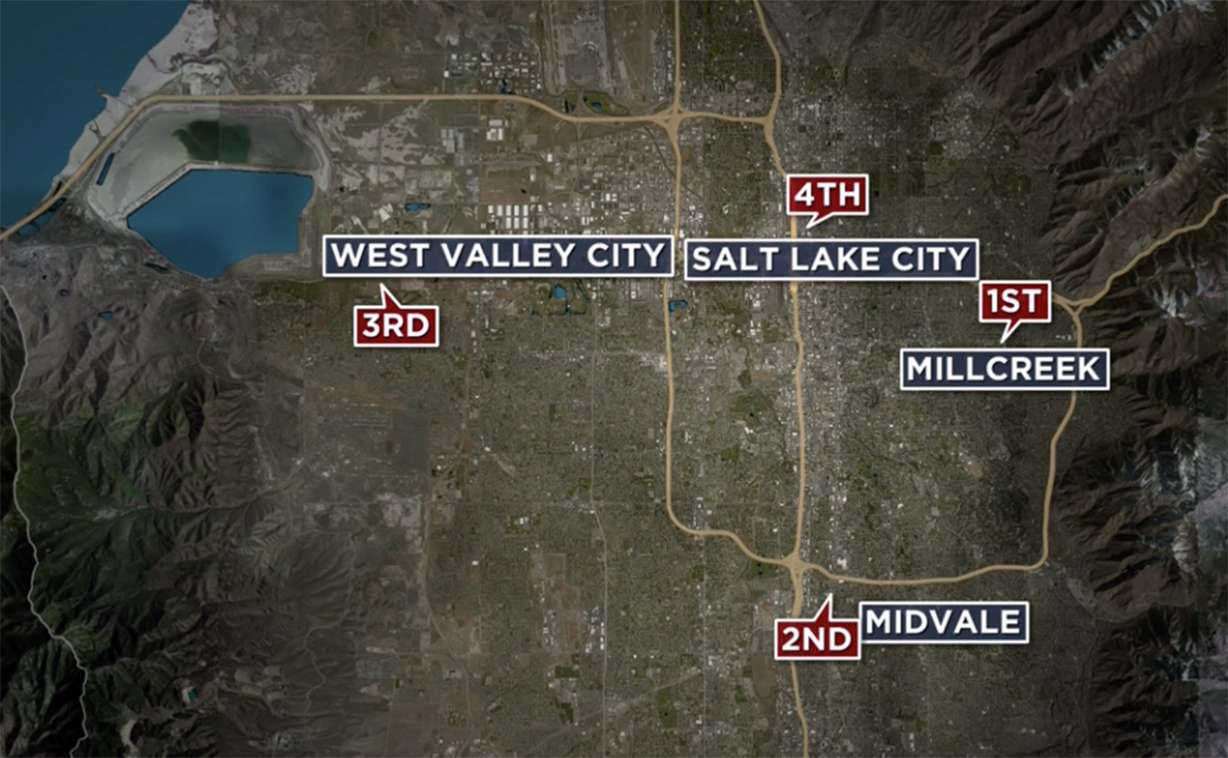 Then around midnight, a 7 Eleven at 2471 S. 7200 West in West Valley City was robbed. And 15 minutes later, robbers targeted a Maverik at 1707 S. 300 West in Salt Lake City.
At the Salt Lake City location, the clerk held down a 15-year-old until police arrived and arrested him. Lohrke could not confirm which of the descriptions matched the teen. Police are still looking for two other teens.
"These crimes that they're committing, even though they are 15-year-old kids, these are adult crimes that will put them into prison for a very long time," Lohrke said.
Investigators also recovered a handgun at the Maverik store.
Unified, West Valley, and Salt Lake City police are all working together on the investigation. Unified Police Department detectives are asking anyone with information to call 801-743-7000.
Lohrke did not know Monday why the group was also stealing cigarettes. He said some could be for personal use, and some might be to sell to other juveniles.
In 2004, police throughout the valley investigated more than two dozen robberies involving mainly cigarettes at local convenience stores. Detectives determined that some drug dealers were allowing customers to pay them in cigarettes instead of cash in exchange for drugs.
This article will be updated as more information becomes available.
Contributing: Pat Reavy
×
Photos
Most recent Utah stories