This archived news story is available only for your personal, non-commercial use. Information in the story may be outdated or superseded by additional information. Reading or replaying the story in its archived form does not constitute a republication of the story.
SALT LAKE CITY — In the wake of several dangerous incidents involving light and commuter rail, the Utah Transit Authority is ramping up its efforts to increase safety.
UTA announced Wednesday that the agency will launch a multimedia "Operation Lifesaver: Train for Safety" advertising campaign aimed at getting people to be more aware around train platforms and crossings.
"We have the best safety devices (available) in the system right now," said UTA General Manager Michael Allegra. "We are asking people to obey those devices (and) systems to keep them safe."
Allegra said recent incidents involving vehicles at crossings and pedestrians near TRAX platforms prompted the new campaign. Similar to the way distracted driving has become an issue with drivers on roadways, people becoming distracted around trains has also developed into a serious concern, especially as rail service along the Wasatch Front has expanded.
"We're trying to get people to recognize that when they are around transit … TRAX or FrontRunner, they need to pay attention to the facilities we put in place to help them," Allegra commented.
Comparison of UTA and other light rail systems over 4 years
| City | Miles of track | Deaths | Injuries |
| --- | --- | --- | --- |
| Salt Lake City | 40 (17 added this year) | 7 | 84 |
| Denver | 72 | 3 | 22 |
| Minneapolis | 26.5 | 5 | 45 |
| Santa Clara Valley | 80 | 8 | 39 |
| Sacramento | 72 | 5 | 88 |
| Portland | 95 | 7 | 162 |
The campaign will include colorful banners on trains as well as signs inside train cars reminding people to keep their "heads up — don't text around trains," "listen up — remove headphones around trains," "stand back — stay behind the yellow line at stations," and "look twice — another train could be coming from the other direction."
This year, according to UTA, there have been 11 accidents involving TRAX, including five fatalities — the most since light rail began in Utah — and six that resulted in injuries. Last year, there were 15 TRAX incidents with three fatalities and 12 injuries.
The agency also reported four incidents involving FrontRunner this year, including two fatalities and four injuries. In 2010, there were four incidents that resulted in three deaths and two injuries.
A recent Deseret News comparison compared accident rates among similar-sized light-rail systems across the U.S. and found that Utah ranks high in the number of accidents.
Allegra said even one death involving trains is too many, and added that UTA will join the Utah Department of Transportation in its "Zero Fatalities" campaign in their effort to raise awareness about rail safety.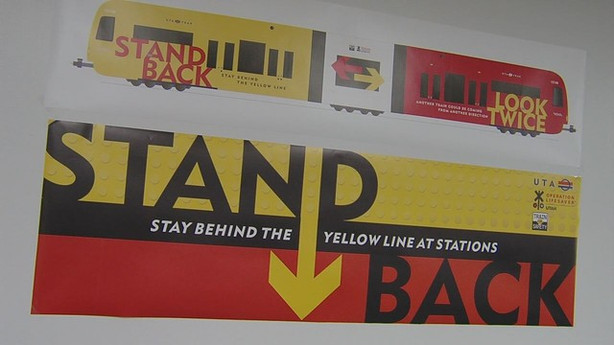 Since light rail began operations in December of 1999, there have been 242 incidents involving TRAX resulting in 20 deaths and 153 injuries. UTA reported 14 incidents on FrontRunner since May 2008, resulting in six fatalities and eight injuries.
In announcing the "Train for Safety" campaign, UTA also introduced an acting chief safety officer who will coordinate safety efforts for the agency. Dave Goeres said he will make certain that every department within UTA is working in concert to ensure the highest level of safety for all its employees, passengers and those who come in contact with commuter and light rail across the Wasatch Front.
"It's an education process," Goeres said. "We can do everything we can … in designing (rail transit) safely, educating the public and enforcing (rules). But it is a personal responsibility of the people that are traveling along the roadways or pedestrians trying to get to the stations."
Goeres warned people to be patient and follow the directions of the safety signals that are present at rail crossings and near TRAX platforms.
"If you see a flashing red light in front of you, that is an indication that you should not be crossing those tracks," he said. "You need to adhere to all the warnings that are out there (to be safe)."
Email:jlee@ksl.com
×
Photos