Estimated read time: 5-6 minutes
SALT LAKE CITY — It's not uncommon for parents to encourage their children to reach for the stars, but one Utahn from Richfield took this challenge more literally than most — becoming mayor of Salt Lake City, a U.S. senator and an astronaut.
An art piece honoring Edwin Jacob "Jake" Garn, now 90 years old, was unveiled on Saturday at the Salt Lake City International Airport.
The art piece, located in the Greeting Room, talks about Garn's accomplishments and depicts airplanes he piloted throughout his life, while serving during the Korean War, in the U.S. Navy, and the STS-51D Discovery which he flew on as the payload specialist while he was a U.S. Senator representing Utah.
Ellen Garn said a letter sent from her grandfather to her father when he was young said, "Jake, I want you to hitch your wagon to a star and go as far as you can in life … you never know, someday you might be able to travel in space."
Garn said her grandfather, a pilot in World War I and the first native Utahn to receive a pilot's license and the first director of aeronautics for the state, helped his son learn to fly as a teenager.
As a U.S. senator, Jake Garn began to publicly ask if he could fly on the space shuttle Discovery. Because of his history as a military pilot, NASA took his request seriously. In 1985, he traveled over 2.5 million miles, completing 109 orbits of Earth and spending almost seven full days in space. In addition to being the first Utahn in space, Garn was the first elected official in space.
"I will fly, it's not a question of if, but when," Garn said before preparing for a flight into space on the Discovery.
Ellen Garn said because of her dad's love of aviation, there is no better place for the display than at the airport.
"Dad, just like your father said, you really did hitch your wagon to a star," Ellen Garn said.
At a ceremony unveiling the art piece, Ellen Garn expressed gratitude for the words of so many accomplished people who were praising her father. She thanked the group of people involved in the Jake Garn Legacy Team, who she said is primarily made of Jake Garn's former staff members. She said fundraising for the art project was not difficult, which shows how much people care for her father.
Jake Garn retired after three terms in the U.S. Senate to spend time with his family. He has seven children, 30 grandchildren and 21 great-grandchildren. Many of his posterity were at the airport to celebrate their grandfather and attend the unveiling.
Former Utah Gov. Mike Leavitt said Garn knew there was life after politics, and he wanted to have more of an impact on his family so he decided to retire. Garn reached out to Leavitt asking him to be his campaign manager in 1980, his first re-election campaign, and they became good friends while working together.
"He had a profound impact on not just my interest in public service, but also my capability to actually serve," Leavitt said.
He told attendees at the unveiling that every generation of Utahns should know about Garn, about how a man from a small Utah town grew up to be mayor of Salt Lake City, a U.S. senator and an astronaut.
"As time goes on … one generation forgets about the last, and so I'm so pleased that (Garn is) being honored, at the airport where an astronaut ought to be, and as people go and come and have a chance to see and hear of the things he accomplished, his legacy will live on," Leavitt said.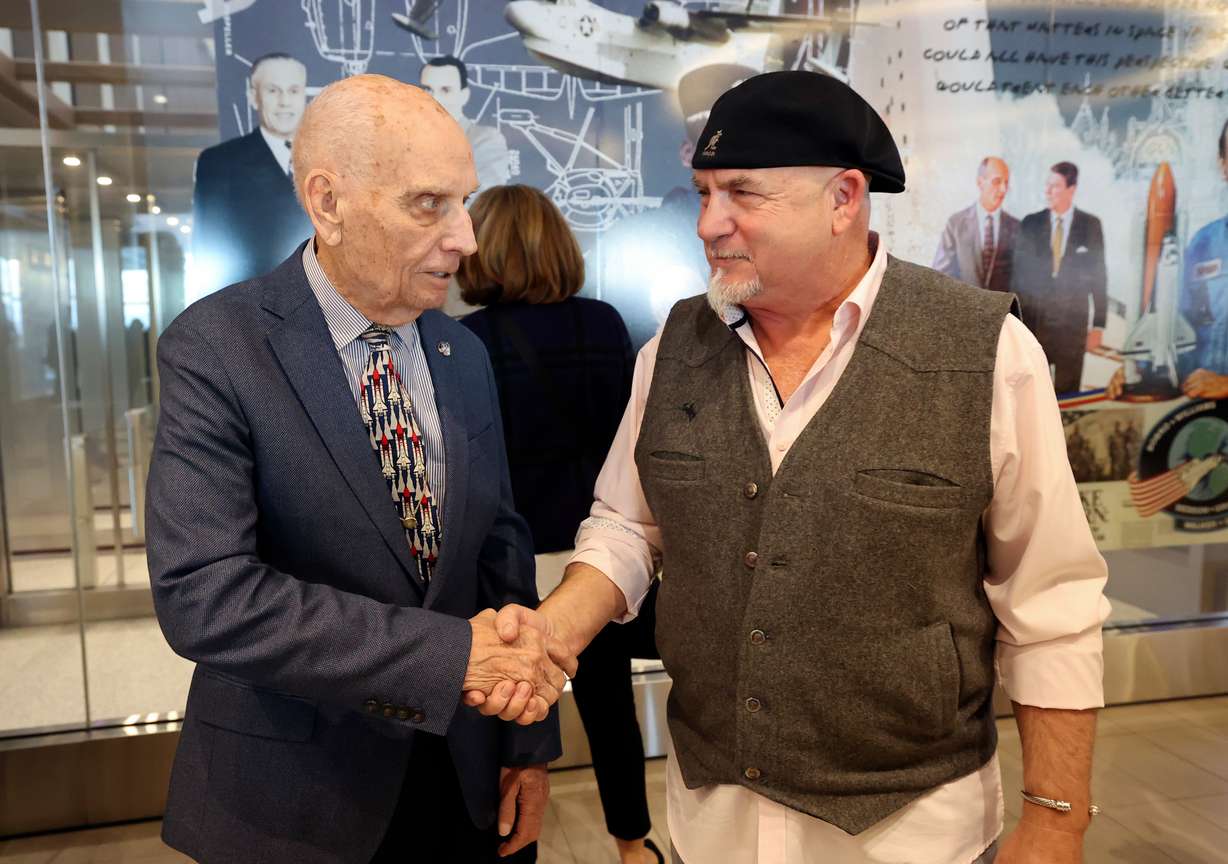 At the unveiling, Leavitt talked about all of the people that were there to honor Garn because he has been their mentor or teacher. He said Garn is one of the most impactful Utahns.
"Jake, on behalf of everyone who's here, you should take away a fundamental feeling that you will have in your heart that you are loved, and that this wall will remind everyone who does not know you (of) the important contribution that you have made to our state, and to our nation," Leavitt said.
Scott Howell, co-chair of the Jake Garn Legacy Team, said Garn was a man people responded well to. He was prompted to write an opinion piece about Garn, arguing that the Salt Lake airport should be named after him, by a man who worked at a retail outlet and had talked to him there.
"Still, in his 90th year, he goes to this shopping place and takes the time to speak to everyone. That is a mark of a great leader," Howell said.
Erin Mendenhall, the current mayor of Salt Lake City, said Garn's influence can still be felt throughout the city, noting his work with running water, public lands, health care and transit.
"He is the perfect example of someone who is forward-thinking, innovative and ambitious all at once," she said.
Mendenhall said it is an honor to feature Garn in the airport.
Gordon Huether, the artist of the installation and consulting lead artist for the airport, said it was a great honor and humbling to be tasked with this art piece. He specifically thanked the people who helped raise the funds to make the artwork become a reality.
"I really can't think of a better way to celebrate and to honor another human being than through art. Art that memorializes, inspires, that educates and expresses love, honor and gratitude," Huether said.
Bill Wyatt, executive director of the airport, said the art piece featuring Garn will be part of the airport for the next 100 years, when they anticipate needing to rebuild the airport. He said people wanted the airport to be unique, and art helps people be comfortable and eases the stress of traveling and encouraged people to enjoy the art around them.
×
Photos
Related stories
Most recent Utah stories