SALT LAKE CITY — The Big Ten is back.
Or at least, it will be soon. Will the Pac-12 or Mountain West be joining it this fall?
The Big Ten Conference announced earlier Wednesday its intent to play football in the fall, with a mid-October start date on a season that will feature eight conference games and a ninth crossover game for all teams, including a Big Ten championship for the winners of the East and West divisions.
The emergence of daily, rapid-response testing for COVID-19 proved vital in the conference's efforts to join the Southeastern, Atlantic Coast and Big 12 conferences (among others) in playing football in the fall. Other factors were also in play, the league said during a lengthy restart announcement, but no one denies that rapid testing proved key in the league's emergence from being the first conference to postpone the football season to being the first one to fully backtrack.
On that note, the Pac-12 already has a "game-changing" plan for rapid testing, even the possibility of daily tests and turnaround times measured in hours, rather than days. The conference's partnership with Quidel Corp., a diagnostic test manufacturer in San Diego, makes possible a step in the Pac-12 that the Big Ten boasted as critical.
"This agreement is a major step toward the safe return of sports competition in the Pac-12," commissioner Larry Scott told reporters in a video conference a couple of weeks ago.
So why won't the West Coast-based league — in addition to other western conferences like the Mountain West and Big Sky — return to play, as well? The answer is complicated.
As of Wednesday, BYU and the Air Force Academy remain the only Division I teams west of Texas playing football in the fall. The Cougars postponed Saturday's previously scheduled game at Army due to a "small number" of positive test results for COVID-19, and will limit practices to small-group settings to try to mitigate the spread within the program. Air Force, meanwhile, will only play two games in the fall — against fellow service academies Army and Navy — for Commander-in-Chief's Trophy purposes.
In addition to economic and engagement restrictions due to the novel coronavirus pandemic, half the schools in the conference are currently under hazardous air quality warnings due to wildfires in Oregon and California. If the season were to start soon, Pac-12 schools would need to practice immediately — and some have continued practicing in limited fashion with athletes on campus for classes (the "college" part of college football).
Those fires have kept outdoor practices in check for several schools, most notably Oregon, Oregon State, Cal, Stanford, USC and UCLA. But California Gov. Gavin Newsom told local media Wednesday that the state won't stand in the way of the Pac-12 operating games this fall, either.
"I want to make this crystal clear," Newsom said, according to the San Jose Mercury-News. "Nothing in the state guidelines denies the ability for the Pac-12 to resume. That's been a misrepresentation of the facts."
State guidelines do, however, prevent players from gathering in groups larger than 12, tenured reporters and columnist Jon Wilner noted. Newsom said he was "willing to engage" the Pac-12 about those restrictions, and added he spoke with Scott as recently as Wednesday morning.
"We're committed to working with the Pac-12," Newsom said. "Remember, these are student-athletes."
Oregon Gov. Kate Brown, another state that has limited the Pac-12's ability to resume play, told the Oregonian on Wednesday afternoon that Oregon and Oregon State met with health authorities to discuss a return-to-play scenario and have been granted an exemption from the state's sports guidelines and can resume play. She mentioned, however, that "up to this point, we have received no written plans from the Pac-12 for the upcoming season."
B1G is Back
So it appears there's still some work to do from the conference to resume play. Still, Scott acknowledged the "productive" conversations held in a statement released by the conference Wednesday afternoon.
"The Pac-12 welcomes today's statements by Governor Newsom of California and Governor Brown of Oregon that state public health officials will allow for contact practice and return to competition, and that there are no state restrictions on our ability to play sports in light of our adherence to strict health and safety protocols and stringent testing," the commissioner said. "We appreciate Governor Newsom's and Governor Brown's support, the former of which is consistent with the very productive conversation that he and I had earlier today. Our California and Oregon universities will now each individually and immediately reach out to their relevant county public health officials to seek clarification on what is required to achieve the same clearance to resume contact practice and competition.
"We are eager for our student-athletes to have the opportunity to play this season, as soon as it can be done safely and in accordance with public health authority approvals."
The Mountain West, which operates at the "Group of Five" level of the Football Bowl Subdivision, does not have any plans of resuming its season which was postponed Aug. 10, Mountain West commissioner Craig Thompson said in a statement from the league office.
Those conversations, however, are ongoing and guided by the league's medical advisory committee, Thompson has said in multiple follow-up interviews and statements.
"Multiple subgroups within the conference are working daily on solutions to the existing challenges in order to facilitate a return to play for Mountain West football, and other conference sport programs, at the earliest possible opportunity," Thompson said Wednesday. "This includes finalizing a plan for frequent, rapid response testing and continuing to monitor the status of public health directives in our MW states and communities."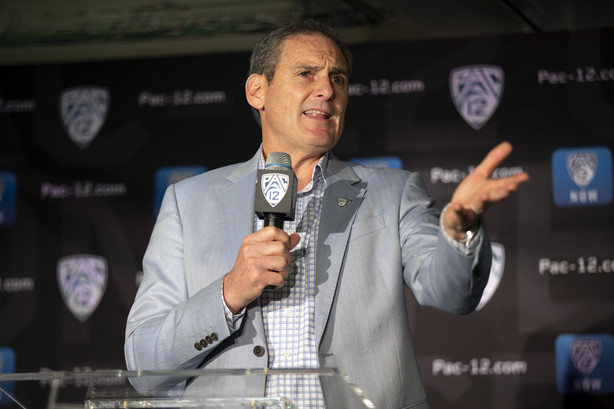 Like the Pac-12, the Mountain West includes teams that are located in areas that are among the hardest hit by the novel coronavirus pandemic, including northern and southern California and Nevada.
Similarly, wildfires and air quality concerns impacting Cal and Stanford would also affect Fresno State and San Jose State. San Diego State has an added difficulty in that its current home at SDCCU (formerly Jack Murphy) Stadium is being demolished and rebuilt on the same site acquired by the university.
The Aztecs announced Tuesday that they will play the spring and fall football seasons in 2021 at Dignity Health Sports Park, the 27,000-seat venue in Carson, California, that is home to the LA Galaxy of Major League Soccer and Division II Cal State Dominguez Hills.
"Our intention had been to play a final season in SDCCU Stadium," SDSU athletic director John David Wicker said in a news release. "Unfortunately, COVID-19 has forced our hand and we must move the spring 2021 games as well."
Late Wednesday night, Stadium college football reporter Brett McMurphy reported that the Mountain West was "aggressively exploring" an option that would allow the league to play an eight-game season, culminating with the Mountain West title game Dec. 19.
"This would allow league to be eligible for (New Year's Six) bowls," McMurphy tweeted, adding that Hawaii, Fresno State and Air Force may not be involved in the fall season.
Mountain West "aggressively exploring" options to play 8-game fall season, culminating w/Dec. 19 MW title game, sources told @Stadium. This would allow league to be eligible for NY6 bowls. Not all schools might play w/Hawaii, Fresno & Air Force biggest unknowns for full season

— Brett McMurphy (@Brett_McMurphy) September 17, 2020
Meanwhile, at the FCS level, Big Sky coaches are preparing for a revised version of "spring football" — or training camp with an eye on a spring 2021 season — to begin as early as next Monday.
"It looks like the NCAA is going to adopt a model similar to our spring ball model. That may start as early as Monday," Montana State coach Jeff Choate told Montana Sports. "I believe it's (Wednesday) that the Football Oversight Committee is going to vote on a proposal that will allow us to have 15 practices within 34 days. That's basically the same model that we use during the spring. If we do that, we're prepared to move forward and transition from these 12-hour weeks to a 20-hour week and we would do three consecutive weeks, five practices a week and culminate with some intrasquad scrimmage."
Any change at the Division I FCS level would likely require an updated calendar from the Indianapolis headquarters of the NCAA, which operates the FCS playoffs every year. The NCAA's Division I Council approved a framework Wednesday that will allow for the annual postseason playoffs to run from April 18 through May 15.
The bracket will be reduced to 16 teams from the usual 24 teams. Weber State was rated a consensus top-five team nationally by every major preseason poll, and considered a darkhorse national title contender.
The NCAA will permit up to eight games during the spring's regular season, which will not run past April 17. Teams may begin practicing Sept. 21.
The decision must be approved by the NCAA Division I board of governors, which will meet next week.
Contributing: Josh Furlong, KSL.com
×
Photos
Related Links