AROUND THE SHIELD — Eric Rowe ended his first season with the Miami Dolphins on a high note — and not just with a win.
The former University of Utah cornerback had five tackles and scored on his first career pick-six to help the Dolphins stun the Patriots, 27-24 on the final day of the regular season Sunday in Foxboro, Massachusetts.
And if it looked easy for Rowe, it may have been; he spent the better part of three seasons as Tom Brady's teammate.
"I knew from film study that Brady, when he doesn't have his first couple targets, he likes to just go blindly back to his last option, whatever his read progression is," the fifth-year Rowe told NESN. "Edelman was over here, and I was just like, 'Obviously that's his go-to guy.' So I was like, 'He might just turn around and just blindly throw it. I'm going to just sit right here.' And what do you know, he just turned and threw it.
"And I was like, 'Oh, there's a ball.'"
It was Brady's first pick six since Dec. 24, 2017, when Buffalo's Jordan Poyer returned one 19 yards for a touchdown.
And 1,107 pass attempts later (according to Yahoo Sports) Brady — who many refer to by his first name of "The G.O.A.T" — threw another one to the former Ute.
Rowe finishes his first season in South Florida with 81 tackles and eight passes defended while playing nearly 95 percent of the Dolphins' defensive snaps. He was vital for a team that opened the year with seven-straight losses before winning five of their final nine games to finish at 5-11.
Former BYU linebacker Kyle Van Noy had six tackles for the Patriots.
Here are more highlights from former local high school and college players in the final week of the regular season.
LA Rams 31, Arizona 24
Former Utah star Eric Weddle had a team-high seven tackles to lift the Rams (9-7) to finish with a winning record via a win over the Cardinals.
Kansas City 31, LA Chargers 21
Former BYU safety Daniel Sorensen had five tackles and an interception to lift the Chiefs to the No. 2 seed in the AFC.
Former Utah State running back Darwin Thompson had a catch out of the backfield, and added a tackle on special teams for the Chiefs (12-4).
Former BYU cornerback Michael Davis had two tackles, two passes defended and an interception for the Chargers (5-11), but Chiefs coach Andy Reid had the last laugh — with a little help from the Dolphins, whose win over the Patriots ensured a first-round bye for his club.
"All in all, a great game," the former BYU graduate assistant said, "and hail to the Dolphins."
What Coach said 👇 pic.twitter.com/Rp7EL22AXa

— Kansas City Chiefs (@Chiefs) December 29, 2019
San Francisco 26, Seattle 21
Former BYU linebacker Fred Warner had three tackles and a quarterback hurry, including a stop on the goal-line on Seattle's final play, to help the 49ers survive the Seahawks and clinch the No. 1 seed in the NFC.
Warner was also involved on a no-call pass interference on the final drive for the Seahawks, who were driving late to try to regain a lead from San Francisco (13-3) — a series viewed by millions on NBC's Sunday Night Football.
Former Utah punter Mitch Wishnowsky punted twice for 94 yards, including a 51-yarder in the second half.
Former Utah State linebacker Bobby Wagner led the Seahawks (11-5) with seven tackles, and former BYU defensive end Ziggy Ansah added two tackles. Utah grads Marquise Blair and Cody Barton each added a tackle for Seattle.
Former Cedar High quarterback John Ursua caught the first pass of his NFL career, a fourth-down conversion from Russell Wilson that nearly became the go-ahead score on the Seahawks' final drive.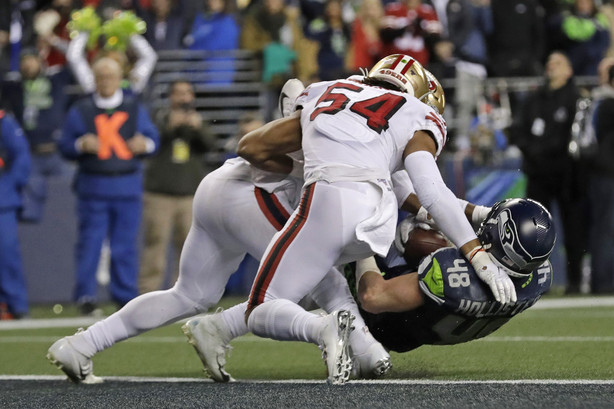 Tennessee 35, Houston 14
Former Southern Utah defensive back LeShaun Sims had a special-teams tackle in the Titans (9-7) win over the Texans (10-6).
Denver 16, Oakland 15
Devontae Booker caught two passes for 17 yards, and fellow Utah alum Tim Patrick added a 14-yard grab to help the Broncos finish the year with a win over the Raiders.
Westlake High, Snow College and Utah alum Garret Bolles started a left tackle for the Broncos (7-9).
Former Utah State defensive back Nevin Lawson had three tackles for the Raiders (7-9), who will move to a brand-new stadium in Las Vegas next season.
Dallas 47, Washington 16
Former Bingham tight end Dalton Schultz came off the bench as a blocking tight end to help the Cowboys (8-8) to win.
Highland High and Utah grad Nate Orchard had two tackles for Washington (3-13).
New Orleans 42, Carolina 10
Former BYU quarterback Taysom Hill caught a 45-yard touchdown strike from Drew Brees in the Saints' win.
Hill has six touchdowns, which is more all but 22 receivers in the NFL this year — and he's still a backup quarterback for New Orleans (13-3).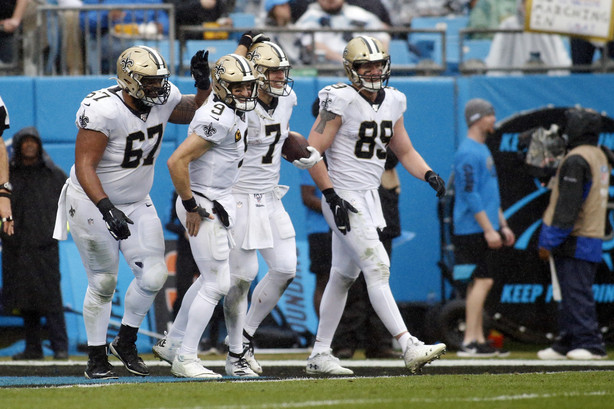 Atlanta 28, Tampa Bay 22
Former Orem High and Utah kicker Matt Gay missed three field goals, but connected on two extra points in the loss for the Buccaneers (7-9).
Green Bay 23, Detroit 20
Former Utah State linebacker Kyler Fackrell had two tackles and added a stop on special teams to help the Packers (13-3) top the Lions.
Southern Utah alum Miles Killebrew had threw tackles on defense and another on special teams for the Lions (3-12-1).
Cincinnati 33, Cleveland 23
Fremont High and Utah State grad Nick Vigil had four tackles to help the Bengals (2-14) to the win.
Former Salem Hills quarterback and USC defensive end Porter Gustin had four tackles and assisted on another on special teams for the Browns (6-10), and former BYU linebacker Sione Takitaki added a tackle.
NY Jets 13, Buffalo 6
Weber State's Taron Johnson had five tackles and a pass defended, and former Utah standout Star Lotulelei added a tackle in the loss for the Bills (10-6).
×
More stories you may be interested in