AROUND THE SHIELD — There can be a lot of competition in an NFL backfield.
With the short life of the average running back, each player wants to get more and more work, establish himself early, and prove himself in asset to his team for a long, lucrative career. That can lead to competition — and even bitter feelings — in the running back room.
Not for Jamaal Williams and Aaron Jones of the Green Bay Packers, though.
Jones was the workhorse back — he had 23 carries for 116 yards and a touchdown — but Williams received his own dues in the Packers' 21-16 win over rival Minnesota.
BYU's all-time leading rusher finished with 29 yards on 9 carries. But when Rodgers looked for the first touchdown of the game, he found Williams for a 15-yard touchdown on a screen pass en route to a 21-0 lead before halftime in head coach Matt LeFleur's first victory at Lambeau Field.
Even on Williams' touchdown, Jones played a pivotal role — without touching the ball. Rodgers threw to him with a swing pass the play before Williams' screen.
"It's the same type of motion, same action," Jones explained to the Green Bay media after the game. "The first time they throw it to me, then the second time I come in motion, they are going to think it's coming to me.
"Jamaal went the other day, he did a great job of running the screen, and he was able to get north and get into the end zone."
After the game, Williams and Jones even took to Twitter to show their friendship and love. All for the good of the team, right?
Former Utah State linebacker Kyler Fackrell had a tackle and two quarterback hurries for the Packers, who improved to 2-0 on the year.
Got the W! #GoPackGo

Thanks for bringing it today, #Packers fans! 🗣@Showtyme_33@jswaggdaddypic.twitter.com/bWh6n4OhOf

— Green Bay Packers (@packers) September 15, 2019
Here are highlights from the other former local college and high school football standouts playing in Week 2 of the NFL season.
Seahawks 28, Steelers 26
Former Utah State linebacker Bobby Wagner had seven tackles and a pass defended to help the Seahawks hold off the Steelers.
Former Utah linebacker Cody Barton and safety Marquise Blair played on special teams for the Seahawks, with Blair adding a tackle.
After going undrafted in April, Bryan Mone — the Highland High product who played at Michigan — made another appearance at defensive tackle with Seattle. He was the experienced player in the middle of the defense, too, as fellow tackle L.J. Collier made his Seahawks debut.
Former Cedar High quarterback John Ursua made his regular-season debut at wide receiver, but did not make a catch for Seattle. BYU alum Ziggy Ansah continued his stint on the inactive list.
Patriots 43, Dolphins 0
Playing in the first game since the birth of his son, former BYU linebacker Kyle Van Noy had a pass defended in New England's shutout of the Dolphins.
Former Utah defensive back Eric Rowe had five tackles and two passes defended for the Dolphins, who have been out-scored 102-10 in the first two games of the season.
All the better, when you consider Rowe was tasked with defending new Patriots addition Antonio Brown for much of the game. Brown was targeted eight times, with 4 catches for 56 yards and a touchdown.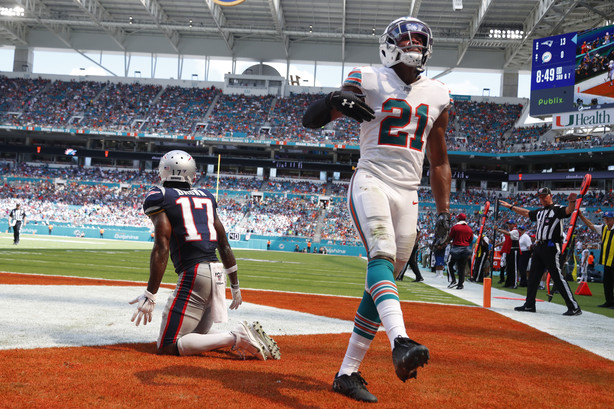 Colts 19, Titans 17
Former Southern Utah cornerback LeShaun Sims made a special-teams tackle for the Titans.
LA Rams 27, Saints 9
Former Utah star Eric Weddle had eight tackles — just one off the team-high — and added a pass defended en route to an interception as the Rams trucked the Saints.
Former Utah State wide receiver JoJo Natson returned two punts for Los Angeles, averaging 21.0 yards per return with three fair catches.
Meanwhile, the Saints' transformation of Taysom Hill into an all-purpose threat continued. The former BYU quarterback caught two passes for 16 yards in New Orleans' loss, and Utah grad Marcus Williams added three tackles for the Saints.
Kaden Elliss, the former Judge Memorial quarterback who played linebacker at Idaho, added a tackle on special teams for New Orleans.
Chiefs 28, Raiders 10
Darwin Thompson had his first career regular-season carry as the Andy Reid-led Chiefs romped over the Oakland Raiders.
The rookie from Utah State also caught a 6-yard pass from Patrick Mahomes for Kansas City.
Former BYU and Utah State safety Dallin Leavitt made one tackle on special teams in his regular-season debut with the Raiders, who also featured American Fork's Jordan Devey and Herriman's Andre James on the offensive line.
49ers 41, Bengals 17
Fred Warner tied for the team-high with seven tackles to help San Francisco pound Cincinnati.
The former BYU linebacker, who is starting with the Niners, also had a tackle for loss.
Former Utah punter Mitch Wishnowsky punted twice for 75 yards for San Francisco, including one punt downed inside the 20.
Former Utah State linebacker Nick Vigil made two tackles for the Bengals.
Bears 16, Broncos 14
Weber High and Utah State alum Patrick Scales helped the Bears squeeze by Denver, thanks to Eddy Piniero's 53-yard field goal at the death.
Denver lost wide receiver Tim Patrick for at least eight weeks, as the former Utah standout was placed on injured reserve with a broken hand suffered in the Broncos' opening-week loss to the Raiders.
Westlake High, Snow College and Utah alum Garrett Bolles played a key role on the Broncos' offensive line, but addressed the four uncharacteristic holding penalties he was accrued in the loss.
Buccaneers 20, Panthers 14
Matt Gay proved his humanity Sunday afternoon — or at least that he isn't a field goal-kicking automaton for the Tampa Bay Buccaneers.
But the former Utah kicker and Utah Valley soccer player still booted field goals of 40 and 32 yards in the Buccaneers' 20-14 win over Carolina.
Gay, an Orem native who also had two point-after touchdowns for 8 of the Bucs' 20 points, has made three of the four field goals he's attempted in the first two weeks of his rookie season
×
Related Stories