This archived news story is available only for your personal, non-commercial use. Information in the story may be outdated or superseded by additional information. Reading or replaying the story in its archived form does not constitute a republication of the story.
OGDEN — Corner Canyon's basketball team knew it had to play well to dethrone reigning Class 5A state champion Olympus.
The Titans returned reigning Deseret News Mr. Basketball Rylan Jones, as well as the state's 3-pointer leader in Jeremy Dowdell — so there was an advantage to be had there.
But the Chargers had an advantage too — in the paint.
Gabe Toombs had 29 points and six rebounds, and Hayden Welling added 25 points and 14 boards as the Chargers stunned Olympus, 77-69, Friday night to advance to Saturday's state title game.
"They're great players," said Corner Canyon coach Dan Lunt, who made his fourth state final appearance and second with the Chargers. "Since we've been here, they've been a part of this — and this is our third (semifinal) in a row. We tell them we have one goal and they have one goal."
Trace Ross added 12 points and two assists for the Chargers (16-9), who out-rebounded the Titans 35-22.
Jones led Olympus with 25 points, 10 assists and nine rebounds, and Dowdell finished with 19 points, including three 3-pointers.
Jackson Frank scored 18 points for the Titans, including 16 in the first half when he keyed a second-quarter run that saw Olympus overturn an 11-point deficit for a five-point advantage en route to a 37-34 halftime edge.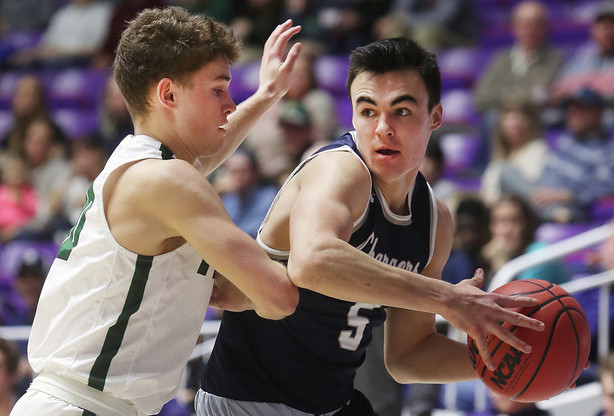 "We told our kids that basketball is a game of runs," Lunt said. "We made a run early and got up by 10, but Olympus answered that run and there's a reason they got up.
"That's just basketball. It's a crazy game, how the momentum switches like that. I'm proud of our kids. They had some resiliency."
A day after holding on for a quarterfinal win over Highland. The Titans rode the momentum to leads as large as six points for long stretches of the third quarter.
Jones, who had just four points but dished out eight assists in the first half, dropped a 3-pointer midway through the fourth quarter to keep the Titans up 58-54.
The Chargers responded with an 8-0 run that ended with a time-consuming play run to the post for Toombs, who put Corner Canyon up 62-58 with 2:40 remaining.
Jones cut the deficit to three with a 3-pointer with 1:35 remaining. But Corner Canyon out-scored Olympus 13-6 in the final 1:04 and the Titans could get no closer.
"I'd be lying if I didn't tell you it didn't feel good," said Lunt, who previously coached at Payson. "Olympus is a great team and they've got great tradition. They're a class act, and I'm just proud of our kids tonight.
"We executed our game plan to a T. We felt we had a huge advantage in the paint and we wanted to utilize that."
The Chargers will face Jordan or East in Saturday's title game. Tipoff is scheduled for 7:30 p.m. at the Dee Events Center in Ogden.
Corner Canyon 77, Olympus 69
CC: Ross 12, Warnock 2, Welling 25, Mitchell 7, Toombs 29, Harris 2.
OLY: Dowdell 19, Hollberg 3, Jones 25, Bennee 4, Frank 18.
×
Photos
Related Stories