This archived news story is available only for your personal, non-commercial use. Information in the story may be outdated or superseded by additional information. Reading or replaying the story in its archived form does not constitute a republication of the story.
SOUTH JORDAN — The name of the play is a secret.
So, too, is how often Bingham practices it.
They've only ran it once in a live game — a 21-14 win over Mountain Pointe (Ariz.) in Las Vegas earlier this season — but the play didn't work.
When the Miners trailed American Fork 24-21 in the final minute of what amounted to the Region 4 championship game Friday night at Bingham, assistant coach Russ Morgan had the call at the ready.
And Briasen Harward was ready to execute.
Peyton Jones ran for 130 yards and two touchdowns, and threw for 117 yards more with an 11-yard TD strike to Harward with 13 seconds on the clock, to help Bingham High rally for a 28-24 win over American Fork and clinch its sixth-straight region title.
"Russ Morgan is our unsung hero as a coach," Bingham coach John Lambourne said. "I had something else going (for the final play), but it was his suggestion and I thought we needed to gamble.
"Peyton Jones, after having some disastrous plays, came right back and made the play. He was under a lot of distress — and Briasen Harward has been battling all year long, and he had the chance to be the guy."
After taking a 21-10 deficit into the fourth quarter, American Fork star quarterback Boone Abbott rallied the Cavemen (7-2, 3-1 Region 4).
The senior completed 19-of-38 passes for 233 yards and three touchdowns, including a pair of fourth-quarter scores that gave the Cavemen a 24-21 edge with just over eight minutes remaining.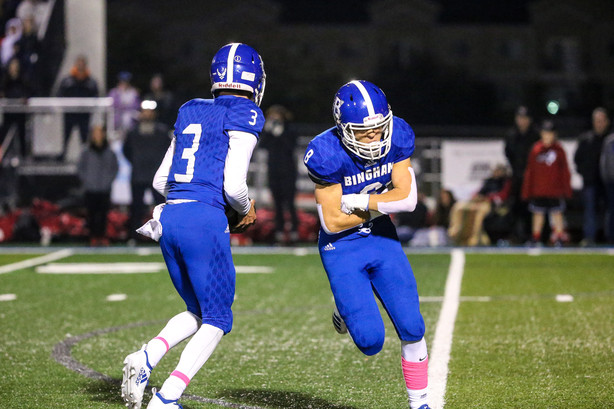 "That's a good football team; they battled as hard as us," Lambourne said of American Fork. "But how could it be even better?
"I don't have a lot more in me; there's nothing wrong with me, but that is what you live for. We'll remember this one forever. But we've got a lot of football left to play, and so do they. That's a good football team."
American Fork's defense was holding the Miners scoreless in the final period, too. Thanks to an interception by Stockton Bramwell, a misnap that went for a 21-yard loss and a bad punt, the Miners appeared headed for their second loss of the season.
But Bingham (8-1, 3-1 Region 4) had one final drive with 2:08 remaining and 78 yards in front of the Miners.
Just enough time for Jones — and more specifically, Harward — to deliver a heroic ending on senior night.
"That's my play," said Harward, who scored the first touchdown of his senior season with the misdirection snag. "It's all props to Lambourne for giving me the chance to make the game-winning touchdown.
"The ball was coming at me, and my only thought was 'don't drop it.' The design of the play was for me to be wide open, and obviously what happened, happened and we won the game."
Peyton Jones' 11-yard TD to Briasen Harward helps @homeoftheminers rally by @afhsevents 28-24 to clinch the Region 4 title. #UTHSFBpic.twitter.com/npYNgntoDo

— KSL SportsBeat (@kslsports) October 13, 2018
BYU commit Chase Roberts caught four passes for 81 yards to lead American Fork, including a 59-yard touchdown that help the Cavemen to a 7-7 halftime tie.
But the road Cavemen couldn't survive one final drive.
"That's the definition of amazing football to me," Harward said. "My emotions are just crazy … You feel like you are on top of the world."
×