Estimated read time: 4-5 minutes
This archived news story is available only for your personal, non-commercial use. Information in the story may be outdated or superseded by additional information. Reading or replaying the story in its archived form does not constitute a republication of the story.
PROVO — When Susan Petersen began her business, she recycled old window frames to create capital. Now, Freshly Picked is expected to sell between 20,000 and 30,000 pairs of baby moccasins this year and struck a deal on the TV show "Shark Tank."
Petersen appeared on Friday's airing of "Shark Tank" hoping one of the judges would invest in her company so she could expand production of her leather baby moccasins. She was asking for $150,000 for manufacturing costs and offering a 10 percent share in her company.
Kevin O'Leary offered Petersen $75,000, asking for a 7 percent share of her company in return. Daymond John — who made his fortune in fashion — was taken by her business and product, asking her for a 25 percent share in Freshly Picked, but offering her the full $150,000 she wanted. She accepted John's offer, which she felt would help reach her expansion goals and give her industry knowledge.
"When you take on investors, you're either giving up equity or cash. A lot of people choose to give up equity because you need cash to run your business," she said. "Kevin's deal would have tied up all my cash, and where we're looking to grow quickly, it just didn't seem to make a lot of sense."
Since the filming in September, Petersen and John have worked together to find manufacturers and put Freshly Picked moccasins in retail stores. Petersen said she expects the shoes to appear nationally and internationally in some brick-and-mortar stores. Currently, Petersen only sells the shoes in her e-commerce store.
The business has come a long way since Petersen sewed her first moccasin for her son Gus in 2009. She created the shoe with two goals in mind: to look good and stay on her son's feet. When she accomplished that, she realized her moccasins could make mothers' lives easier.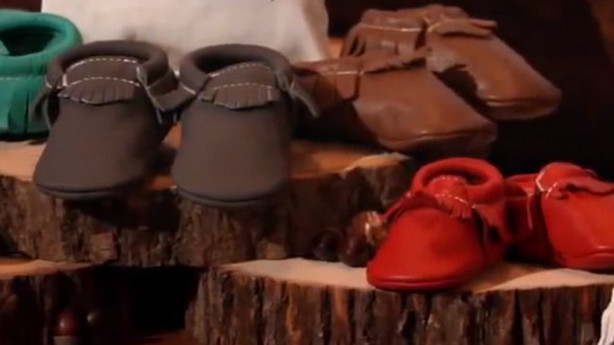 "I think any time you're coming from a place trying to make a mom's life better, moms respond to that well," Petersen said.
Petersen said she has always wanted to own a business, and when she realized what she had created, she focused her efforts.
She convinced her brother to give her the old window frames from his window installation business so she could remove the glass and recycle the aluminum frames for cash. With $200 sweat equity and a bag of scrap leather she bought at a yard sale, she began creating her product. At first sewing only while her two children slept, she slowly fulfilled orders.
"I've always wanted to be a business owner, ever since I was a young child," Petersen said. "I love to work, I love to be busy. I was trying to make a go at sewing and selling online. I already had a couple other products I was selling, but nothing ever took off until I brought the moccasins on the scene."
Since then, her product has grown in popularity and recognition. She has hired six full-time employees and outsourced some of her manufacturing. Petersen wants the company to grow as big as it can, she told "Shark Tank" investors.
As a first-time business owner and without an education in business, Petersen said she has had to figure a lot of basic things out. Like banging out the glass of aluminum-framed windows to recycle the metal for capital, she has creatively solved problems as they have arisen.
"I'm always scrappy. Here's the beauty of doing stuff like that: A lot of people who have done things traditionally would see a huge obstacle in not being able to finance this business and not be able to move forward," Petersen said. "And because I've never owned a business before and it was just me being scrappy, I was able to do it and it's really just dumb luck. I didn't know any better and it just worked out. That's kind of how we've done a lot of things in our business. We see something that needs to be done and we go about it — sometimes in a way that another person might not — but we end up getting it done, learning a lot and having a lot of fun along the way."
Petersen said she especially appreciates the response she has had from the public.
"I just feel really, really lucky that I own a business at this time when women entrepreneurs aren't a novelty, that people are actually taking us seriously," Petersen said. "Just from the show, there's been so many amazing people reach out to me and take me seriously. I feel really grateful that we're at a point where that can happen."
×
Photos
Related Stories