Estimated read time: 2-3 minutes
This archived news story is available only for your personal, non-commercial use. Information in the story may be outdated or superseded by additional information. Reading or replaying the story in its archived form does not constitute a republication of the story.
WELLSVILLE, Cache County — When Jonathan Fielding realized he and his family were about to make a crash landing in the single-engine plane they were flying in, he didn't let his worry show. Instead, he pulled out his cellphone.
In video on YouTube of the Feb. 2 event, Fielding can be heard saying, "This is kind of exciting. I'm not worried; we're going to be just fine."
Fielding was in the plane with his wife, Kara Fielding; his mother-in-law, Katherine Mohlma; and his and Kara's 7-month-old son, as well as pilot Lynn Goodsell. The group had left the Logan Cache Airport at about 1 p.m. on a flight to celebrate Kara Fielding's birthday. At about 1:30 p.m., Goodsell reported problems with the fuel system; the carburetor had iced over. The engine eventually shut off and could not be restarted.
Jonathan Fielding narrates the family's experiences throughout the video.
Goodsell attempted to locate a place to land, but could not land on the nearby highway due to power lines and the potential for involving vehicles in the accident. He eventually found a field that would do for a landing spot.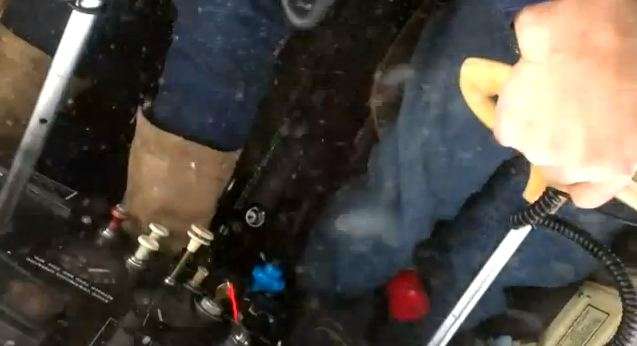 "The pilot was experienced in field landings, but unfortunately the snow caused the landing gear to sever from the plane, flipping the plane front to back and smashing the tail before it came to a rest upside down," Fielding wrote on YouTube.
The video becomes jarring at that point, cutting out for a short time and coming to rest showing the legs of who are presumably Goodsell and Kara Fielding. After everyone confirms they are OK, the Fieldings' son begins to cry, and Jonathan Fielding can be heard reassuring his wife and mother-in-law the child is fine.
"We have just survived a crash landing," he says, telling the pilot he is "really sorry" about his plane. "Are you OK?"
There were no injuries in the crash. It was Kara Fielding's first flight, but when asked if she would go again, she had a simple answer: "Yeah."
×
Photos
Related stories
Most recent Utah stories