Estimated read time: 4-5 minutes
This archived news story is available only for your personal, non-commercial use. Information in the story may be outdated or superseded by additional information. Reading or replaying the story in its archived form does not constitute a republication of the story.
PROVO, Utah (AP) -- Twelve years ago the smiling girl with the floral CTR ring and curly red hair disappeared.
Kiplyn Davis will forever be remembered as that 15-year-old girl with a perky smile. But she'll also be remembered by the classmates as that girl who left and never came back.
Her disappearance was the most traumatic event to hit Spanish Fork High School, said Assistant Principal Darrel Rolfe, who was a counselor when Kiplyn was in school. He said the case trumps the occasional runaway or death by accident or suicide, even though those occurrences are traumatic.
According to an FBI kidnapping bulletin, she attended morning classes and ate lunch with friends. She did not show up for her fourth- and fifth-period classes.
Nor did she show up for play practice, in which she was helping with props for the school's production of "The Foreigner."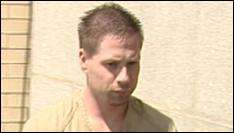 Classmates in her drama class included David Rucker Leifson and Timmy Brent Olsen.
For years, that was it. But the Davis family never gave up.
Olsen was convicted of 15 counts of perjury in front of the grand jury regarding the case in September. It was a victory, of sorts, for the Davis family.
Witnesses testified in the trial that Olsen, 29, had spoken -- even bragged -- of the murder.
Garry Blackmore, 27, testified as part of his plea deal in the Olsen trial of a drunken night in 1998 when Olsen bragged he and Leifson "raped, beat her and disposed of the body."
Another witness also testified that the two stuffed the body into a toolbox and got rid of it. He said he heard Olsen talk about it at a party.
The Davis family has heard those rumors for the past 12 years.
"At first it was really frustrating," Richard Davis said. "I didn't understand why people would hear something like that and not report it. And then there were people who would report it."
Those reports are part of the circumstantial evidence in the case that led to a murder charge for Olsen in January 2005 from the Utah County attorney's office -- but that's on hold because Olsen is appealing his federal sentencing, Utah County Deputy Attorney Mariane O'Bryant said.
Part of the evidence is that her purse and makeup were found in her locker -- her parents and sister said it was a sure sign she didn't think she'd be gone for long. After all, what teenage girl leaves her purse behind?
For years local law enforcement went without leads and the case went cold -- until Elizabeth Smart was found in 2003. A bizarre disappearance with a happy ending was exactly what Richard Davis was seeking. He went to U.S. Attorney Paul Warner and asked for help.
The case went to a federal grand jury, and answers started coming.
On April 28, 2005, 30-year-old Scott Brunson of Spanish Fork was charged with lying to investigators and perjury in front of a grand jury.
Indictments for Blackmore, of Spanish Fork, Olsen of Spanish Fork, 30-year-old Christopher Jeppson of West Jordan and 30-year-old Leifson, then of Bountiful, followed.
All five men, all current or former residents of Spanish Fork, went to high school with Kiplyn.
Brunson and Blackmore took a plea agreement, both pleading guilty to several counts of lying to the FBI.
Richard Davis said the indictments were like an explosion -- so much happening at once, so much hope.
Leifson's perjury trial starts Monday. One of the charges involves a note written by Olsen that claims he saw Leifson and Kiplyn on May 2, 1995, in "Rucker's Ranger."
"I know it was Rucker," court documents state. "I followed Rucker out of the canyon and down Center Street. I remember Rucker and Kiplyn talking because I was there."
Richard Davis said he hopes that with another conviction, maybe more leads will come forward and that Jeppson may take a plea deal.
He dreams of bringing his daughter home every day, of getting the closure of turning off the porch light -- the family leaves it on for her at night -- of being a normal family again, without court dates and without the stress of a missing family member.
"I just hate to see Tamara have to go through that every day," Richard Davis said of his worries about his wife.
Questions in the case remain. Where is Kiplyn? If what prosecutors and rumors allege is true, how did teenage boys cover up a murder for 10 years? But perhaps the question that lies in the minds of Kiplyn's family and those who knew her is this -- who would that bright-eyed woman be today?
(Copyright 2007 by The Associated Press. All Rights Reserved.)
×
Related links
Most recent Utah stories