Estimated read time: 2-3 minutes
This archived news story is available only for your personal, non-commercial use. Information in the story may be outdated or superseded by additional information. Reading or replaying the story in its archived form does not constitute a republication of the story.
Shelley Osterloh Reporting An Organization called Turning Point has helped single parents, displaced homemakers and low income families reach their potential and overcome some difficult life challenges.
Turning Point is part of the Division of continuing Education at Utah Valley State Colleges, but more importantly is helps people who are faced with overwhelming challenges to rebuild their lives.
You wouldn't know it to look at her, but 9 years ago Cindy Caruso was a single mom, fresh off a divorce and struggling to find a way to support herself and her child. At Turning Point, she discovered a new way to look at life and herself.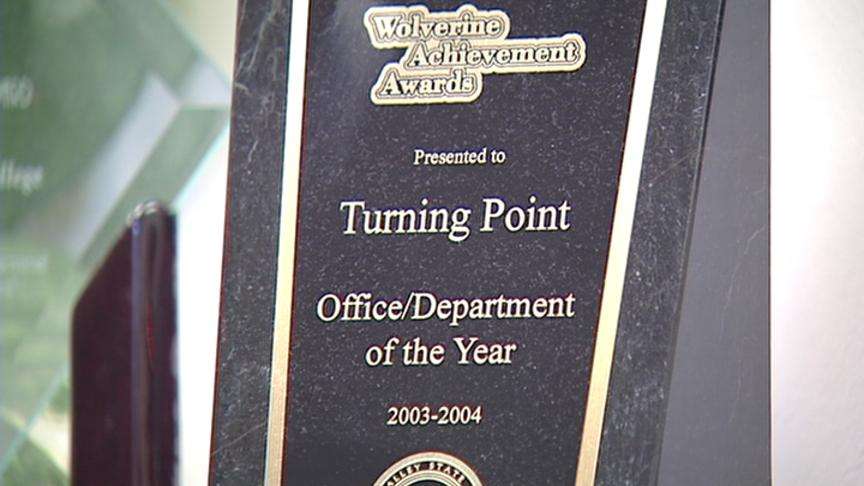 Cindy Caruso says, "I could stop being 'poor little old me life didn't turn out as planned.' And I have choices. I get to go on from now. And the skills and tools that are given in class give you the confidence to rebuild."
Christine Bennett's 17 year marriage was ruined by domestic violence and she found herself alone, raising nine children. "When you are in an abusive relationship it tears down any self confidence or self esteem you have." Bennett explains. "You feel like you are stupid, like you can't do it and the classes at turning point gave me the self confidence to go back to school" She earned her bachelors degree and got a good job.
They are just a couple of the nearly 1,500 people who go through the Turning Point Program each year. It offers classes in personal and professional development in which students learn communication and job seeking skills, problem solving and networking. There are also classes in managing life transitions and anger.
Turning Point also offers links to services such as child care, counseling, and scholarships. The Professional Clothing Source offers clothing to women who are returning to school or work. Cindy Caruso wanted to give back to others, so she joined the staff at Turning Point and shares with others the life skills she's learned.
If you'd like to help, Hotel Monaco is sponsoring a professional clothing and accessories drive for Turning Point next Tuesday morning from 6:00 a.m. to 9:30 a.m. They call it a "Drive by Suiting." Just swing by 200 South and Main Street and drop off any work appropriate clothing.
There's more information about Turning Point at the link found at the right.
Drive by Suiting at Hotel Monaco!
Tuesday, April 17
6:00 am - 9:30 am
Hotel Monaco
15 West 200 South
Salt Lake City
×
Related links
Most recent Utah stories