Estimated read time: 2-3 minutes
This archived news story is available only for your personal, non-commercial use. Information in the story may be outdated or superseded by additional information. Reading or replaying the story in its archived form does not constitute a republication of the story.
Ashley Hayes and John Daley Reporting The school voucher bill may have already passed, but that doesn't mean opponents are ready to give up the fight. Parents and teachers who are upset with the new law are working hard to have it removed from the books.
Melinda Peterson, PTA director Region 6: "It's like giving public money to a private entity, and I just don't think that would benefit anybody."
If they are going to succeed they will have to work quickly. Opponents have roughly a month to collect 92,000 signatures. Opponents want to see the public vote on the vouchers in the next election. They feel the vote was too close to leave up to legislators, so they want it removed from law and placed on the election ballot.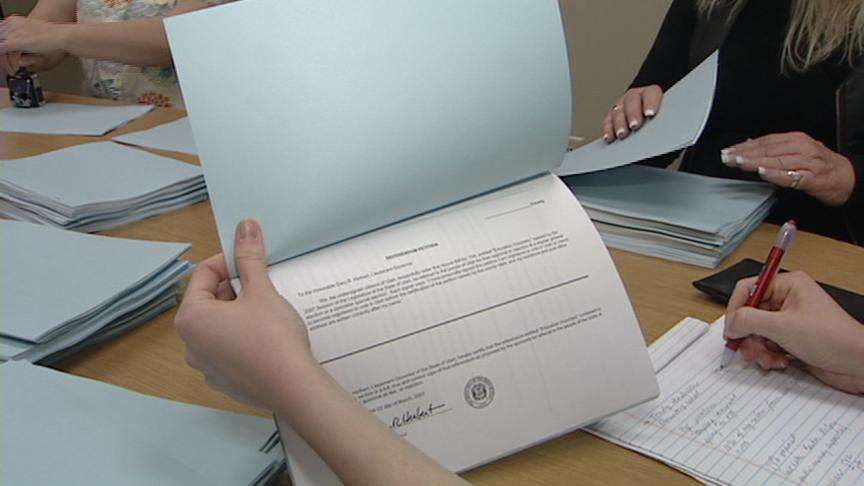 Voucher opponents need 92,000 signatures by April 9. Their goal is 140,000 signatures in the next two weeks to make sure they have enough to pass verification. It's a difficult task. The last time a referendum passed was back in 1974. But still, the teachers and parents we spoke with are optimistic.
Trudy Henderson, Utah Elementary School teacher: "It's a difficult process, but with the grassroots organization, with the PTA and the teachers, we really think we will succeed."
So today for several hours teachers and parents are taking shifts inside the lieutenant governor's office, numbering petitions. They say they are handing them out through PTA organizations starting this afternoon. They will also have them on hand for parent-teacher conferences scheduled at Jordan elementary schools this week.
The stamping volunteers say there are several reasons they oppose the vouchers laws, both as parents and taxpayers.
Melinda Peterson, PTA director Region 6: "As a taxpayer, my taxpayer dollars to fund a private school? I don't think it should. There's no accountability. There's a lot of things I oppose about school vouchers."
Former House Bill 148 is the most sweeping piece of legislation involving school vouchers to go into law in the country. It allocates $9.2 million for parents to use toward private school. The vouchers range from $500 to $3,000, based on family size and income.
Those in favor of vouchers say they, too, are gearing up for a fight.
Elisa Peterson, executive director, Parents for Choice in Education: "If those signatures are able to be gathered, it stalls, it delays this program for at least another two years. It's tragic for those children who are falling through the cracks right now in Utah public schools."
Antoinette Uwanyiugira, parent: "If they stop it, it's going to affect me because I'm going to work so hard. Today I'm working three jobs to support my daughter who I only want to put in a private school."
×
Related links
Most recent Utah stories