Estimated read time: 3-4 minutes

This archived news story is available only for your personal, non-commercial use. Information in the story may be outdated or superseded by additional information. Reading or replaying the story in its archived form does not constitute a republication of the story.

SALT LAKE COUNTY -- It's going to be another weekend of road closures and detours in the Salt Lake Valley, but there's good news too: A couple of the biggest and most aggravating highway projects are moving rapidly toward completion.

I-80 construction in Sugar House coming to an end

For frustrated commuters on Interstate 80 in the Sugar House area, there's some light at the end of the tunnel. Although the Utah Department of Transportation plans to shut down half the freeway again this weekend, the completion of the two-year project is nearly at hand.

UDOT officials launched the project because bridges were crumbling and because they wanted to upgrade and expand I-80. For drivers, area residents and businesses owners, the result has been two years of aggravation.

At the Red Lobster, Felina Johnson depends on a good flow of business traffic to make a living.

**What's next for I-80?**

• I-80 eastbound closed between Bangerter Hwy and I-215 Monday, Oct. 19 at 11 p.m. to Tuesday, Oct. 20 at 3 a.m. for installation of overhead signs. • I-80 will be closed in both directions from Foothill Drive to State Street from Saturday, Oct. 24 from 8 pm to 2pm on Sunday, Oct. 25 for installation of overhead signs and for the placement of the second bridge at 2300 East.

"It's really aggravating," Johnson says. "And this \[past\] weekend, when they shut everything down, ... work was a real pain in the butt; just really slow." "We replaced one bridge last weekend. We have the westbound direction to be replaced this weekend," UDOT regional deputy director Jason Davis explains. "In total, we'll have replaced 16 bridges on this corridor when all is said and done."

UDOT has also added one general purpose lane and one auxiliary lane in each direction. The closure this weekend for one last bridge replacement is expected to take only a few hours.

In coming weeks, UDOT officials say the last closed ramps will be reopened and the project will finally be concluded.

"Thanksgiving. I'm confident in saying that by Thanksgiving, people will be using all the new lanes, all the new ramps," Davis says.

"Ultimately, it's going to be definitely worth it," Johnson says.

As they wrap up the project, UDOT expects to use orange cones and barrels a bit more to restrict certain lanes from time to time as they put on some finishing touches.

3500 South project in West Valley wrapping up

Another big project coming to a close is the overhaul of 3500 South--the Main Street of West Valley City. It has been tying up traffic and aggravating drivers for well over a year.

Many businesses have been hammered, some reporting sales have been consistently off 40 to 60 percent. But UDOT officials say financial incentives assure that contractors will finish in time for the holiday shopping season.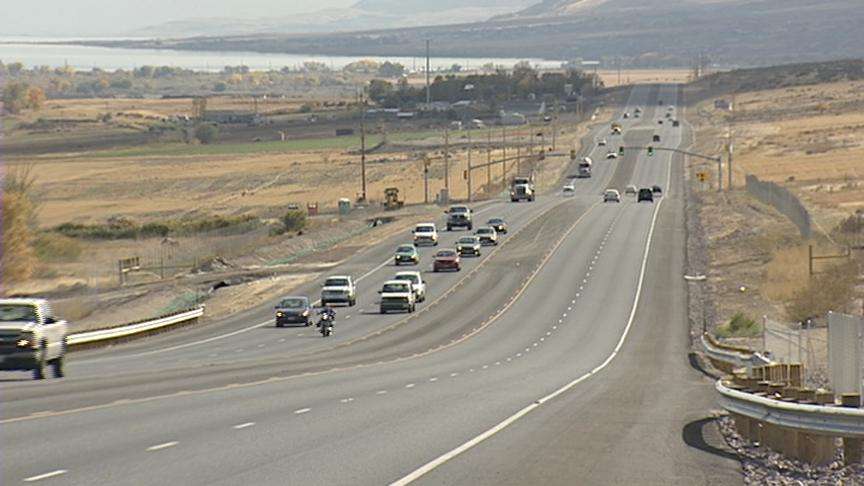 "If they get it done by Thanksgiving, there's a bonus--and that has a lot to do with the fact that we worked with the local businesses there. We worked with the West Valley City government, and it meant a lot to them to get it done by this time frame," Davis says.
Overhaul of Redwood Road completed
Meanwhile, another major project was just completed. Redwood Road from Bangerter Highway to Lehi is a brand new highway, with an additional lane in each direction, dedicated bike paths and even three wildlife crossings.
And it's not just deer that will use those wildlife crossings. UDOT made one of the wildlife underpasses big enough for a military tank from Camp Williams. That project now is completely wrapped up.
More closures this weekend
Along with the I-80 closure for the bridge replacement at 2300 East, southbound I-15 will also be closed as crews demolish and replace a Highway 89 bridge.
The Utah Department of Transportation hopes the closures will last only a few hours, starting Saturday night.
E-mail: jhollenhorst@ksl.com
×
Related links
Most recent Utah stories