Estimated read time: 4-5 minutes
SALT LAKE CITY — Thousands of Utahns took to the streets in Salt Lake City on Friday evening to rally in favor of abortion rights, protesting the U.S. Supreme Court's decision released earlier in the day that overturns the landmark Roe v. Wade case.
Utah's abortion prohibition bill, passed in 2020, also went into effect late Friday afternoon.
The protest began as people gathered at the Salt Lake City-County Building for a rally hosted by the Utah Coalition of Leftists before protesters walked up the hill to the state Capitol to combine forces with a Planned Parenthood-organized protest.
Speakers expressed concerns about repercussions from this decision in other cases, including the Supreme Court decision that determined the legality of same-sex marriage. They claimed that the Supreme Court and legislators are not following what the people want. One speaker, who only shared her first name, Deja, went so far as to say the Supreme Court should be abolished.
Her comment was met with cheers from the crowd.
"We can no longer sit aside and allow this system to continue to take away our rights," she said.
Speakers at both rallies encouraged people to take to the streets and fight for the right to abortion and to educate themselves, join pro-abortion organizations and vote.
Prior to the rallies, Karrie Galloway, the president and CEO of Planned Parenthood Association of Utah, said the Supreme Court decision gives politicians permission to control what people do with their bodies, and could have effects that go beyond abortion.
"This dangerous and chilling decision will have devastating consequences in Utah and across the country, forcing people to travel hundreds, sometimes thousands, of miles for care or remain pregnant," Galloway said. "We will always fight for you and we will not back down. Together, we will rebuild and reclaim our freedom."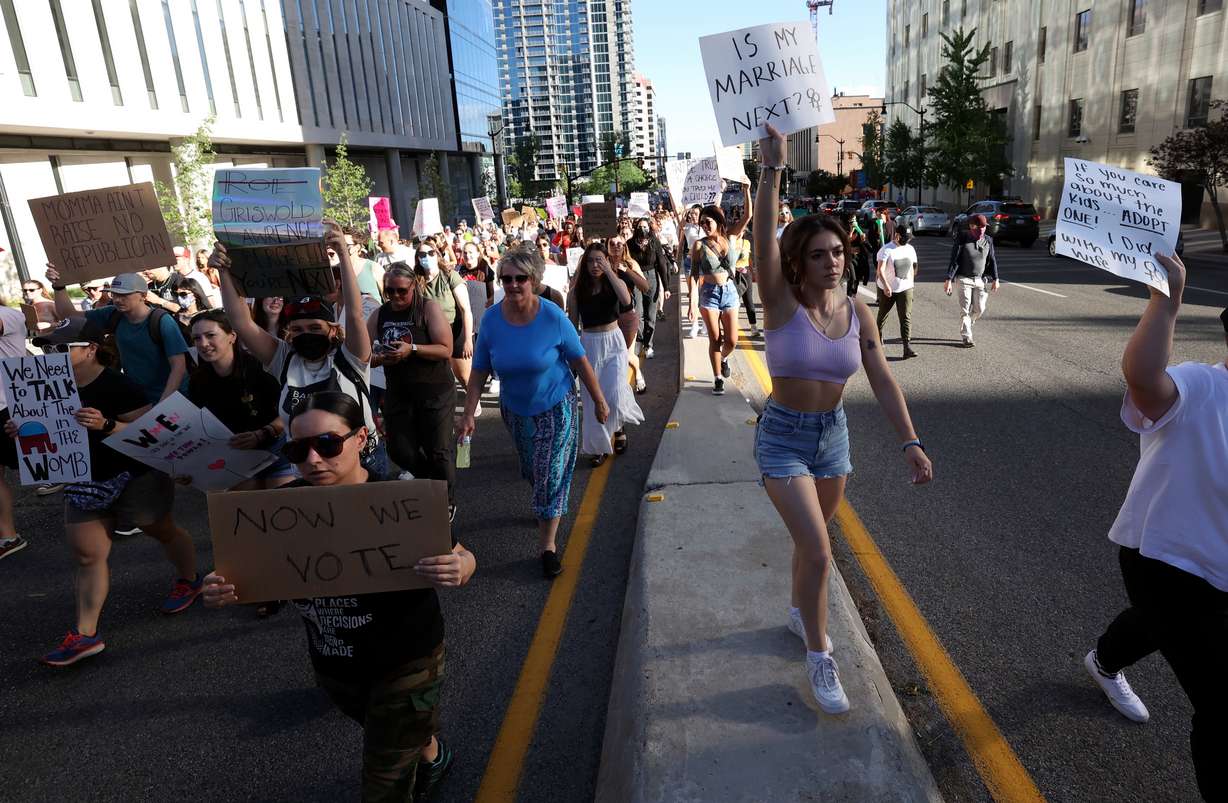 During Friday's protest, she told KSL their lobbies were packed today and they still plan to help everyone who comes the best they can where resources are available, including helping get people to other states.
Galloway said the organization will handle the people in their waiting rooms, people who call in scared and supporters who want to do something to help. Planned Parenthood will also continue providing family planning, education and advocacy.
"There's going to be work from morning to night. And we're going to have to fight back. I mean, we can't trust the people who are in office now," Galloway said.
Mothers, persons with disabilities, members of the LGTBQ community and people of color were among the 11 speakers at the Planned Parenthood protest.
"It's just an amazing world; the reproductive roundtable world of Utah," Galloway said.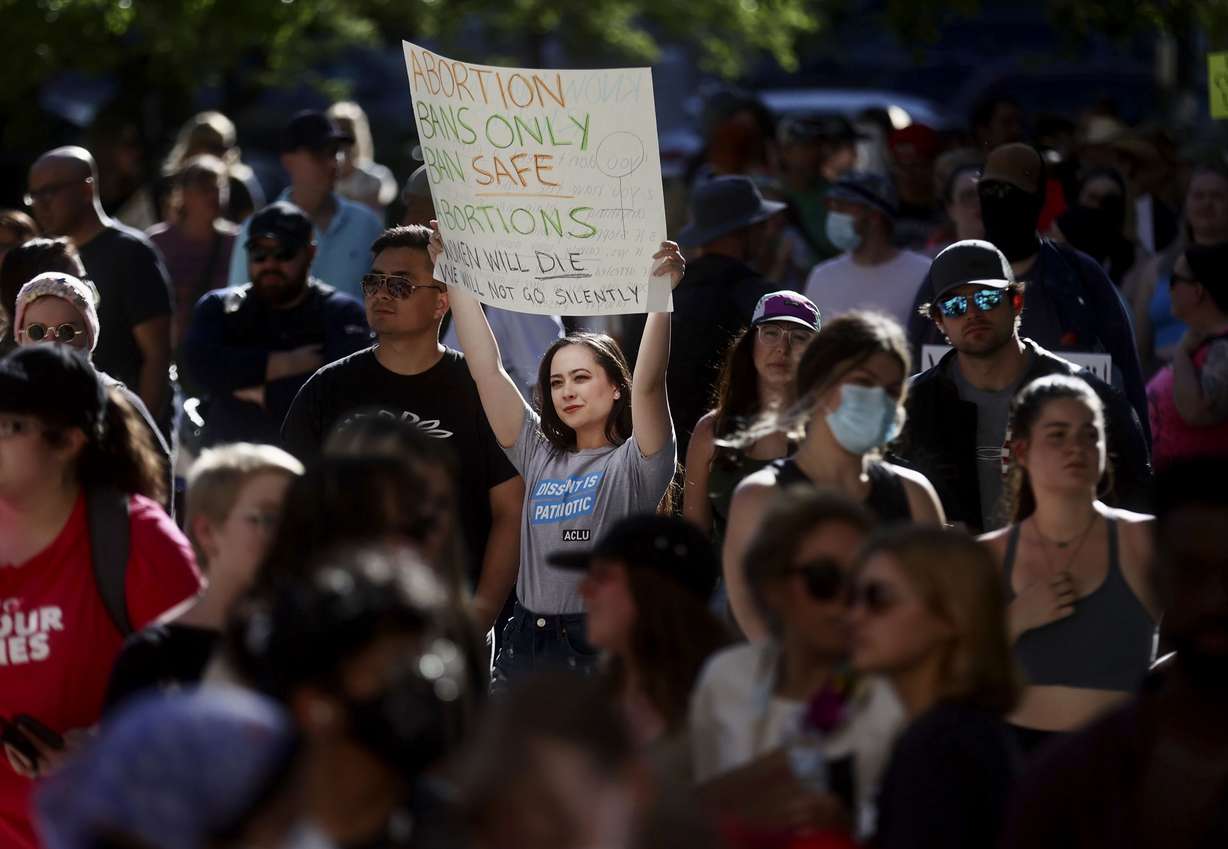 Gov. Spencer Cox and Lt. Gov. Deidre Henderson issued a joint statement in support of the Supreme Court ruling earlier Friday and said the administration is committed to supporting women and families, encouraging more steps to support mothers, pregnant women and children.
"This administration has been dedicated to giving a voice to the most vulnerable in our society, including the unborn. We wholeheartedly support this Supreme Court ruling and are encouraged to see abortion law will be left to elected state representatives," the statement said.
Rep. Angela Romero, D-Salt Lake City, teared up after the rally, saying that she felt "really empowered" after doing interviews all day. She said it was touching to hear others' stories and said there is so much support for Planned Parenthood.
"This brightened up my spirits because I know I'm not alone," she said.
Romero said that as a Democrat in the Utah Legislature, it can feel like she's alone, but events like Friday's help her remember her purpose, which she says is to be a voice for the people. She said she wants to make sure she represents Utahns and believes the newly enacted Utah abortion law is not what the people want.
Utah's SB174 trigger ban took effect shortly after 6 p.m. Friday. It prohibits elective abortions except in circumstances that involve rape, incest or a medical emergency. Speakers at the Salt Lake City-County building protest announced that it had gone into effect during their event, leading to an outcry from disappointed people in the crowd.
It was approved by Utah Legislature's general counsel hours after members of the Legislature announced that the Supreme Court opinion was sent for a review. Senate President Stuart Adams, R-Layton, said he expected it to take effect in a few days; it was approved within a few hours.
Utah was one of 13 states with an abortion trigger law. There are also states with abortion restrictions that were enacted before the Roe v. Wade ruling in 1973.
The Utah Department of Health Office of Vital Statistics shows that Utah's abortion rate has dropped by 48% since 1990, despite a significant rise in population. It also says 65% of women seeking abortion cited socioeconomic reasons and 41% of the women were married.
The website shows there were 2,776 abortions performed in Utah in 2019, compared to 46,832 births. Of those abortions, only 14 would have been legal under the Utah trigger law based on rape or medical issues, though the data does not report incest.
×
Photos
Related stories
Most recent Politics stories