Estimated read time: 7-8 minutes
PROVO — Saturday's game at Washington State will be perhaps the most unique one on the Cougars' 2021 schedule, at least in terms of the opposing coaching staff.
But it's not completely unprecedented.
Stunned by the abrupt firing of head coach Nick Rolovich for refusing to comply with Washington Gov. Jay Inslee's COVID-19 vaccine mandate for all state employees that was signed into law Aug. 18, the Cougars are left to pick up the pieces of a program on a three-game winning streak that appeared to be turning the corner on the former Hawaii coach's second season in Pullman, Washington.
Perhaps as great of a concern is that, in addition to Rolovich, the Cougars also fired offensive coaches Craig Stuzman and Mark Weber among the four assistants let go in the shuffle that university officials estimated saw 50 or fewer individuals fired from the campus Monday evening.
Their opponent, BYU — the 4-point favorite on a two-game losing skid prior to Saturday's 1:30 p.m. MT kickoff on FS1 — knows a little something about coaching disruptions.
"We played two of our best games last year with close to half our coaching staff not even on the trip. I don't know if I'm breaking news right now, or if people are aware of that," BYU offensive coordinator Aaron Roderick said this week, pointing specifically to the 51-17 win over then-No. 21 Boise State and the 39-23 win over UCF in the Boca Raton Bowl, which other sources tell KSL.com did not include then-offensive coordinator Jeff Grimes and offensive line coach Eric Mateos on the trip.
"Coach Lamb, in particular, reminded our whole team of that; we played great without coaches last year. It's a players' game, and these guys are going to be highly motivated and ready to play. They've got a veteran QB who you can tell is a great leader. We all know that kid from recruiting; he's an awesome leader. They're going to be ready to play.
"I don't think the coaching situation really has an impact on the game at all."
Added the aforementioned coach Ed Lamb, BYU's assistant head coach, special teams coordinator and linebackers coach: "This game is about players — 99% about players, and 1% coaches. Our guys know that, it's what we do believe, and our guys will be fine."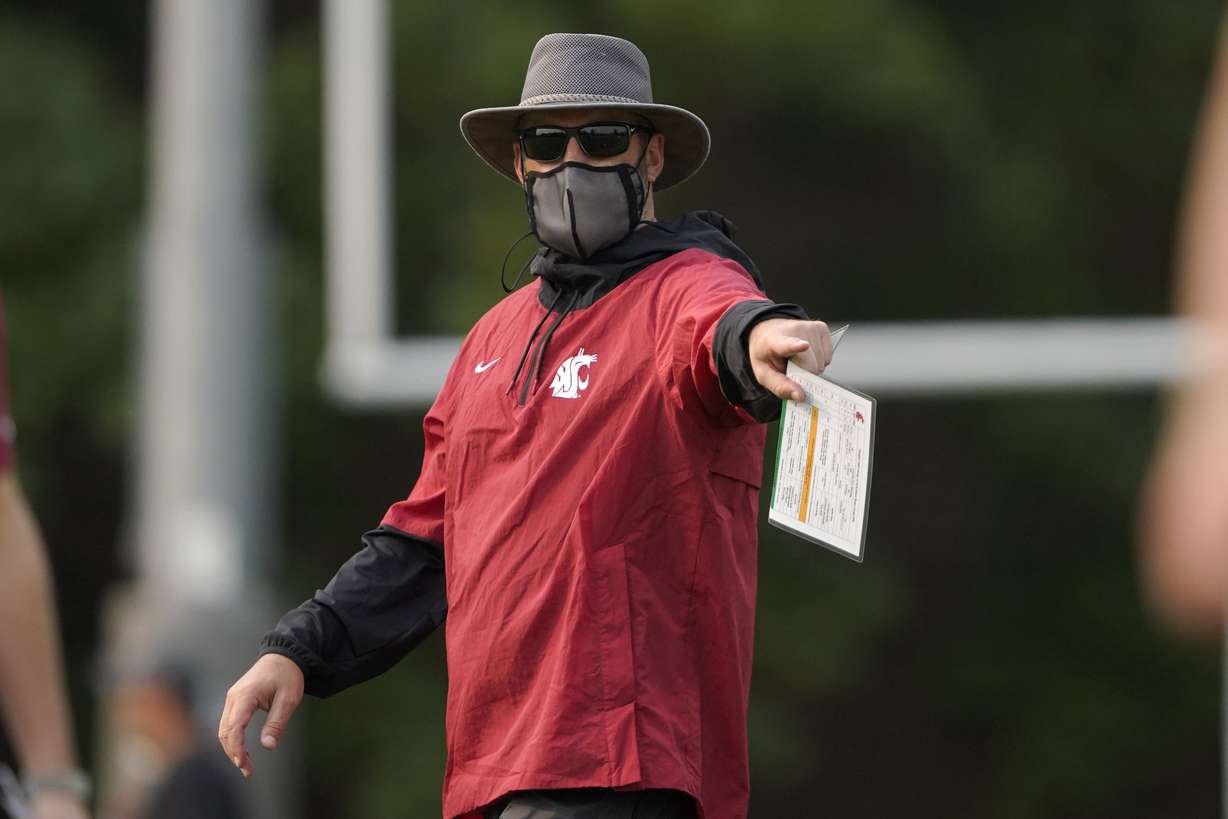 Of course, complicating the matter is that Washington State runs the run-and-shoot, a niche offense invented by former Ohio State coach Glenn "Tiger" Ellison that incorporates a fourth wide receiver instead of a tight end, or a pair of "slotback" receivers, that line up just off the line of scrimmage to maintain downfield eligibility, with a quarterback that Rolovich put in pistol formation to allow him to read, adjust and make throws on the fly.
Coaches with that kind of systemic experience aren't walking into Pullman — or anywhere — off the street. Rolovich's old coach June Jones helped popularize the run-and-shoot at Hawaii in the late 90's and 2000's, but few college football coaches run the system today.
"The run-and-shoot has evolved. They've added a lot more to their scheme, a lot more plays to their call sheet," said BYU coach Kalani Sitake, who faced the same system in the 2019 Hawaii Bowl, when the Cougars lost to the hometown Rainbow Warriors 38-34 in a game where both teams combined for 1,000 yards. "That's what Rolo does; we've played against Rolo enough to know that it's not always the same team.
"They do a great job of getting the ball to their playmakers — and they have a bunch of them. That's why they're so often in the spread. They're receivers are good at getting the ball right now. And they're running back, in my opinion, is very underrated."
So what kind of effect will the red Cougars' coaching change have on Saturday's game? Not much, if any.
"At the end of the day, there are a lot of guys on that offensive staff," quarterback Jaren Hall said. "You've still got to play.
"In the past, when it happened to us, we dealt with it very well. I'm sure they will as well, and perhaps even be more fired up."
The task of picking up the pieces at Washington State falls on interim head coach Jake Dickert, the 38-year-old defensive coordinator best known for his top 10 defenses at Wyoming before he made the jump to the Palouse.
It also falls on the Cougars' upperclassmen, a group of young men who have endured incredible adversity during their time in Pullman, including the death of teammates Tyler Hilinski and Bryce Beekman, two coaching changes, a global pandemic and the challenges of playing in the 2020 season, and the social justice movement last summer.
"For our upperclassmen who have been here for a few years, it's been a hard road," WSU athletic director Pat Chun told Yahoo Sports this week. "We're focused on what is best for the well-being of our football team."
All of that to say that if there is a group that can be galvanized by the rumbles around campus — adversity over which they've had little to no control — it's these Pullman Cougars, led by quarterback Jayden de Laura, the sophomore from Honolulu, Hawaii, who has 1,476 yards and 15 touchdowns with five interceptions on the year that BYU coaches recruited out of St. Louis High School.
Much of the offensive burden also falls on Max Borghi, the senior tailback from Arvada, California, who has 421 yards and five touchdowns on the year and is considered one of the top running backs in the Pac-12.
Wazzu is plugging holes on that staff on the fly. Associate head coach and offensive coordinator Brian Smith will go back to calling plays after losing all but receivers coach Andre Allen in the shakeup on the offensive staff.
The university announced Friday that edge coach AJ Cooper will coach the entire defensive line following the departure of defensive tackles coach Ricky Logo, former analyst Jordan Malone will take over for departed cornerbacks coach John Richardson, and Dan Ferrigno will be an on-field offensive coach after serving as an analyst and previously as an assistant coach over wide receivers, tight ends and special teams.
To help ease the transition, Washington State brought in former SMU and Hawaii assistant Dan Morrison as quarterbacks coach. The 20-year veteran of the run-and-shoot offense most recently worked with the XFL's Houston Roughnecks in 2019.
The Cougars also added offensive line coach Dennis McKnight from the Roughnecks and Hamilton Tiger-Cats of the CFL. The former 11-year NFL veteran also spent three seasons at SMU and worked with Jones at Hawaii as special-teams coordinator.
"We are fortunate that Dan and Dennis have joined our staff as their experience and leadership will provide great benefit as we go forward," Dickert said in a statement. "Both coaches are very familiar with our offensive schemes and will be tremendous resources and teachers for our players.
"We also appreciate the efforts of A.J., Dan and Jordan to take on additional roles," Dickert continued. "Our entire staff has stepped up this week to benefit the program."
BYU will be making its inaugural trip to Pullman in the history of the four-game series. The blue Cougars own a 3-1 series record that includes two wins in Provo and a win in the 1981 Holiday Bowl. But the most recent game — a 30-6 victory — came in the debut of former Washington State coach (and BYU alum) Mike Leach with the red Cougars in 2012, so history doesn't mean much for this game.
And though BYU's program has never played in Pullman, the coaching staff has experience in the environment, thanks to numerous years in the Pac-12 from former Utah defensive coordinator Sitake and Roderick, who held a variety of offensive roles with the Utes including two separate stints as co-offensive coordinator.
"They're fans are hostile in a good way, the way you want your home teams to be," Roderick said. "It's not a huge stadium, but it's loud. Crowd noise is definitely a factor there.
"It's going to be a really fun college football environment."
How to watch, stream and listen
BYU (5-2) at Washington State (4-3)
Martin Stadium in Pullman, Washington
Kickoff: 1:30 p.m. MT
TV: FS1 (Cory Provus, Mark Helfrich)
Streaming: Fox Sports App
Radio: BYU Radio, KSL 1160 AM/102.7 FM (Greg Wrubell, Riley Nelson, Mitchell Juergens)
Series: BYU leads, 3-1
Average score: 39.8 to 31.0
Line: BYU -4, O/U 56.0
Remember Rolo: Former Washington State coach Nick Rolovich wasn't just the man to re-invent and popularize the Cougars' run-and-shoot offense, but also had success with it as a quarterback at Hawaii. That included a record-setting eight touchdown, 543-yard performance in the Rainbow Warriors' 72-25 win that thwarted BYU's perfect season in 2001.
Pac-12 Power: BYU is playing its fifth Power Five opponent of the year, and fourth against the Pac-12. After going 3-0 against Pac-12 South members Arizona, Utah and Arizona State, the Cougars lost their first P5 matchup last week 38-24 at future Big 12 rival Baylor. Following the trip to Pullman, the Cougars will host ACC foe Virginia on Halloween, followed by a trip to USC over Thanksgiving weekend Nov. 27. BYU has never beat four Power 5 teams in a single season.
×
Related Stories