Estimated read time: 5-6 minutes
This archived news story is available only for your personal, non-commercial use. Information in the story may be outdated or superseded by additional information. Reading or replaying the story in its archived form does not constitute a republication of the story.
SALT LAKE CITY — Despite a Top 25 football game in just four days, BYU football coaches and players didn't wake up to practice Tuesday morning.
The Cougars didn't report to the team meeting rooms for film review on No. 21 Boise State, and no player will compete in organized team activities all day.
It's all part of new NCAA legislation that requires teams to leave open the first Tuesday after Nov. 1 every year, Election Day, providing a day for civic engagement and community service for all athletes in the country.
And even if it presents challenges for the No. 9 Cougars before Friday night's top-10 clash with the Broncos, there are some things in life that are more important than football. That's the attitude at BYU and across the country as the new NCAA focus on civic dialogue and social engagement spreads this week.
It's part of the Cougars' mission, as well, which is founded on principles and doctrine of the university's founding sponsor, The Church of Jesus Christ of Latter-day Saints.
"Part of our mission as a team and what we do is to be involved in service and in the community," BYU head coach Kalani Sitake said. "A lot of teams try to do that, but it's something we really put out there in recruiting. If guys just want to play football, it probably doesn't work for us. We need them to be out in the community, be with the fanbase, and respect each other."
The move affects all sports in the NCAA, which put a blanket halt to practices and team activities for one day in the most sweeping legislation since the Division I Student-Athletic Advisory Council in 2014 to give athletes at every level a vote in the decision-making process.
Rather than focusing on what they couldn't do Tuesday, Weber State women's volleyball team jumped into what they could do with more free time than the average college athlete normally has.
On Monday, the Wildcat spikers, along with the women's golf and women's basketball teams, helped set up polling stations across Weber County and at the Ogden Fairgrounds, laying down tables and chairs, taping off lanes for social distancing, and installing plexiglass dividers and sanitizing buildings for the hordes of Utahns that have yet to submit their ballot.
Our girls had the opportunity to help set up polls for Election Day tomorrow. Thank you to @weberstatewbb for allowing us to help serve the community. #weberstatevb#invictus#purplereignpic.twitter.com/wjTBhrJFyF

— Weber State Volleyball (@weberstatevb) November 2, 2020
Weber State setter Ashlyn Power mailed in her ballot to her native Nebraska last week. So after the NCAA's recent push to free up athletes to vote Tuesday, she and her teammates moved to help others exercise their own rights to vote under the direction and organization of women's basketball coach Velaida Harris.
"It starts with universities and programs," said Power, a senior psychology major. "Coach V is a great example of someone who pushes their athletes to be active in the community. It's a huge credit to her for encouraging not only her own team, but getting the other teams involved on campus, as well."
Every other day, the Wildcats focus on skill development and building on the upcoming spring season to improve on last year's run to the Big Sky championship final for the first time in 30 years.
But Tuesday was set aside for more personal matters — civic engagement, duties and service that will apply to their lives after they've laced up for the final time.
"I hope to remain active in what I believe and in the community, not just for Election Day," said Power, adding that her and several teammates are returning to the polls Tuesday to volunteer with site workers. "There's always stuff we can continue to do to make the community better, and to be more active in these roles."
For most of BYU's football players, devoting part of their lives to service and community engagement isn't a problem. Just ask the dozens of returned missionaries on the roster.
Still, it's a change in direction and mindset for many of the football junkies dotting rosters across the country.
"Most of these guys live and breathe football," BYU safety Troy Warner admitted, "and the only thing on my mind is football and what I can do to better myself.
"But we respect that day and we encourage everybody to vote."
The shortened week is more pronounced with non-Saturday games, such as Utah State's upcoming Week 3 game of Mountain West play Thursday at Nevada (5 p.m. MT, FS1).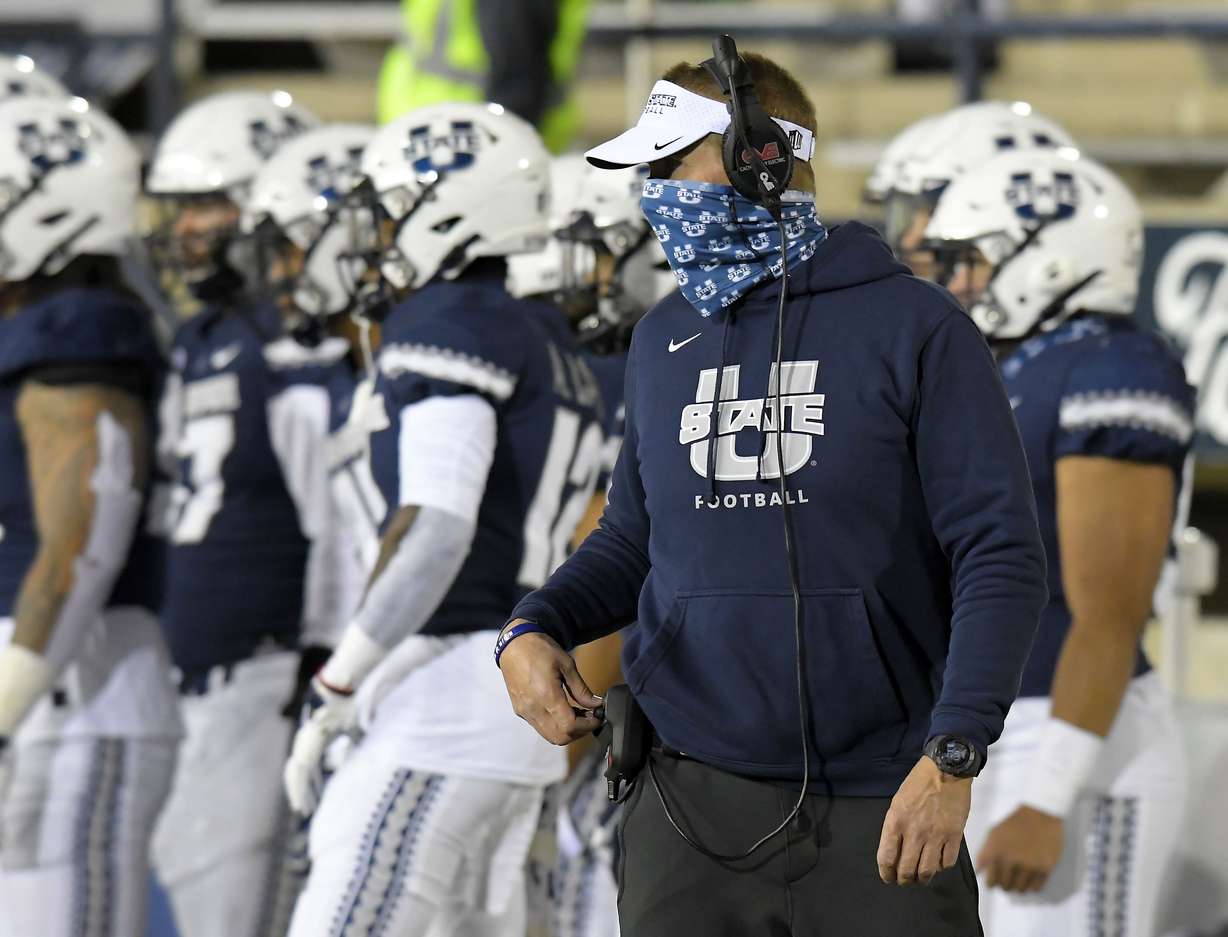 But like his BYU counterpart, Utah State coach Gary Andersen is a fan of the new legislation. So on Tuesday, the Aggies will report to campus for workouts and treatment — really, any "non-countable" activity under NCAA rules — before being released at 10 a.m. MT to vote and disperse into the community.
"It gives people opportunities. It's different," said Andersen, while acknowledging the day probably won't be used for much voting due to Utah's majority vote-by-mail status and the Aggies' prior voter education endeavors. "I think it's great. We've tried to educate and talk about the whole voting process — long ago, not right now.
"We've educated them, I think, that having the day off is something that shows that the world is kind of putting their money where the mouth is and saying that this is important. Action speaks louder than words."
In addition to the game-week changes of one fewer days of preparation, the Utes are also dealing with a new locker room after their current setup was torn down due to construction at Rice-Eccles Stadium.
Head coach Kyle Whittingham isn't complaining, but add it to another factor of the ongoing saga that is 2020. Replacing a day of practice with civic engagement is a good change to have, then.
"It's not much different even though we're jumping right into Pac-12 play," Whittingham said. "You've got to be prepared to play at your best regardless of who you are playing.
"The biggest difference in this camp has been contact, because we have so many guys who we need to get up to speed. The only way to do that is with live work."
Contributing: Ryan Miller
×
Related Links