PROVO — The NBA is rolling back with a bubble tournament, including playoffs, at DisneyWorld in Orlando.
And while the NBA draft date is currently yet to be officially determined, at least two local players will soon be headed to the NBA Draft Combine.
Former Utah State standout Sam Merrill and BYU star Yoeli Childs have both received an invitation to the 105-player combine held by the Association, according to a list of the pre-approved players released Monday. The list could be trimmed down to 70 players at a later date.
Childs' selection was first reported Sunday by Bryan Kalbrosky of Hoops Hype. Merrill's inclusion was confirmed Monday by Utah State.
According to The Athletic's Shams Charania, the NBA lottery is scheduled for Aug. 20, meaning the combine would likely be held in late August or later, and the draft will be scheduled for Oct. 16.
The combine was originally scheduled for May 21-24 in Chicago, but was postponed indefinitely in response to the novel coronavirus pandemic.
Both Merrill and Childs are projected as second-round picks in the upcoming NBA draft by most draft analysts.
Merrill wrapped up his four-year career with the Aggies ranked second all-time in school history with 2,197 career points and 477 career assists. The Bountiful High product led Utah State to back-to-back Mountain West Tournament championships and became the first player in league history to win Mountain West tournament MVP honors.
The 6-foot-5, 205-pound Merrill averaged 20.3 points the past two seasons, when he earned a pair of all-conference honors and third-team and honorable mention All-America honors by Stadium and the Associated Press, respectively.
"When he's on the floor, there's just so much confidence that he provides everyone else. He's out there and guys just play better," Utah State coach Craig Smith said.
"I think a big reason why is he's a star. He's the most unselfish star I've ever been around. I think he brings so much confidence because he's so humble."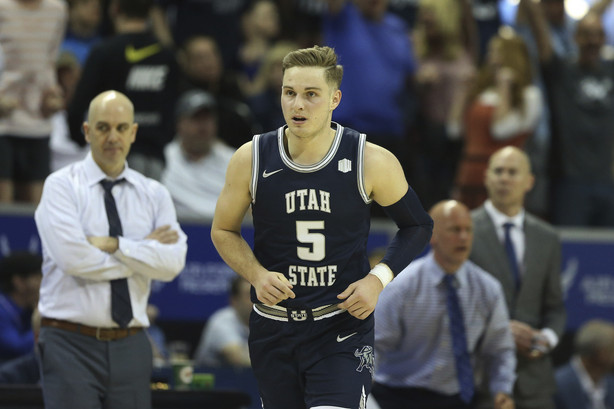 Childs wrapped up his four-year career at BYU in March with the Cougars boasting a 24-8 record and No. 18 ranking in the final AP poll before COVID-19 canceled the NCAA men's basketball tournament.
The South Jordan native and former Bingham High star averaged more than 20 points and nine rebounds per game in his final two seasons, including 22.2 points, 9.0 rebounds and 2.0 assists per game as a senior while shooting 57.4% from the field and 48.9% from 3-point range — despite missing the first nine games of the season due to an NCAA investigation for player-agent rules violations.
Childs was an All-West Coast Conference first-team selection as a senior in 2019-20, along with all-district honors from the U.S. Basketball Writers Association and National Association of Basketball Coaches. He led the team in scoring 11 times, was a leading rebounder 14 times, and led the squad in assists once.
"I'm going to be able to be a pro for a really long time, but I only have one more year to do something special here," Childs said before his senior year.
"I owe it to the school and to my teammates to do something amazing. I just want to go all out and do something special for BYU."
×
Related Links