MURRAY — Researchers at Intermountain Healthcare are leading a national study to pinpoint complications and close a gap in care suffered by some patients recovering from acute lung injury.
It's a serious condition that has to be treated in the intensive care unit, and doctors want to find out why many of those patients end up back in the hospital.
The study, funded by the United States Department of Defense, hopes to determine what is causing medical complications and high re-admission rates among those patients.
One such patient was Amanda Grow, who was pregnant with her fourth child and went into labor a couple of weeks early. She delivered a baby boy by C-section. In the recovery room, her health took a nose dive.
"I was conscious through all of these events but I still have no memory of them," said Grow, who was an ICU patient at Intermountain Medical Center a year ago. "My blood pressure was plummeting."
After some deliberation, a team of doctors and nurses raced to the ShockTrauma ICU.
"When they did an EKG on my heart, there was no blood left in my heart," she said.
Grow was experiencing a rare childbirth complication and bleeding internally and was given a massive blood infusion to save her life. She was also put in a medically-induced coma for six days.
"They just told my family we don't know: it could go either way; she could die; she could live; we're just not exactly sure," she said.
Among other problems, Grow had acute lung injury.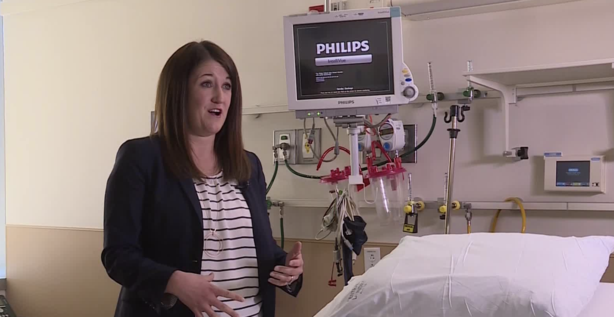 "My lungs had failed, and so I had a tube down my throat and I was restrained on the bed" to keep her from unconsciously ripping the tube from her mouth. When she left the hospital after several weeks she emerged into a different reality. She was a patient not quite ready to make that transition, she said.
She had a nurse checking on her at home but some don't have that opportunity?
"They're just dropped back into life and they have to figure out how to navigate this totally different reality," Grow said about those that don't have a nurse.
"That kind of storm in the intensive care unit leaves after effects in a person's body," said Dr. Samuel M. Brown, director of the Center for Humanizing Critical Care at Intermountain Medical Center. "They can take months to even years to recover."
Many patients, whose lives are saved in the ICU, are later re-admitted with complications related to the acute lung injury — as many as 50 percent. The most common causes for acute lung injury are pneumonia, serious infections and even battlefield injuries from bomb blasts, which is why the study is funded by the Department of Defense.
Intermountain Medical Center and Vanderbilt University Medical Center are lead sites for the study. They'll work on the three-year study with Johns Hopkins University in Baltimore, Beth Israel Deaconess Medical Center in Boston, and the Veterans Affairs Medical Center in Salt Lake City. Researchers started enrolling patients last month.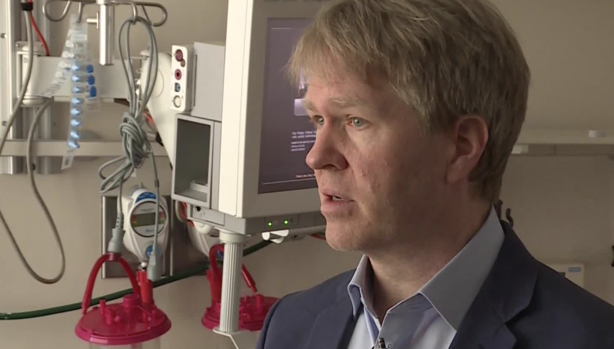 As Brown and his colleagues started talking more with patients and their families about their experience in aftercare, they realized the system didn't always work well for the patient.
"They almost died, and they're rebuilding a body and a life after almost having died; and it turns out they're very fragile," he said. "We realized that we had been abandoning these people."
In the study, Brown hopes to zero-in on that gap between the care in the ICU and recovery after the hospital. He wants to learn how to identify preventable re-admissions because many of the people they save in the ICU struggle when they leave, and the system isn't helping them.
"How often do we try to pass the baton from the hospital based team to the outpatient team, and fail to follow through on the things that we all thought made sense as part of the recovery?" he asked. "How often are the patients running into unmet needs in the weeks after they leave the hospital? So, there is a moral impulse to why we're doing it."
The study was supported by the U.S. Army Medical Research and Material Command, Congressionally Directed Medical Research Programs, through the Peer-Reviewed Medical Research Program, under Award No. W81XWH-18-1-0813. Opinions, interpretations, conclusions and recommendations are those of the author and are not necessarily endorsed by the Department of Defense.
×
Photos