This archived news story is available only for your personal, non-commercial use. Information in the story may be outdated or superseded by additional information. Reading or replaying the story in its archived form does not constitute a republication of the story.
FARMINGTON — Severe watering restrictions in the heart of this tree-lined community are prompting threats of lawsuits and angry calls to irrigation district managers.
They remain firm, however, and say unless people allow their lawns to go brown, the water supply will dry up by Sept. 1.
"I can't imagine if we have no water come Sept. 1," said Paul Hirst, a member or the board of trustees of the Benchland Irrigation Water District.
"There goes Tree City Utah," Hirst said.
Farmington is known for its stately rows of towering sycamores that line Main Street, earning it a coveted designation from the Arbor Day Foundation.
But Hirst said those trees and others in the community are at risk unless people adhere to strict new rules on when and what to water, including new sod or other plantings.
"There is many, many thousands of dollars in these trees in this community but they don't have the resilience that sod does. The lawns can go brown."
Hard restrictions that impose fines or a shutoff of water for violators include:
No weekend watering from 8 a.m. Saturdays to 8 a.m. Mondays
No weekday watering between 10 a.m. and 6 p.m.
Cutback use by 35 percent
No new sod or other plantings
Hirst said the district is serious about violators: first time offenders get a $50 fine, second-time offenders are fined $250 and a third offense means shut-off from any water.
"We are serious. We will have people to patrol 24/7," he said.
Benchland Irrigation District water users are in a unique situation compared to surrounding districts.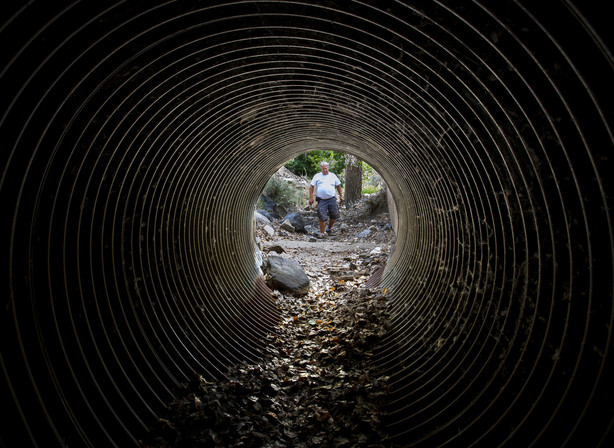 "This is unprecedented in what we are having to do with these severe restrictions," he said.
The reason?
The district relies on 60 percent of its water supply from the runoff of four mountain creeks: Davis, Shepard, Steed and Farmington.
This year's pitiful snowpack delivered only 20 percent of what it normally gets.
Scott Parsell, the district's general manager, said stream flows this May that should have lasted weeks peaked within a couple of days.
So instead of that source of water dwindling around June 25 due to runoff, it dried up to a drizzle a month earlier, he said.
"People want to know why we didn't start to conserve earlier, but it has never happened since I worked here," he said.
Parsell has been with the district more than 35 years.
The district was forced to tap into its secondary source of irrigation water provided by Weber Basin Water Conservancy District months earlier than planned.
"This year, since we started early, we have used more than we ever had planned, so as a result we forecast we will run out of water at the consumption rate we have been at by September," Hirst said.
The third source of water, rain, hasn't been cooperative either this spring or summer.
"With these kind of restrictions we have, you can imagine the kind of phone calls our district staff have been receiving. They have not been complimentary at all," he said. "But we are doing the best we can with what we have," Hirst said.
Tage Flint, general manager of the Weber Basin Water Conservancy District, said Benchland is weathering a tough supply season not experienced on the west side of Interstate 15 in Farmington because that area doesn't supplement its supply from mountain creeks.
"Each of these irrigation districts to which we wholesale water have a different water supply regime," he said. "(Benchland) is truly in a bad way. It is indicative of the bad runoff we have."
Farmington resident Peggy Rigby understands the dire water situation affecting the area, but wishes people would be more waterwise.
"We get what they are trying to do," she said. "That is the whole point in making sure it is conserved so it lasts longer."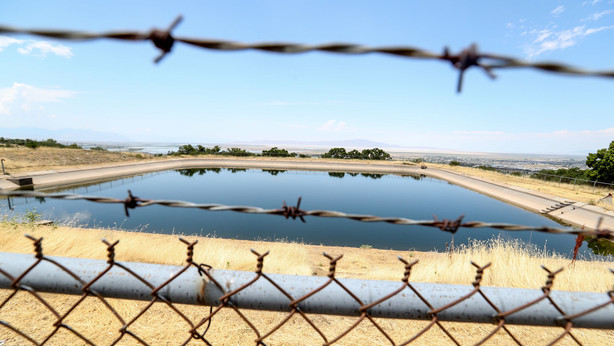 She routinely sees people watering during the hottest time of the day, however, when most water is lost to evaporation.
"If people would follow the rules, it might be a little bit better," Rigby said.
Hirst said the district is prepared to endure the complaints, but he is hopeful people understand the gravity of such a low water year.
The district plans a Facebook live question and answer session on July 19 at Facebook.com/usuextension.
Informational workshops are planned for Monday and July 18 to help people learn how to maintain landscapes in time of drought. The district has teamed with Utah State University Extension Service to offer advice.
"This is a major tectonic shift in how we deal with our landscaping, even for me," he said.
"Brown is going to be beautiful."
×
Photos