Estimated read time: 2-3 minutes
This archived news story is available only for your personal, non-commercial use. Information in the story may be outdated or superseded by additional information. Reading or replaying the story in its archived form does not constitute a republication of the story.
Amanda Butterfield Reporting People in Heber City are afraid to drink the water because of its murky color. One area was hit hard, but KSL discovered calls from all over the city have been pouring in to the health department.
We also discovered that although the water looks unappetizing, it actually may not pose a health risk.
The water coming out of taps in dozens, possibly hundreds, of homes in Heber is a brownish-golden color. It even has sediment in it. Though it may look unsafe, city officials do not consider it a health hazard.
Friday night residents in the Mirrorfield neighborhood started noticing their water was unclear.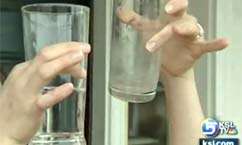 "This is how the water looked. If you compare it to the clean water we now have, you can see it's murky," Heber City resident Sariah Correa said.
Correa's neighbor, Babbs, said it got so bad in her home that her toilet wasn't working for a while. Even today there is sediment in the tank. Babbs and her family don't dare drink the water.
"We are very scared," she said.
Correa said, "We're not bathing in this water. We're not using it for dishes."
So why is the water murky? And is it a health risk? We asked Steven Tozier of the Heber City Public Works Department. "The issue of concern came from flowing of fire hydrants," he said.
Last Tuesday city workers began flushing hydrants for annual maintenance. Flushing all that water disturbs sediments and rust in the pipes. That's what caused murky water in homes. Samples of the water were taken. No risk was detected.
But folks in this neighborhood did not know about the hydrants being flushed, so the murky water alarmed them. When calls came in Friday night, a city worker tried flushing more hydrants to fix the problem. That only made it worse.
Even today the water isn't clear in some homes. But it's not unsafe to drink, according to the director of public works.
"We haven't had any issues of health-related hits on our tests. It just looks bad," Tozier said.
The Wasatch County Health Department is also involved. A map shows the Mirrorfield neighborhood is not the only place with murky water.
"We had one on the south end of town, and this is on 400 West," explained Phil Wright of the Wasatch County Health Department.
Monday morning, both the city and county health departments took samples from the homes in question. Tozier believes the tests will come back just fine, and it will just take time for clear water to flow again.
The results from those samples are due back Tuesday. We'll let you know the results.
Representatives from both the county and city say if water from your tap is murky and you're worried about drinking it, you can boil it or use bottled water.
×
Most recent Utah stories