Estimated read time: 2-3 minutes
SALT LAKE CITY — In just over 12 hours from Wednesday afternoon into Thursday morning, three Utah Highway Patrol vehicles were hit by cars and a semitruck that lost control on the slick roadways.
Two troopers were injured in the crashes and were transported to hospitals with minor to moderate injuries. Both have since been released and are recovering at home.
A patrol car and SUV were hit along northbound I-15 in Juab County near Nephi Wednesday afternoon. The troopers had responded to several collisions in the area during the winter storm.
"A semi came by, lost control and that rear trailer ended up sideswiping one of our trooper's cars," said Sgt. Cameron Roden, with the Utah Highway Patrol. "That trooper was in the vehicle at that point and time and did sustain some minor to moderate injuries."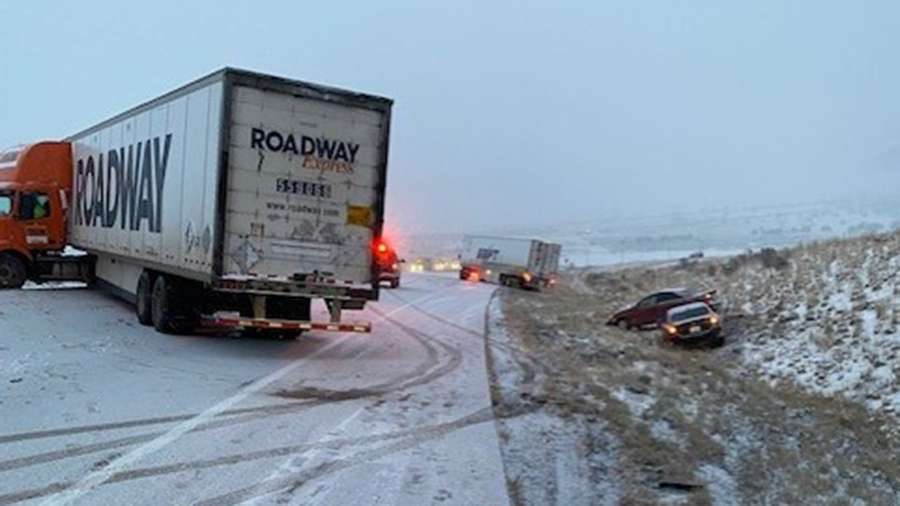 Dashcam video showed the trooper outside his vehicle just seconds before the crash happened. The impact pushed the trooper's car further off the side of the road.
"Shortly after that collision, we had an SUV lose control and slide into the back of one of our other trooper's cars that were on scene," Roden said. "Luckily, that trooper was not in his vehicle so there were no injuries."
There was a police dog inside the second UHP vehicle hit in Juab County, but Roden said the K-9 wasn't injured.
The third crash involving a stopped patrol car being hit happened around 7 a.m. Thursday in Salt Lake County.
Roden said the trooper was responding to a crash on I-215 and was inside his vehicle when it was hit by a car that lost control. He was taken to the hospital to be treated for minor injuries.
The Highway Patrol urged Utah drivers to slow down in winter weather, especially if there is a crash or stopped emergency vehicles in the area.
"As we look back at these crashes the majority of them are speed-related," Roden said. "People going too fast for these conditions."
×
Related stories
Most recent Utah weather stories