Estimated read time: 3-4 minutes
SALT LAKE CITY — Northbound I-15 was reopened near 14600 South on Thursday after crews spent hours clearing a multivehicle crash that involved an oil spill.
Just after 10 a.m., the Utah Highway Patrol said two lanes of I-15 would "open shortly at the Point of the Mountain but drivers are still encouraged to use alternate routes." In a tweet posted at 10:46 a.m., UHP said northbound on-ramps would be closed to manage traffic in American Fork and Lehi at exits 276, 278, 279, 282 and 284.
At 9 a.m., troopers advised travelers to avoid the area from Lehi to Draper if possible, as it could take around three hours to travel from Utah County into Salt Lake County.
"I didn't move like maybe a mile in two hours," said Andy Shill, who was stuck in the gridlock.
As traffic slowed during the morning commute, some drivers were seen making U-turns in the middle of traffic to get out of the jam. Troopers said drivers are not permitted to drive the wrong way on off-ramps to get out of traffic and told drivers not to park or abandon vehicles on the shoulders of the road.
An Amazon semitruck was northbound on I-15 near 14200 South around midnight when it jackknifed, blocking the right lanes, according to Utah Highway Patrol Sgt. Cameron Roden. A car entered the freeway at 14600 South and merged into traffic to avoid the semi. Roden said a pickup truck traveling at a significantly higher speed then hit the back of that car.
Another semitruck with two tankers full of crude oil was traveling too fast for conditions in the area, lost control and slid into the back of the Amazon truck, Roden said. The tanker overturned and detached in the middle lane, spilling about 2,000 gallons of crude oil onto the freeway.
An SUV then hit the debris and crashed as well.
"It all happened kind of fast," said truck driver Jesse Kelley, who captured the wreck on his dash camera.
No serious injuries were reported.
Crews used sand to absorb the oil in a process that took all morning.
"It takes a long time, working the sand back and forth, getting the sand to absorb all the crude oil," explained Jake Brown from the Utah Department of Transportation.
"Once we got some of the snow melted, the scene was a lot bigger than we thought," he added.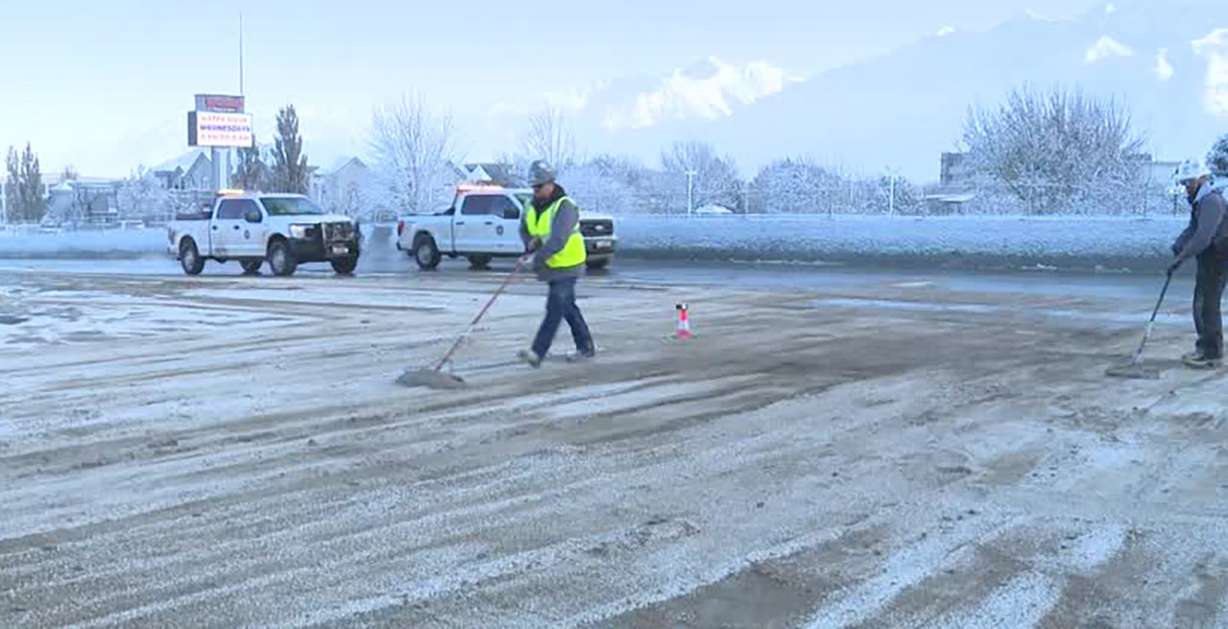 Several other crashes occurred throughout the Salt Lake Valley, as the National Weather Service reported nearly 2 inches of new snow overnight.
State Route 190 through Big Cottonwood Canyon was temporarily closed around noon due to a crash near Torpedo Hill, according to UDOT. Crews are working to clear the roadway but do not have an estimated time of reopening.
Four vehicles crashed on eastbound I-215 at Redwood Road in Taylorsville early Thursday, including a box truck. No major injuries were reported, but the crash temporarily closed the roadway just before 5 a.m.
Troopers also reported several crashes on state Route 201. Eastbound traffic was delayed at 9180 West in Magna due to a single-vehicle crash with no injuries. UDOT expects the highway to be cleared by 8:30 a.m. Another crash at 9800 West caused minor injuries and delays.
Contributing: Tyson Jackson, Shara Park
×
Photos
Most recent Utah weather stories