Estimated read time: 7-8 minutes
AROUND THE SHIELD — Tyler Huntley had a job to do, and one job only.
When his good friend and Baltimore starting quarterback Lamar Jackson went down while trying to elude a defender on the final play of the first quarter, the former University of Utah signal caller faced a 3-0 deficit and a struggling offense.
So what was his job then?
Just win, baby.
Huntley completed 27-of-32 passes for 187 yards and an interception, and added a team-high 41 yards and the game-winning touchdown on the ground to rally the Ravens to a 10-9 win over Denver on Sunday afternoon.
"Just like practice," Huntley told reporters with a smile after receiving a game ball in the locker room. "We were all talking to each other telling us, 'Hey, we need points here. That's the only way we're going to win this game.' So, all of us stayed calm, focused on the play that was called at that time, and we just started executing the best way that we can."
Jackson's injury was initially diagnosed as a knee sprain after a small group of tests, and head coach John Harbaugh told reporters that it was not immediately suspected to be season ending.
"We'll get more tests tomorrow and let you know how long it's going to be," Harbaugh said. "We'll see. Hopefully have something for you tomorrow afternoon, certainly by Wednesday be more definitive.
"But it's going to be a number — you know, days to weeks, we'll see. We'll see if he can go back this week. If not, he'll be sometime after that shortly."
But Harbaugh also declined to put a timetable on Jackson's return, meaning if the starter isn't available by next week's game against Pittsburgh, the team belongs to Huntley.
In the drives that followed Jackson's initial injury and Huntley's insertion, the Broncos took a 9-3 lead on Brandon McManus' third field goal of the game with 3:58 left in the third quarter.
But Huntley led one final touchdown drive, a 16-play, 91-yard spurt capped by a 2-yard QB dive with 28 seconds left to lift the Ravens to the victory. The Ravens took advantage of Russell Wilson in a 189-yard touchdown-less performance and the Broncos' 14 total touchdowns on the year — the same number as former BYU all-time leading rusher Jamaal Williams, who leads the league with 14 TD carries.
On the final drive, Huntley took advantage of a couple of Broncos penalties, a fourth-and-2 conversion run, and a 13-yard pass to Kenyan Drake before his game-winning touchdown.
"We have so much confidence in Snoop and in his abilities," Ravens tight end Mark Andrews said. "Obviously, last year we all got a ton of work with him, and so we have a lot of trust in that. But the many things we talk about is just keep on fighting, believe in yourself and keep on going. That's what the guys did today.
"There were plenty of times where the guys could've said, 'poor me, poor me.' But guys kept fighting and fighting, and finally broke through at the very end. That's awesome to see."
Here's how other former high school and college football standouts from Utah performed in Week 13 of the 2022 NFL regular season.
Teams on bye:
Arizona Cardinals (4-8): DT Leki Fotu, Utah/Herriman; LB Nick Vigil, Utah State/Fremont
Carolina Panthers (4-8): OT Brady Christensen, BYU/Bountiful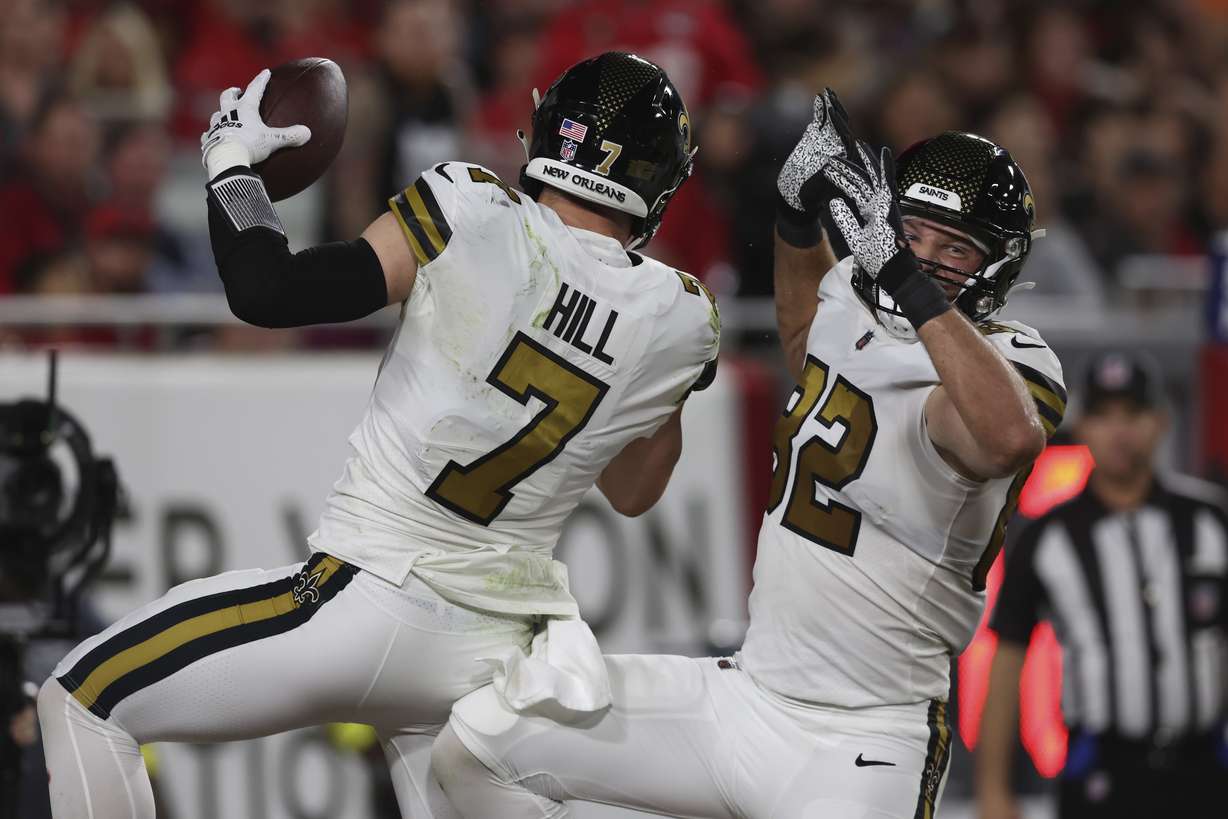 Monday Night Football
Tampa Bay 17, New Orleans 16
Buccaneers (6-6)
No locals on the active roster
Saints (4-9)
Taysom Hill, TE, BYU: Starting tight end caught two passes for 35 yards and a touchdown, ran for 10 yards on three carries, and threw a 21-yard pass on offense
Daniel Sorensen, S, BYU: Reserve safety played mostly on special teams
Rashid Shaheed, WR/RS, Weber State: Starting wide receiver had one carry, four catches for 75 yards on offense, and returned two punts for 59 yards with a fair catch and a kickoff for 30 yards on special teams
Kaden Ellliss, LB, Judge Memorial: Starting linebacker totaled eight tackles on defense
Sunday Night Football
Dallas 54, Indianapolis 19
Cowboys (8-3)
Dalton Schultz, TE, Bingham: Starting tight end caught two passes for 33 yards on offense
Colts (4-7-1)
Julian Blackmon, FS, Utah/Layton: Starting free safety made three tackles on defense
Zack Moss, RB, Utah: Reserve running back ran for 18 yards on three carries on offense
Sunday afternoon
Las Vegas 27, LA Chargers 20
Raiders (5-7)
Andre James, OC, Herriman: Started at center
Jackson Barton, OT, Utah/Brighton: Active, but did not play
Chargers (6-6)
Michael Davis, CB, BYU: Starting cornerback made three tackles with three passes defended on defense
Kyle Van Noy, LB, BYU: Starting edge rusher had one tackle and a fumble recovery on defense
Alohi Gilman, S, Orem: Reserve safety played mostly on special teams
Cincinnati 27, Kansas City 24
Bengals (8-4)
Jalen Davis, CB, Utah State: Reserve cornerback played mostly on special teams
Jay Tufele, DT, Bingham: Inactive for Week 13
Chiefs (9-3)
No locals on the active roster, but coached by former BYU offensive lineman Andy Reid
San Francisco 33, Miami 17
49ers (8-4)
Fred Warner, LB, BYU: Starting linebacker totaled three tackles, two passes defended and a 20-yard interception return on defense
Mitch Wishnowsky, P, Utah: Punted four times for 178 yards (44.5 yard average), with long of 56 yards, and two punts downed inside the 20-yard line
Dolphins (8-4)
Eric Rowe, S, Utah: Reserve safety had five tackles and a pass defended on defense
Seattle 27, LA Rams 23
Seahawks (7-5)
Cody Barton, LB, Utah/Brighton: Starting linebacker had seven tackles, a pass defended and a 10-yard interception return on defense
Bryan Mone, DT, Highland: Reserve lineman tallied one tackle, one pass defended on defense
Rams (3-7)
Bobby Wagner, LB, Utah State: Starting linebacker totaled seven tackles, three tackles for loss, two sacks, two quarterback hits and an interception on defense
Matt Gay, K, Utah/UVU/Orem: Kicked field goals of 40, 54 and 32 yards, with two PATs and six kickoffs on special teams
Jonah Williams, DE, Weber State: Starting defensive lineman had six tackles on defense
Philadelphia 35, Tennessee 10
Eagles (11-1)
Britain Covey, WR/RS, Utah/Timpview: Reserve receiver returned six punts for 105 yards (17.5 yard average), including a 27-yarder
Sua Opeta, OG, Weber State/Stansbury: Inactive for Week 13
Titans (7-5)
No locals on the active roster
Washington 20, NY Giants 20 (no, really)
Commanders (7-5-1)
Dax Milne, WR/RS, BYU/Bingham: Inactive for Week 13
Tyler Larsen, OC, Utah State/Jordan: Started at center, recovered a fumble after a sack before leaving with a lower leg injury
Giants (7-4-1)
No locals on the active roster
Minnesota 27, NY Jets 22
Vikings (10-2)
Khyiris Tonga, DT, BYU/Granger: Reserve defensive lineman had three tackles and a pass defended on defense
Jets (7-5)
Zach Wilson, QB, BYU/Corner Canyon: Inactive for Week 13
Cleveland 27, Houston 14
Browns (5-7)
Sione Takitaki, LB, BYU: Starting linebacker had a team-high nine tackles on defense before leaving with an injury on a special-teams play
Texans (1-10-1)
No locals on the active roster
Detroit 40, Jacksonville 14
Lions (5-7)
Jamaal Williams, RB, BYU: Reserve running back ran for 35 yards and his league-leading 14th touchdown and caught one pass on offense
Penei Sewell, OT, Desert Hills: Started at right tackle
Jaguars (5-7)
Devin Lloyd, LB, Utah: Reserve linebacker made six tackles on defense
Green Bay 28, Chicago 19
Packers (5-8)
Jordan Love, QB, Utah State: Active, but did not play on offense
Dallin Leavitt, S, Utah State/BYU: Reserve safety made one tackle on special teams
Bears (3-10)
Jaylon Johnson, CB, Utah: Starting cornerback had two tackles on defense
Patrick Scales, LS, Utah State/Weber: Played six snaps on special teams
Braxton Jones, OT, SUU/Murray: Started at left tackle
Baltimore 10, Denver 9
Ravens (8-4)
Tyler Huntley, QB, Utah: Threw for 187 yards with an interception, ran for 41 yards and game-winning touchdown off the bench on offense
Broncos (3-9)
Harvey Langi, LB, BYU/Bingham: Reserve linebacker played mostly on special teams
Pittsburgh 19, Atlanta 16
Steelers (5-7)
Jaylen Warren, RB, Utah State/Snow/East: Reserve running back had one carry for five yards, caught two passes for 14 yards on offense
Miles Killebrew, S, Southern Utah: Reserve safety played mostly on special teams
Falcons (5-8)
Tyler Allgeier, RB, BYU: Starting running back ran for 51 yards on 10 carries on offense
Thursday Night Football
Buffalo 24, New England 10
Bills (9-3)
Taron Johnson, CB, Weber State: Starting cornerback had four tackles and two passes defended while playing all 54 snaps on defense and five more on special teams
Patriots (6-6)
No locals on the active roster
×
Photos
Most recent Locals In The NFL stories