Estimated read time: 5-6 minutes
PROVO — Ugly. Dysfunctional. Pathetic.
Those were all words used by BYU coach Mark Pope to describe his team's nonconference finale against Division II Westminster on a wintry Wednesday night in the Marriott Center, most of them caught on a live microphone by BYUtv and a few only read on his lips.
A win is a win but conference play won't be as kind, whenever it starts.
Maybe the Cougars' minds were elsewhere, like on the recently postponed West Coast Conference opener with Portland due to COVID-19 issues within the Pilots' program.
At least it came with a win, right?
There were a few bright spots, like reserve guard Hunter Erickson's slam with just over seven minutes left in the game. Or the play of Gideon George off the bench, preserving the Cougars' offense that shot 43% from the field, including 50% in the second half.
George posted a season-high 17 points and eight rebounds, and BYU pulled away in the second half for a 65-53 win over the Griffins, who were playing without their leading scorer before resuming Rocky Mountain Athletic Conference play Saturday.
"This game today was just putting the final touches in the nonconference. It was really important that we finish this right," Pope said after the game. "We clearly didn't play our best game tonight. But all things considered, I'm super proud of the guys.
"For us right now, it is time to regroup. We've got to get healthy. This 15 games has come at a real emotional cost for our guys. I'm actually more concerned about their freshness emotionally as I am physically. We just played our fifth in-state game, and every one of those is so emotional — with seven NCAA Tournament games and a eight of the last nine on the road. To come out of it 12-3, all of that takes such an emotional commitment, plus injuries, losing guys, and all the other stuff associated with this."
Erickson added a career-high 10 points, and Te'Jon Lucas had 10 points and five assists for the Cougars, who wrapped up nonconference play with a 12-3 record that currently ranks No. 30 in the NCAA's NET ratings.
Trevin Knell supplied 11 points, three rebounds and two assists for the Cougars.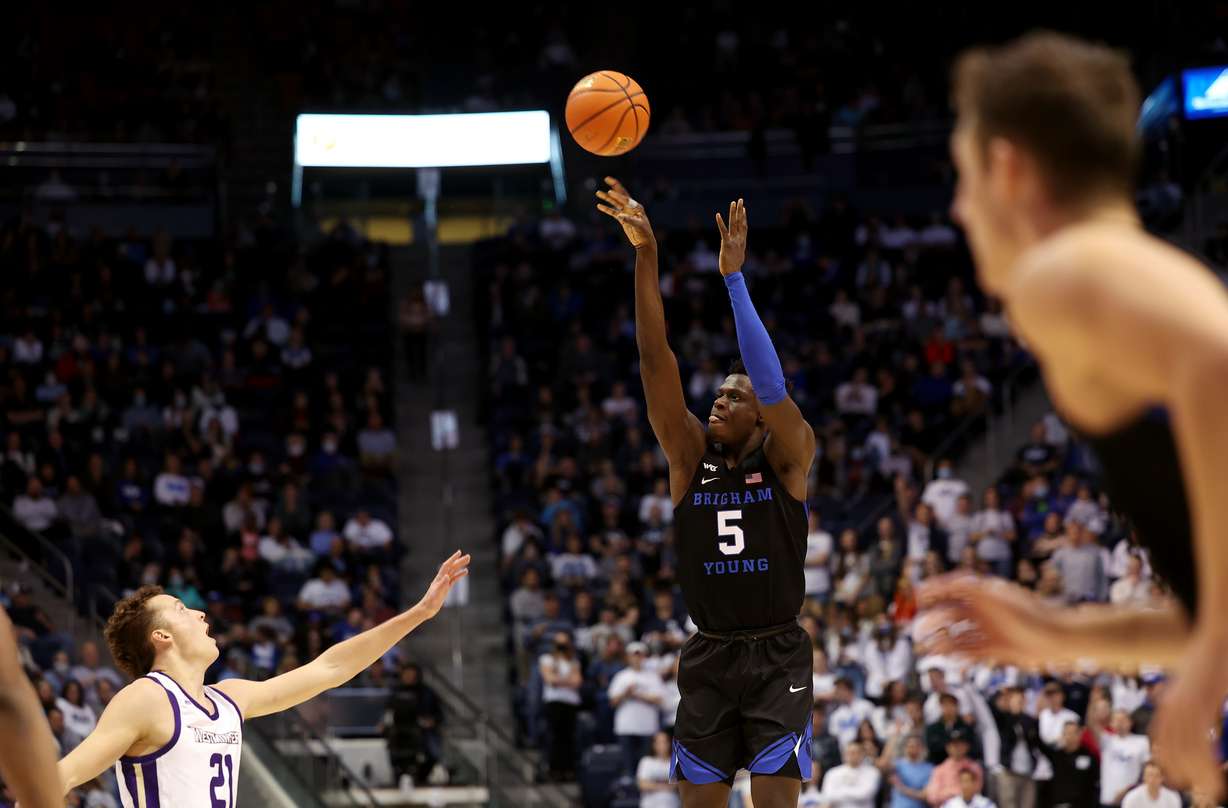 Every single one of them, it turned out, was necessary on a night where the Cougars were shorthanded and BYU got just 9 points on 3-of-9 shooting with five rebounds and five assists from the otherwise much more prolific Alex Barcello.
George and Erickson made up for the low-key offensive numbers from BYU's biggest stars, though. George, the senior from Minna, Nigeria, shot 6 for 10 from the field with five 3-pointers, while Erickson was 4 of 7 with a pair of 3-pointers, two rebounds, an assist and a nasty dunk that provided a rare outburst from the announced crowd of 15,808 in the Cougars' first home game since Dec. 8.
"I'm super proud of the team tonight, the way we played," George said. "We didn't do some of the things the coaches said, but I'm super proud of the team and super proud of Hunter Erickson for stepping up. He's always been ready, and his name was called tonight, and he stepped up big time. I'm really excited for Hunt; everyone was showing him love."
Lewis Johnson, the Viewmont High grad who transferred from Utah Valley, had 13 points and four rebounds to lead Westminster, which shot just 34% from the field but outrebounded the Cougars 38-37.
Fellow freshman Ryan Bell added 11 points for the Griffins, and senior Matt Kitzman supplied 8 points, four rebounds and three assists.
BYU clung to a 29-24 halftime edge after shooting just 37%, including 4 of 13 from 3-point range. The Griffins shot just 32%, but rebounding and defensive breakdowns caused Pope to use the word "pathetic" during one timeout, adding that the defensive scheme was "dysfunctional" in a halftime interview with BYUtv.
Things got better — they should have, considering the opponent. But that didn't come until BYU began to pull away on a 12-3 run midway through the second half, taking a 46-32 lead with 11:25 after Knell hit his second shot of the game.
That followed a three-minute scoring drought by the Griffins, the Cougars' saving grace during spurts of offensive efficacy, and BYU never trailed while outscoring Westminster 20-16 in the paint and 31-23 off the bench.
"We've got a lot of guys who can contribute, and we're going to need every single one of them," said Pope, who jumps into WCC play that includes four teams ranked in the NET top 50 and five in the top 100. "Every guy is going to be crucial.
"We've got a lot of people that we can count on and trust, and we're going to need them."
Notes
Westminster entered the game, which was scheduled as an exhibition contest for the Division II side, at 5-6 overall and 3-2 in Rocky Mountain Athletic Conference play. ... The Griffins were without leading scorer Yusuf Mohamed, the fifth-year senior who averaged 17.3 points per game but was stuck in his native Seattle due to weather and flight cancellations. ... The Cougars were without bench sparks Spencer Johnson and Seneca Knight, who are day-to-day with what appears to be a non-COVID-related illness. ... Westminster returns to RMAC play with back-to-back games beginning Friday at New Mexico Highlands and Saturday at UC-Colorado Springs. ... BYU is currently scheduled to open conference play Jan. 6 against Pacific, followed by a home game Saturday against Saint Mary's.
×
Photos
Related links
Related stories
Most recent BYU Cougars stories