This archived news story is available only for your personal, non-commercial use. Information in the story may be outdated or superseded by additional information. Reading or replaying the story in its archived form does not constitute a republication of the story.
AROUND THE SHIELD — If it felt like former Utah State linebacker Bobby Wagner was doing everything Sunday in the Seattle Seahawks' 30-24 win over the Carolina Panthers, just wait until you see his postgame media session.
Wagner led the team with 10 tackles (what else is new?), added two pass deflections, and hauled in an interception in a pivotal win that helped the Seahawks (11-3) clinch a playoff berth.
He also sprained an ankle, leading to head coach Pete Carroll pulling him from the game early.
Don't worry; Wagner will be fine. But he definitely has one idea to make his sore limb heal up quickly.
"I definitely was scored, but I'm good," he told the Seattle media after the Seahawks clinched a playoff berth. "The doctors said that if everybody goes out and votes for me for Man of the Year, it'd be better."
Wagner's charity of choice as part of the Walter Payton Man of the Year Award campaign is the HBCU Foundation, which provides scholarships to students at Historically Black Colleges and Universities. As a finalist nominee, Wagner's foundation will receive up to $50,000 in donations, and another $250,000 if he wins, an announcement that will take place live during NFL Honors the night before Super Bowl LIV.
Fans can vote for Wagner by using the hashtag #WPMOYChallenge on social media and tagging @Bwagz before Jan. 12.
Carroll said former BYU defensive end Ziggy Ansah, who missed the game with a neck injury, "has a really good chance to play next week" for Seattle.
Wagner wasn't the only former local college standout who stood out for the Seahawks on Sunday, though.
Former Brighton High and Utah star Cody Barton tied Wagner with 10 tackles — a season-best, at that — and added a quarterback hurry in Seattle's win. His Utah teammate Marquise Blair added a tackle for the Seahawks.
Here's how other former college and high school football players from Utah performed in the NFL's Week 15.
Dallas 44, LA Rams 21
Former Timpview lineman Xavier Su'a-Filo anchored an offensive line that powered 263 rushing yards in the Cowboys' win over the Rams.
Former Utah talent Eric Weddle made five tackles for the Rams, whose lost clinched a playoff berth for San Francisco.
Atlanta 29, San Francisco 22
Former BYU linebacker Fred Warner had team-high nine tackles, including one tackle for loss, and a pass breakup in the Niners' stunning loss to the Falcons.
Former Utah punter Mitch Wishnowsky averaged 46.0 yards on four punts, including two punts downed inside the 20.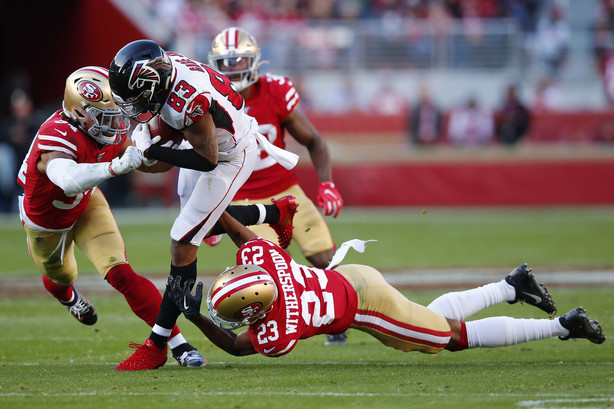 New England 34, Cincinnati 13
Former BYU linebacker Kyle Van Noy made two tackles in the Patriots' win over the Bengals.
Former Fremont High and Utah State standout Nick Vigil had five tackles for Cincinnati.
Tampa Bay 38, Detroit 17
Former Orem High and Utah kicker Matt Gay booted a 46-yard field goal and added five extra points in the Buccaneers' win.
Former Southern Utah defensive back Miles Killebrew made a tackle on special teams for the Lions.
Green Bay 21, Chicago 13
BYU all-time leading rusher Jamaal Williams ran for 26 yards on eight carries, and added a 7-yard catch to help the playoff-bound Packers beat the rival Bears.
Buffalo 17, Pittsburgh 10
Former Weber State defensive back Taron Johnson had six tackles — just two off the team-high — to clinch a playoff berth and the Bills' first 10-win season since 1979.
Johnson also rushed Steelers quarterback Duck Hodges to lead to a game-sealing interception, one of four picks by the Buffalo secondary on the night.
Bingham High and Utah grad Star Lotulelei added a quarterback hurry for the Bills (10-4), whose streak without a 10-win season was the second-longest in the NFL.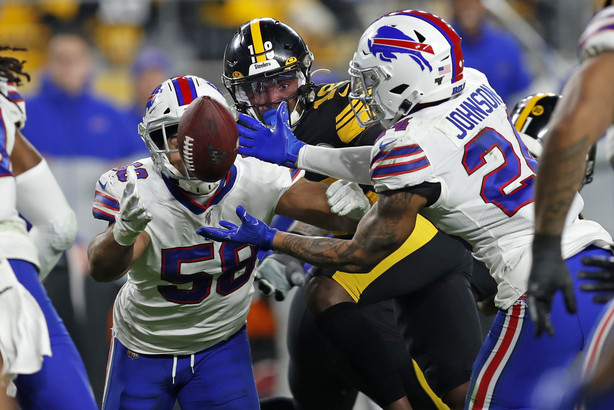 Kansas City 23, Denver 3
Former Utah State running back Darwin Thompson ran for a team-best 38 yards and added a 1-yard catch to lead the Chiefs to the win.
Former BYU safety Daniel Sorensen made two tackles for Kansas City.
Former Utah running back Devontae Booker had one run for five yards for the Broncos, and fellow Ute alum Tim Patrick made three catches for 26 yards.
NY Giants 36, Miami 20
Former Utah defensive back Eric Rowe had four tackles in the Dolphins' loss.
Houston 24, Tennessee 21
Former SUU cornerback LeShaun Sims had four tackles in the Titans' loss.
Arizona 38, Cleveland 24
Former BYU linebacker Sione Takitaki and Salem Hills alum Porter Gustin each made one tackle in the Browns' loss to the Cardinals.
Minnesota 39, LA Chargers 10
Former BYU cornerback Michael Davis supplied five tackles and two pass deflections in the Chargers' defeat.
Jacksonville 20, Oakland 16
Former Utah State defensive back Nevin Lawson made eight tackles, including a tackle for loss, and fellow Aggie alum Dallin Leavitt added two tackles in the Raiders' loss.
×
Related Stories