SALT LAKE CITY — March Madness tips off Thursday in Salt Lake City with eight teams and their fans coming to town for the NCAA Men's Basketball Tournament.
Local hotels and restaurants are already warming up for a fast break of extra business, and a local company actually made all of the courts the NCAA is using for the tournament nationwide.
"There's lots of work going on. I don't know if our crews will get much of a break," said Mike Lageschulte, communications director for special projects with University of Utah Athletics.
Inside Vivint Smart Home Arena, where the games will be played Thursday and Saturday, it's already busy. Crews set up the "March Madness" court this weekend and put on finishing logos this afternoon.
"They send them to the site about a week and a half in advance, let them acclimate to the climate and the humidity," said Lageschulte. "This floor, in particular, went down over the weekend."
All of the courts for March Madness this year, and in recent years, were manufactured in Salt Lake City by Connor Sport Court International.
"It's kind of neat to have a local company involved in the manufacturing and design," said Lageschulte. "It's given the tournament a really sharp look."
A couple of blocks away, Squatters Pub Brewery is getting its team ready for tournament time.
"It brings in a lot of business," said Brittany Demers, manager at Squatters. "At least we see it. It impacts us here. We love it."
The pub is expecting crowds before, during and after the games. Several groups have already called and booked rooms for parties.
"Usually, they don't tell us who they are with," said Demers. "They just say, we're in town for the NCAA, or, if our team wins, then we're going to have a party there. Will you hold a space? Then we'll call and confirm when we win."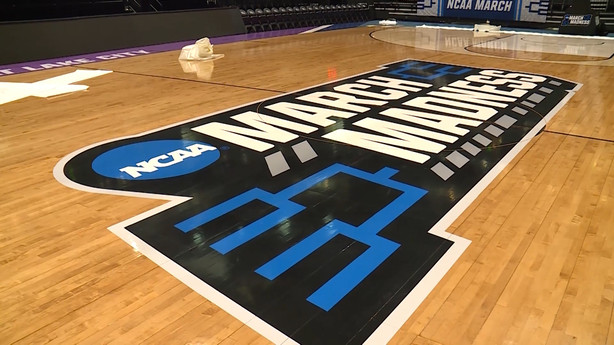 When the tournament was in town two years ago, Demers said, it was a lot of fun for the whole staff.
"We were on a wait pretty much every night during dinner service while they were in town, for two tops even — unless they could find a seat at the bar," she said.
They keep a schedule of games at the front desk to anticipate waves of business.
"We have had tour buses pull into the parking lot next door and entire teams come in," said Demers. "You just have to be ready for them."
Visit Salt Lake is expecting 26,000 fans, more than 6,500 from out of town. They are expected to book more than 13,000 hotel room nights.
All of the business will deliver a direct economic impact of more than $5.5 million for Salt Lake City.
"This is absolutely huge for the greater Salt Lake community to host rounds one and two," said Shawn Stinson with Visit Salt Lake.
Visit Salt Lake is urging out-of-town visitors to enjoy Utah skiing while they're here, check out the Natural History Museum on the campus of the University of Utah or take in the history and culture at Temple Square.
"Anything and everything around the greater Salt Lake area," said Stinson. "It's going to be a fantastic opportunity for both locals and visitors alike."
×
Photos