Estimated read time: 2-3 minutes
This archived news story is available only for your personal, non-commercial use. Information in the story may be outdated or superseded by additional information. Reading or replaying the story in its archived form does not constitute a republication of the story.
We may be still debating the issue of health care costs, but when it comes to what the hospital patient room in the future will look like: The debate is over! Everything will be at the patient's fingertips. And wait until you see what the nurses have as well.
The futuristic room is actually on wheels right now, on tour in Utah, but if hospitals decide they want it, everything is modular and ready to go.
If you think patient rooms are modern now, wait until you see the new stuff from a corporation called Cerner. The bed here is about all that's traditional.
Everything else is different. Each patient has a touch screen. It has information on foods the patient can eat, and if the doctor wants the patient to walk down the all three times a day, it's on the patient's schedule.
In addition to my basic health needs, if I'm bedridden, which many patients are, I have complete control, environmentally, of my room. With controls, I can do anything, even open and close the shades on the windows.
Patients can watch movies, play games, and even set up a video link with family members at home or in an adjoining retreat room.
To reduce mistakes, computers link up with all the equipment, including IV pumps.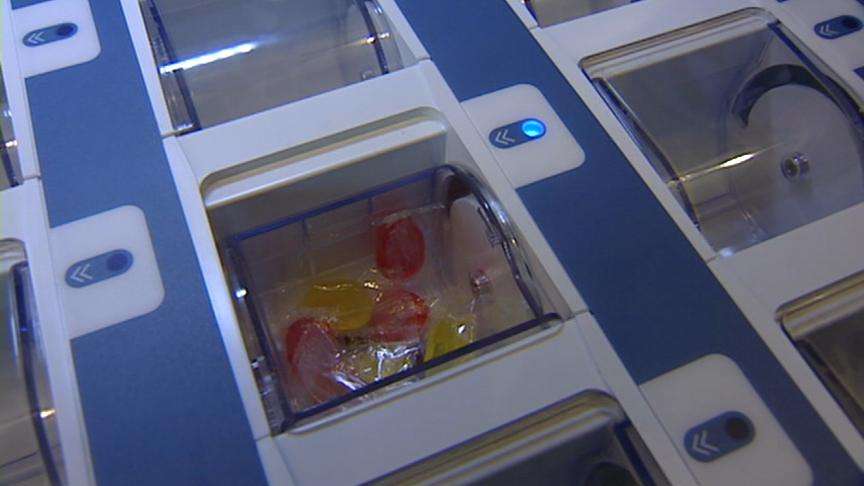 Registered Nurse Gayle Romack, with Cerner Consultant, says, "As you can see, there are no wires or things hanging out as a trip or hazard. We partner with Nurture Steelcase to have those wires showcased behind the clinical wall, so all that's out of the way. It's a more home environment, and it's a more healing environment for the patient as well."
But take a walk down the hall, so to speak. A nurse coming on duty touches a computer screen, sees the patients under her charge, their medications, dosages and when they should be given. She touches another button. A drawer in a cabinet unlocks and a light shows her which bin to open.
Registered nurse Fern Malila, with Cerner Consultants, says, "This is very different from most medications cabinets because I can only get into the bin that has that specific medication in it."
Other bins with medications to be given at other times in that same drawer, remain locked.
In the room, a bedside scanner matched to bar codes on the nurse's badge and the patient's wrist provides yet a third fail safe net.
Since University Health Care has already partnered with Cerner, some of this "future" is already being incorporated in hospital rooms now under construction.
E-mail: eyeates@ksl.com
×