SALT LAKE CITY — A high-speed chase through southwest Salt Lake City ended with a federal fugitive in custody, according to the Salt Lake Unified Police.
The chase began a little after 6 p.m. Tuesday around 700 E. 2100 South, according to Unified Police Lt. Justin Hoyle. Police recognized a wanted fugitive from West Valley City, 31-year-old Shylynn Ellis, and attempted a traffic stop.
"That vehicle fled from them," Hoyle said. "They terminated the pursuit a short while later and followed at a safe distance in unmarked vehicles."
Ellis then drove to about 7200 West where she collided with a vehicle. Hoyle said shortly after a Utah Highway Patrol officer was able to line the road at 8000 West and Highway 201 with road spikes and Ellis' car made contact with the block.
"The suspect then turned and went southbound on 8000 West where she tried to ram one of our K-9 unit trucks," Hoyle said.
Ellis continued driving down 8000 West. Hoyle said officers terminated the pursuit at that point, as speeds were reaching above 80 miles per hour and they felt it unsafe to proceed.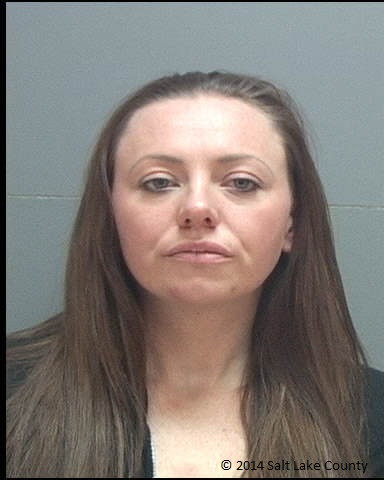 Officers followed at a safe distance to 3906 Cochise Way where police said Ellis abandoned her car and ran off on foot.
"A canine officer was nearby and set up a containment area," Hoyle said. "The officer tracked her to a location where one of our K-9 units was able to stop her."
Police said no citizens or law enforcement officers were injured in the pursuit. Ellis was treated at the scene for a wound sustained by a K-9 dog bite on her hand and was booked into the Salt Lake County Jail.
Ellis has a history of firearm and drug charges and was in possession of methamphetamine when she was arrested, Hoyle said. She was booked into Salt Lake County Jail on an outstanding warrant and will be investigated for possession of a controlled substance, aggravated assault on an officer and a police K-9, fleeing police and a hit-and-run collision.
Officers from Unified police, the Utah Highway Patrol, JCAT, West Valley City and West Jordan assisted in the incident, which Hoyel called a strong, cooperative effort that kept public safety in mind.
×
Photos
Related Stories