This archived news story is available only for your personal, non-commercial use. Information in the story may be outdated or superseded by additional information. Reading or replaying the story in its archived form does not constitute a republication of the story.
MURRAY — Two men made off with an undisclosed amount of jewelry and cash after an armed robbery took place Friday night.
Two employees at the Sierra-West Jewelers, located at 6190 S. State Street, were forced to a room at the back of the building while the alleged robbers broke into jewelry cases and stole what they could from the safe and the cash register, before driving away just after 6 p.m., the store's owner, Tim Branscomb, confirmed.
---
I tried to look up to get some sort of identification and he said, 'Don't look at me or I'll put a bullet in your head.'
–Jack Barton, store manager
---
"I tried to look up to get some sort of identification and he said, 'don't look at me or I'll put a bullet in your head,'" said store manager Jack Barton, who was one of the two employees in the store at the time of the robbery.
The man with a silver handgun ordered Barton to take him to the safe while another man could be heard smashing the jewelry cases with a sledgehammer. Neither of the men were recognizable and all that was visible through their dark clothing and a mask covering their faces was the pupils of their eyes, said Murray police Sgt. Jake Huggard. The men reportedly wore gloves and spoke to each other using some sort of hand-held device.
"My main concern was to protect the girl that was with me, to cover her up," Barton said. When he tried to cover the other employee, the man with a gun pulled her away. Barton said the robber gave him succinct instructions and "they wanted it done quick."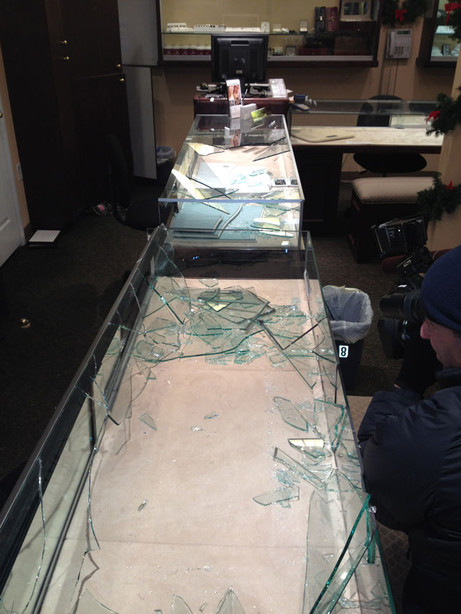 "They came in, they demanded what they wanted, they got what they wanted and they left," he said.
Barton estimates that the brazen thieves got away with at least $150,000 in jewelry from two cases in the store, in addition to whatever cash was in the safe at the back of the store. Neither of the employees was hurt, but Huggard said they were both "shaken up a bit."
Huggard said there might have been a third person involved in the smash and grab raid, waiting outside as a look-out or getaway driver. The two men entered the store just before the store's 6 p.m. closing time, when there weren't any customers inside.
"It seemed more professional than just a random act," he said. "It sounded like they had a plan in place."
The Murray Sierra-West store has never been robbed before, and Friday's robbery appeared very similar to one that occurred at Provo's Losee Jewelers in November. The suspects involved in that crime have yet to be caught, police said.
Barton said that while it was scary, the robbery happened very fast, in the span of less than five minutes.
"It was nerve-racking," he said. "It was a surprise, a shock. I'm OK. I just hope and pray it doesn't happen to anybody else."
----
Written by Wendy Leonard with contributions from Richard Piatt.
×
Photos