This archived news story is available only for your personal, non-commercial use. Information in the story may be outdated or superseded by additional information. Reading or replaying the story in its archived form does not constitute a republication of the story.
CAPE CANAVERAL -- For more than three decades, the space shuttle has meant inspiration and jobs for thousands of Utahns. The final launch is set for Friday morning, but there are serious doubts it will fire up on schedule.
Just after noon on Thursday, lightning struck twice within a few hundred feet of the shuttle Atlantis. NASA delayed a crucial operation to check for damage. Things are back on track now, but there's only a 30 percent chance the weather will cooperate for Friday morning's launch at 9:26 Salt Lake time. If it does go, some Utah State grads will be in Cape Canaveral watching, saying good bye to a program that changed many lives in Utah.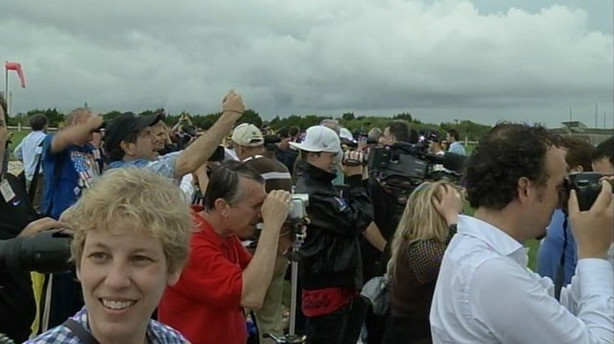 When space shuttles started blasting off 30 years ago, NASA gave students an unprecedented opportunity. Amber Dalley and Rex Ridenoure came to Florida to watch the final shuttle launch. As a student at Utah State, Dalley had a chance to fly an experiment into space. "It was about the size of a shoebox and we could basically design it any way we wanted to," said Dalley.
Ridenoure helped manage the student projects. "It was clear that what they really liked about the program was they got their hands dirty," said Ridenoure. "And they got to learn a bunch of different topics that normally you wouldn't learn in a classroom environment, working as a team. And they got to build this stuff and see it launched on the shuttle."
Dalley's shoebox went up in the early 80's, an experiment involving composite materials. "To heat it in space to see if it would change the way it would cure, compared to on earth," said Dalley.
The Getaway Special program was a partnership of schools, NASA, and rocket-maker Thiokol. Gil Moore is given credit by many. When he was Thiokol's spokesman and adjunct professor at Utah State, he paid $10,000 for the first Getaway Special out of his own pocket. Now he regrets the space shuttle will be no more.
"It's been a very inspiring impact on the state and on the nation and the world," said Moore. "And it's a doggone shame that we're in a down cyle. There will be an up cycle."
The program inspired countless careers, including Dalley's work as a materials scientist for U.S. Steel.
"What comes to mind is the word 'synergy,'" said Dalley. "They brought so many people together and we had so much fun and we were learning and so excited to do this." Utah State students have put more experiments into space than any school in the world.
E-mail: hollenhorst@ksl.com
×
Photos
Related Links