Estimated read time: 1-2 minutes
This archived news story is available only for your personal, non-commercial use. Information in the story may be outdated or superseded by additional information. Reading or replaying the story in its archived form does not constitute a republication of the story.
Carole Mikita Reporting Disney-Pixar has a new animated hero: a rat, and critics are already wondering if the name of the film, 'Ratatouille' (rat-tah-too-ee), will catch on.
No doubt some chefs are rats, but this one's for real. Remy, a rodent with irresistible eyes, stars in Pixar's eighth feature film.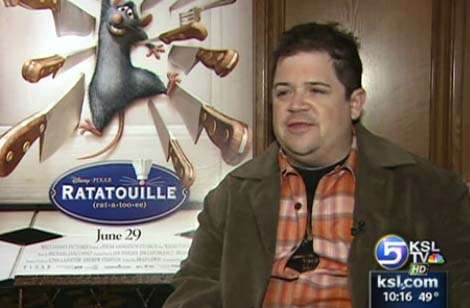 Patton Oswalt is the voice of Remy. He told KSL, "After they designed him, they brought me up to do stand-up for all the animators. A lot of my kind of mannerisms, you know, ways of talking, ways of holding myself are all in this rat."
Since Remy can't be a chef, he teams with a bumbling apprentice and directs the cooking. His kitchen sidekick is Collett; her voice belongs to Janeane Garofalo. She said, "I had a CD of a French gentleman speaking English that I would listen to in the rental car on the way to the studio."
"Ratatouille" had its challenges, starting with the title. The writer-director brought us "The Incredibles" and has won nine Academy Awards. He fought for that title. "If you're worried about them pronouncing it, just show 'em how to pronounce it and make that part of the ad campaign," he said.
So what is ratatouille? Well, the producer and director had to take French cooking classes because it's very key to the final scene. Brad Lewis explained, "Very common, sort of, vegetable stew. But for this it needed to be different and special because Remy is one of the great cooks in the world, in the movie."
They say when you see the movie, bring your imagination and your appetite. "Ratatouille" opens in theaters June 29.
×
Most recent Utah stories