Estimated read time: 5-6 minutes
LOS ANGELES — Cole Bishop isn't satisfied with how Utah's last Rose Bowl appearance went.
It wasn't even because Utah lost, necessarily; it was more that when anybody talks about the 2022 Rose Bowl, there's almost always a near reverence for the brilliance of Ohio State's offense and the connection of quarterback C.J. Stroud and receiver Jaxon Smith-Njigba.
How could there not be in what many consider to be an instant classic?
For Bishop (and many on Utah's defense), it was a reflection of Utah's inept ability to stop Ohio State. Utah, in part, had a valid excuse; its depth and cornerback position group was severely limited to the point where Micah Bernard had to play both sides, but there were still enough playmakers on the field that Utah should have limited Ohio State more than it did.
"For me, at least, personally, defensively we played terrible," Bishop said. "Everyone — it's a terrible feeling when everyone is talking about how good of a game Ohio State was because, yeah, it was close, but they had a ton of yards; they killed us on defense. So just seeing us being able to have another chance to actually stop an offense and us be contributing — obviously, we contributed last year, but not as much as we need to."
Bishop said the defense doesn't want to make that same mistake this year against Penn State. The first time around was about the experience, the second time is about proving that Utah's defense can hang with the best in the country.
"That's all I've been thinking about, for the most part, is we can't do that again," Bishop said. "And us being not nearly as depleted as last year, I think, is going to help us do that. So having our secondary, pretty much everybody, for the most part, will help us succeed."
The Nittany Lions don't have Stroud or Smith-Njigba — or any players similar to that type of dominance — but they have two freshmen running backs that can potentially hurt the Utes in a different way. The duo — Nicholas Singleton and Kaytron Allen — have combined for 1,771 yards and 19 touchdowns on the ground in a balanced attack this season.
Give either running back an inch and they'll make Utah pay.
Utah defensive coordinator Morgan Scalley said that type of play — "smashmouth football and beat you up around the ball" — makes for a "long day" as a player and a coach if the team can't stop the run game. Mix in the fact that Penn State utilizes the two backs to develop an effective play-action game with a veteran quarterback and the defense can get out of sync quickly.
"They make you feel that you've got to load the box and stop the run; and just when you do it, it's a seven-, eight-man protection and three-man routes down the field — a lot like us in that sense," Scalley said. "They pride themselves in running the ball, and their play-action game off of it is very good."
"Once someone establishes the strong run game, then they have the play-action off it, and that's when their tight ends for the most part get involved," linebacker Karene Reid added. "As much as we're focused on the run game, we have to make sure we have those tight ends in our eye as well."
It's why Scalley emphasizes to his team the importance of owning the line of scrimmage and being the most physical team on the field in all positions. Control the run game first and then limit shots down field; and as long as the team is playing assignment-sound football, it's much easier to combat the attack.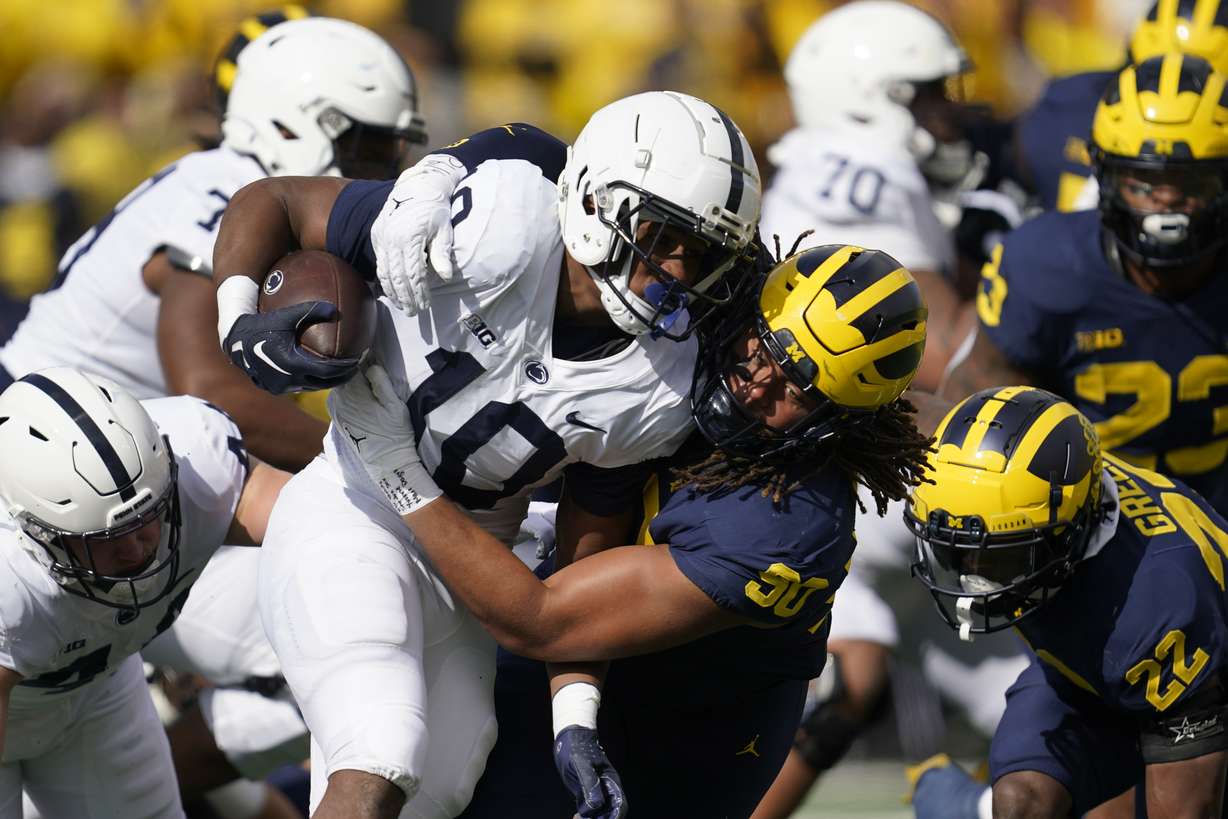 "I would say that the teams that fundamentally and technically are the most sound and physical are usually the teams that end up winning," Scalley said.
"I think whoever dictates the line of scrimmage will most likely win the game," Utah safety R.J. Hubert said. "So that's kind of a key emphasis for both teams, so I think that will be the deciding factor."
The two running backs have been effective all season but have done most of their damage against Big Ten defenses ranked 50th or worst in the country in run defense. Against teams ranked in the College Football Playoff Top 25, the production has dropped — 35 combined yards against Michigan and 121 combined yards against Ohio State.
It's all about matchups and what Utah will try to do to counter the run game. On paper, Utah will be the second toughest run defense Penn State has faced this season, but the Utes' run defense hasn't always been effective.
Early on in the season — and even at times late in the season — Utah struggled to contain the run and allowed players to get loose for big gains. But throughout the long season, Utah's run defense improved and finished the season ranked 15th in the country and first in the Pac-12 on an average of 107 rushing yards allowed per game.
In the last five of the team's six games of the season, Utah has given up no more than 62 rushing yards per game, and some of those yards came in garbage minutes when Utah was up big against an opponent.
Additionally, Utah held three of the top five rushers in the Pac-12 to under 30 yards this season. USC's Travis Dye managed 76 yards on Utah, and conference leader Zach Charbonnet of UCLA had a field day against the Utes to the tune of 198 yards. Outside of Charbonnet, though, Utah has stayed on schedule against leading rushers.
"You saw early on a bunch of guys just trying to do their 1/11th and trying to get their job done instead of playing together as a complete defense, and you see that a little bit in the celebration now," Scalley said. "They all celebrate together, and they're having fun together. They're buying into each other, understanding that, OK, not only am I understanding my 1/11th, but what that 11th does for the other guy.
"They're having fun. It's a group that if you don't have that camaraderie, it makes it really difficult in this defense, so proud of them."
The two running backs remain a dangerous element to Penn State's offense, but Utah feels it has the defense needed to limit their game.
×
Most recent Utah Utes stories