Estimated read time: 5-6 minutes
SALT LAKE CITY — In the waning moments of the game Saturday, Utah was in full control and was seconds away from earning its first-ever win at the Los Angeles Memorial Coliseum.
Utah lined up in victory formation after recovering a failed onside kick attempt by USC, and quarterback Cam Rising took a knee to wear out the clock — a win was imminent.
The only problem was USC called a timeout with 50 seconds left in the game despite being down 42-26 and no real hope of staging a comeback. So on the next play, as if flexing to the USC sideline, Rising avoided a kneel down and completed a 23-yard toss to Devaughn Vele. Checkmate — nice try Trojans.
The completed pass put Rising over 300 passing yards on a night where he diced up a Trojans defense that had no answer for the sophomore quarterback's attack. It was an offensive explosion of sorts compared to the relative stagnant play in the program's two losses to BYU and San Diego State where yardage came at a premium.
And while the game had added meaning for Aaron Lowe, it was the type of performance that Utah head coach Kyle Whittingham called a "breakout game" for the offense.
Welcome to the party, Utes.
"That was really the difference in the game was the way our offense played," Whittingham said. "That's what we're capable of and it was good to see us play up to our potential. Quarterback Cam Rising had an outstanding night — put up great numbers, nearly 80% completion percentage and nearly 11 yards per attempt, which is an outstanding figure.
"The biggest thing coming out of that game on Saturday was the way the offense played and the way they showed up and performed up to their capabilities."
It was the realization of an offense that was promised at the start of the season with several veteran players starting in key positions. And most importantly for the Utes, it came with no turnovers — like the seven turnovers against Washington State — and featured a score from six different players.
It was diverse, clean and effective.
So what was the difference in Utah's sudden about-face?
Whittingham said it "all starts up front."
"The offensive line had their best game of the season; It was great to see," Whittingham said. "That's what we know they can be is what you saw on Saturday. And, again, like several other things we talked about, that needs to continue if we're going to have a chance to compete for a South title, that production at that level of play has to continue."
Utah finally feels comfortable with its current makeup of starting offensive linemen and a pair of backups to give others a rest. The continuity and consistency has gotten better ever since Braeden Daniels moved to the outside at right tackle and solidified a line that features Jaren Kump (LT), Keaton Bills (LG), Nick Ford (C) and Sataoa Laumea (RG), with Bam Olaseni and Paul Maile filling in as the next best replacements.
"It seemed to solidify things when Braeden did move outside and get everyone more settled in," Whittingham said. "And hopefully we can continue to get the production that we got Saturday night."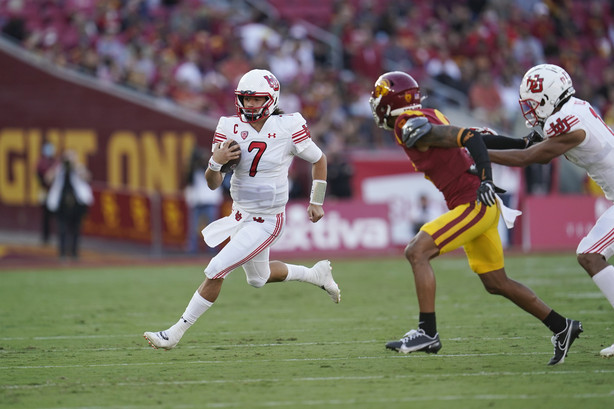 And while the offensive line solidified and became more consistent, it was the "infectious" leadership style of Rising that has led the charge. The sophomore who was voted on as one of two captains to represent the offense — longtime receiver Britain Covey being the other — holds his team accountable and leads with "his attitude and his juice that he brings to the table," Whittingham said.
"That permeates through the rest of the team."
And whatever that "juice" is that Rising is selling, it seems to be working. It's still a one-game sample size, but it's a positive sign for an offense looking to utilize its full suite of offensive weapons in pursuit of the team's third South division title in four years.
All of it will be tested against a formidable No. 18 Arizona State (5-1, 3-0 Pac-12) team that will travel to Salt Lake City looking to stay undefeated in conference play and take a major step forward in securing a division title. The winner of that game Saturday (8 p.m., ESPN) will be the last remaining undefeated team in conference play and the front-runner in the division title race.
Saturday night will be the ultimate deciding factor, but wide receiver coach Chad Bumphis said the game will be won in the week of practice leading up to the late-night tilt that has been a hotly contested battle between the two programs since Utah joined the conference in 2011.
Bumphis said executing the plays in practice will go a long way in helping offensive coordinator Andy Ludwig and Rising feel confident in the game plan the team will run Saturday — much like how the team felt going into the USC game after a good week of practice.
"As a quarterback, as a coordinator, you want to call what looks good in practice; and when you show it on the practice field, you're able to carry it over to game day," Bumphis said. "That gives the coach and the quarterback the confidence — not only to call it but to give you those shots downfield. And once it shows up on the practice field it's able to carry over to Saturday night under the lights."
Practice makes perfect ... or at least it gives Utah the confidence it needs to showcase a much-improved offense.
×
Related Stories