When it comes to enjoying the outdoors, Utah outdoor enthusiasts are spoiled. Offering a bit of everything, Utah's scenery and opportunities for adventure are top-tier among those seeking outdoor fun.
But, as Ben Parker would (probably) say, "with great outdoor activities comes great responsibility."
2020 had its share of struggles, and unfortunately, Utah's landscape did not escape the scorching it might have avoided had Utahns been more careful. There were 1,539 fire starts in 2020, which burned over 316,308 acres in Utah in 2020. That is a significant uptick from 2019 and 2018, which had 1,083 and 1,396 fire starts, respectively.
Of the 1,539 fire starts in 2020, 1,202 of them were started by people, said Annie Knox for the Deseret News. That means 4 out of 5 fires in Utah in 2020 were started by humans. Of all the records 2020 broke, people starting a record number of wildfires in the state is not one to be proud of.
There are several outdoor activities that Utahns love to participate in, under the wrong conditions a few of them could be a threat to Utah's outdoors if done irresponsibly. Here are a few things you can do while participating in these outdoor activities to take proactive precautions against starting wildfires.
Camping
After being cooped up inside for a year, camping has taken off in popularity, says Forbes. Many campgrounds and parks have posted record numbers in the last year, and camping's allure doesn't seem to be slowing.
If camping is on your calendar, make sure you are mindful of fire hazards, particularly when it comes to campfires. Many areas of Utah often have fire restrictions during the summer. Statewide fire restriction information is posted on UtahFireInfo.gov and many campground entrances. Be sure to check before you camp for any restrictions for where you'll be going and be aware of the upcoming weather forecast, especially Red Flag Warnings.
If there are no restrictions, and you do have a campfire, remember Utah Fire Info's tips to always tend the campfire, keeping it no larger than four feet wide and tall. Do not leave it alone. Once you're finished, douse and stir your campfire repeatedly until it is cold to the touch before leaving or walking away from it, or else it could spark a wildfire.
Target shooting
Every year, Utah Fire Info reports that hundreds of acres of Utah's landscape are burned by wildfires that have been sparked by target shooting.
If shooting is what you are into, be sure to only shoot at targets in designated areas—the best backdrop is dirt, sand or gravel, always avoid areas with dry vegetation and rocks.
Additionally, steel core or pure copper bullets and other incendiary or tracer rounds should be avoided because they can throw sparks into nearby vegetation. Paper or clay targets and lead bullets are recommended when shooting outdoors. Do not shoot on windy days.
Note: Currently, exploding targets are prohibited on all Forest Service, National Park Service and BLM lands, in addition to all land in Utah and Tooele counties.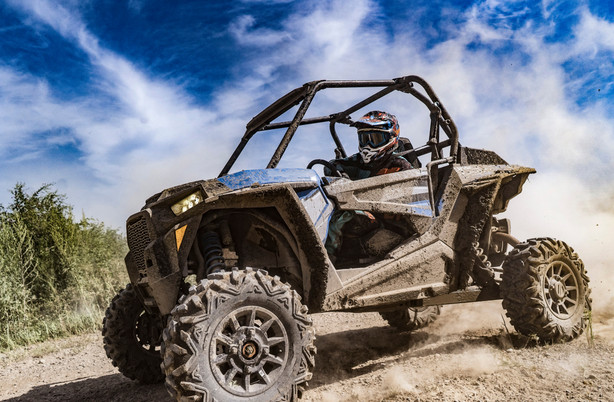 Riding ATVs
With all the great ATV trails around Utah, it's no wonder so many people spend time offroad.
At the same time, recreational vehicles generate a lot of heat on the undercarriage, posing a risk when driving over or parking on dry vegetation —especially if it is a hot, windy day.
The best way to prevent a fire from starting as a result of your ATV is by using a spark arrestor and parking your vehicle away from dry vegetation, says Utah Fire Info. While a parked ATV might seem harmless, all it takes is the right combination of heat and dry vegetation for a wildfire to ignite.
Towing boats and other vehicles
While you might wonder how towing a trailer can pose a threat to Utah's outdoors, there are a surprising number of wildfires sparked from sagging or dragging chains connected to a trailer being towed.
So, before you head off to the lake or campground, make sure that your tow chains are sufficiently raised so they won't drag and create sparks.
Most of Utah's wildfires are preventable. Do your part today in taking care of Utah's outdoors by mindfully taking precautions in whatever outdoor activity you participate in. For more information on how you can prevent wildfires this year, visit UtahFireInfo.gov or follow @UtahWildfire on Twitter and Facebook.
×