SALT LAKE CITY — Rachel Bingham Lyman felt deja vu when she saw two of her second-half crosses bang inside the right post during BYU's annual rivalry match against Utah.
And then she felt a similar deja vu after the Cougars went unbeaten against the Utes for four-straight years.
Madie Siddoway Gates scored the match-winner with seven minutes remaining, and Lyman notched two assists to lead the BYU women's soccer team to a 3-2 win over rival Utah for the Cougars' fourth-straight result in the rivalry match Friday night at Ute Soccer Field.
"At halftime, our coaches told us to go end line," said Lyman, a junior outside back. "That's our game, and that's where most of our goals have come from. I especially took it to heart, and wanted to get those crosses off for my team."
For Gates, the win marked four-straight seasons without a loss to Utah (1-3-1) and gives the Cougars a two-match winning streak after dropping two-straight to No. 1 Stanford and No. 9 Texas A&M over a week ago.
With the score tied at 2-2 in the final 10 minutes, Gates rose up like a salmon, took a cross form Cameron Tucker off her chest, and redirected it into the back of the net with a glance to give BYU it's second win at Utah in three years.
"It felt so good to put that away," said Gates, the former Sky View standout and BYU's lone senior. "They came back, but for us to battle back and get that last goal felt good. Cam did all the work for me.
"We've worked a lot on that play, getting to the end line and playing the ball back. That's where the space was, so I just made sure I was where I needed to be when Cam put her head down."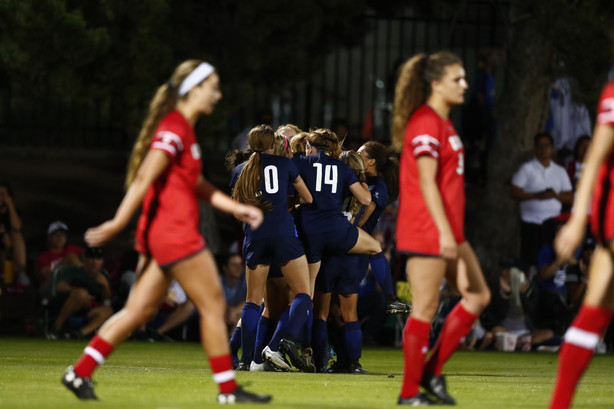 The two rivals played to a scoreless first half, but BYU (3-2-1) lost starting goalkeeper Sabrina Davis to an apparent head injury just before the end of the first half, which Utah out-shot the Cougars 6-5. Cassidy Smith finished the game for BYU.
But the game turned on its head in the second half.
"I don't really know what happened other than we had a tough game," BYU coach Jennifer Rockwood said. "It's always crazy like this with Utah, but credit to the girls for figuring it out. I thought we might have it, then they came back, and Sid came through when we needed her."
BYU opened the scoring less than seven minutes after the break, though, when Elise Flake found the back of the net.
The junior from Maple Mountain headed home a cross from the right side by Lyman, and the ball cleared every Utah defender before finding the mark inside the right post in the 52nd minute.
The goal shifted momentum — but it hardly changed the game.
Colohan doubled the advantage just under 20 minutes later, heading home a similar play from Lyman inside the near post for the 2-0 scoreline in the 71st minute.
"We said at halftime that we didn't get enough crosses off, and the goal would come from a cross," Rockwood said. "(Lyman) pushed forward, and it led to two goals. That's where she is so dangerous."
Paola Van der Veen pulled one back for the Utes just two minutes later, finishing off a pass from former Skyline High star Holly Daugirda in the 72nd minute to set up a frantic finish.
Utah tied the match in the 84th minute when former Riverton standout Hailey Skolmolski powered through a the Cougar defense for a header goal off a cross from ex-Davis star Ireland Dunn.
But the Utes left too much time on the clock for Gates.
BYU, which leads the all-time series 22-7-2, has not lost to the Utes since Sept. 5, 2014, when Katie Taylor's penalty kick was the difference in Utah's 1-0 win at Ute Soccer Field. The two sides played to a 1-1 draw a year ago at South Field in Provo, and the Cougars left Salt Lake City in 2016 with a 2-0 victory.
"At halftime, I said this is my last half to ever play Utah, and I was like 'let's do it,'" Gates said. "What an ending."
Up next
BYU travels to Milwaukee to play at Marquette on Friday, Sept. 14. The Utes travels for another in-state game at Utah State at 4 p.m. MT Monday.
×
Related Stories