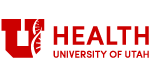 This story is sponsored by University of Utah Health. Follow our Health Feed for expert health news and information.
You may have heard that University of Utah Health was named the No. 1 academic medical center in the country for quality, beating out esteemed institutions such as Mayo Clinic and NYU Langone. Perhaps you've seen the news about genetics research produced at the U or you're celebrating your niece's recent acceptance to the U's top-5-ranked physician assistant program. But how are all these different areas tied together?
They're all part of University of Utah Health, a new brand unveiled in March that brings together patient care, research and education, and more closely ties the U of U Health brand to the overall university's brand.
"It's all about integration," said David Perry, chief marketing officer at U of U Health.
No more Health Care and Health Sciences in their own silos. Instead, the U's hospitals and clinics; medical and dental schools; and research labs are all represented by the new look and feel.
Utilizing the U's master brand, the "block U," the new logo features a DNA double helix inside the well-known red, capital U. The look is intended to illustrate the university's leadership role in science while emphasizing that its health programs are an integral part of the U rather than a separate entity.
The rebranding efforts aren't "the tail wagging the dog," Perry said, but rather the brand catching up with a dynamic institution, which, in addition to earning the recent No. 1 national quality ranking, is emerging as a leading NIH-funded institution and now offers care in 12 community clinics, nine urgent care centers and 18 affiliate hospitals throughout the Mountain West.
"This growth and level of expertise and service to the community needs to be communicated and amplified," Perry said. "What I've noticed is that there's so much pride in the University of Utah, and I think this new logo with the 'block U' will tap into that strong community feeling. The logo also highlights our commitment to treat each patient, student, faculty and staff member as a unique individual. The theme of our new brand campaign is 'One You,' which we hope resonates with the individuals we serve every day."
So, farewell to the "U and caduceus" logo, and hello to a new era!
Check out U of U Health's newly branded website, where you can make appointments and learn about providers and services. Check out U of U Health's HealthFeed blog for stories featuring U health care providers about everything from the effects of marijuana on the teen brain to inversion survival skills to electroconvulsive therapy for mental illness.
×