Estimated read time: 3-4 minutes
SALT LAKE CITY — If a 3-point shot was available, Washington State was going to take it.
It didn't matter the spot — corner, top of the key, etc. — Washington State lived for the 3-ball and had great success with that game plan against a Utah defense that allowed them to take the open looks.
The visiting Cougars shot a blistering 64% from behind the arc with seven made triples in the first half to control a 10-point lead at halftime. Washington State cooled down a bit in the second half, but the team finished with 12 made 3-pointers to finish 40% for the game.
"We've all been around this long enough to know it's hard to beat any team, let alone a good team, doing that," Utah head coach Craig Smith said.
It all led to Utah's fourth-straight loss in conference play as Washington State pulled away for a 77-61 win in a Saturday matinee game at the Huntsman Center.
"A tough night for the Utes, a tough weekend for us in a lot of ways, obviously, really disappointing," Smith said. "You always want to win, of course. Disappointed, certainly not discouraged, but it's definitely hard right now with everything going on."
Washington State's Tyrell Roberts was a menace for the Utes, who couldn't stay in front of the quick guard with an even quicker trigger. If Utah (8-8, 1-5 Pac-12) gave him an inch, and they often did for much of the day, Roberts found the bottom of the net. He finished with a team high 17 points, including 5-of-9 shooting from 3-point range, and six rebounds.
"He's one of those guys when you make a mistake, he makes you pay," Smith said.
The Cougars had four players in double figures in the win, including 12 points from Michael Flowers, who also had six assists and three rebounds. Forward Mouhamed Gueye added 11 points and three rebounds, and Andrej Jakimovski added 10 points, seven rebounds and two assists.
Both Gach led Utah with 15 points on 5-of-10 shooting and was one of only three Utah players in double figures in the loss. Marco Anthony added 10 points and seven rebounds, and David Jenkins Jr. had 10 points.
Utah cut a once 19-point Washington State (9-6, 2-2 Pac-12) lead to eight with just under two minutes left to play, but the Utes couldn't get any closer as Washington State kept distance on the home team.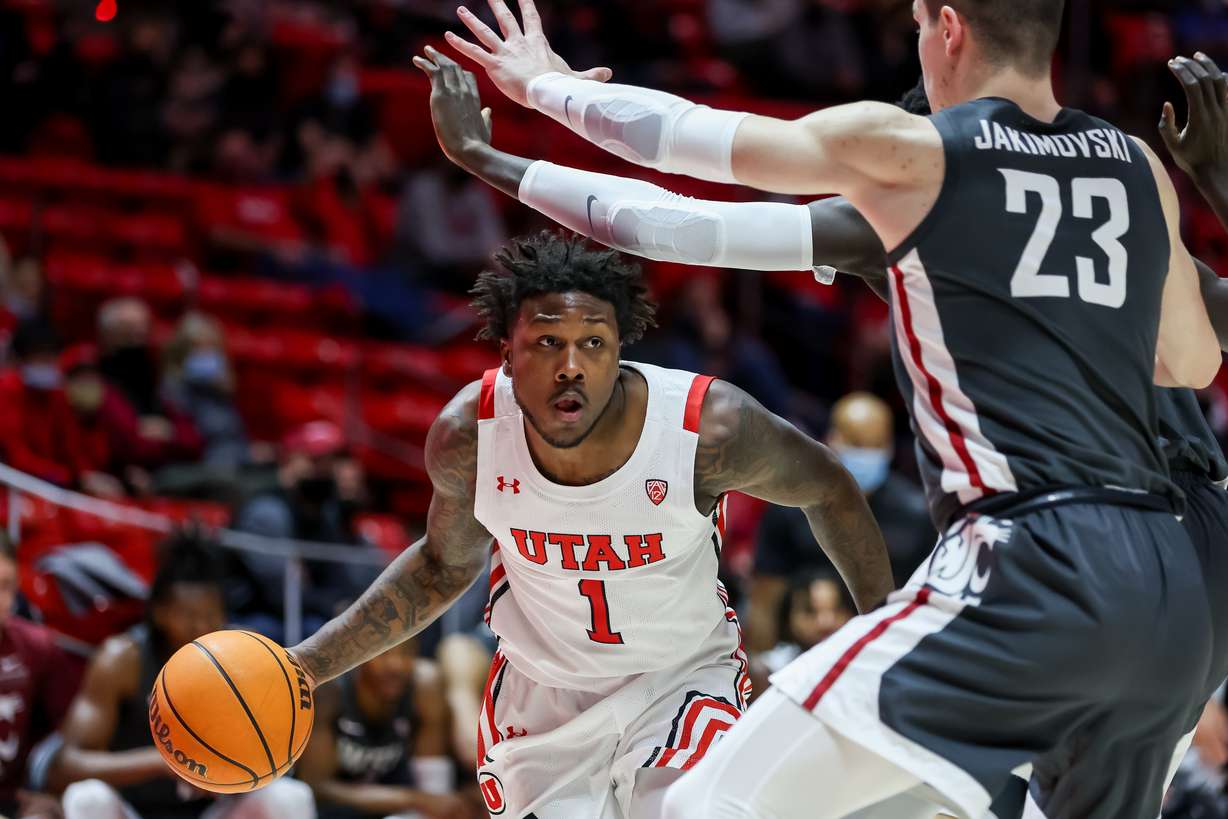 Utah utilized a full-court press defense in an attempt to put pressure on the Cougars — it worked at times with a handful of turnovers — but it gave Washington State more space to work with in transition once they broke through the press. And as a result, more open looks for shots to fall.
The Utes were once again without Branden Carlson in the lineup after he was diagnosed with appendicitis and was forced to have surgery over the weekend. His expected timetable for a return is unknown. Carlson previously had to miss two games due to health and safety protocols related to COVID-19 at the end of December.
Smith said he found out Friday night that Carlson had appendicitis and would be out for an unknown amount of time. Carlson practiced with the team earlier in the day and Utah planned to experiment with him at the four to give the team more length against Washington State.
"It's hard," Smith said. "It's hard on everybody. It's certainly hard on him and you feel bad for him and his family. It's hard on our team, too. He's a pillar of our team and a guy that everybody looks up to, and when you have really good players like that it also helps your confidence level.
In Carlson's absence, Utah inserted Lahat Thioune in the starting lineup, with recently returned from injury Dusan Mahorcic as his backup. The two combined for 14 points and 13 rebounds. The two were a physical presence against Washington State, but Utah missed the scoring from its leading offensive weapon in Carlson.
×
Photos