Estimated read time: 5-6 minutes
SALT LAKE CITY — For the last four years, Donovan Mitchell has heard the same thing from fans in Detroit, New York, Dallas, and about half dozen other NBA cities: We should have drafted you.
For those fans, it's easy: Their team missed out on an All-Star guard that is trending toward being an All-NBA player when Mitchell slipped into the middle of the first round.
For him, though, it's not that simple.
"I don't think that I would be who I am," Mitchell said.
Mitchell came to Utah simply hoping to crack the rotation. A month into his first season, he was the headliner, masterfully filling the void left by Gordon Hayward. He walked onto a team in need of a dynamic scorer, and he became one.
"There was an opportunity there and I was able to take it," Mitchell said.
Four years later, he's faced with another opportunity.
There aren't a lot of teams that enter a year with a legitimate chance to win an NBA championship. The Jazz added some depth to what was already the league's best regular season team, hoping to better compete when the postseason rolls around. But it won't be Rudy Gay, Jared Butler or Eric Paschall who will determine how far the Jazz go.
That burden will ultimately fall on Mitchell.
Mitchell has become one of the most lethal scorers in the NBA. In Utah's last two playoff runs, he's averaged nearly 34 points on 46% 3-point shooting, showing he's more than capable of handling the offensive load. In Utah's eliminating Game 6 loss to the Los Angeles Clippers in June, Mitchell nearly had a 40-point triple-double — on a bum ankle.
So what more could he have done? It's a fair question, but Mitchell has an easy answer: Win.
"The stats are great and ultimately we're all judged on the ring," Mitchell said. "It's great to have those stats and whatever, but we lost in six games."
He's mastered the scoring part of the game. No one can consistently stay in front of him in isolation; he's an elite 3-point shooter — including one of the best deep 3 marksmen in the game; and his handle allows him to get to pretty much any spot he wants. Those skills have allowed Mitchell to put up some monster numbers, but they haven't yet led to the ultimate team success.
For the Jazz to breakthrough, it's up to Mitchell to expand his game. It's up to him to not just be an All-Star player but an All-NBA one. It's up to him to not just be an elite scorer but an elite all-around player.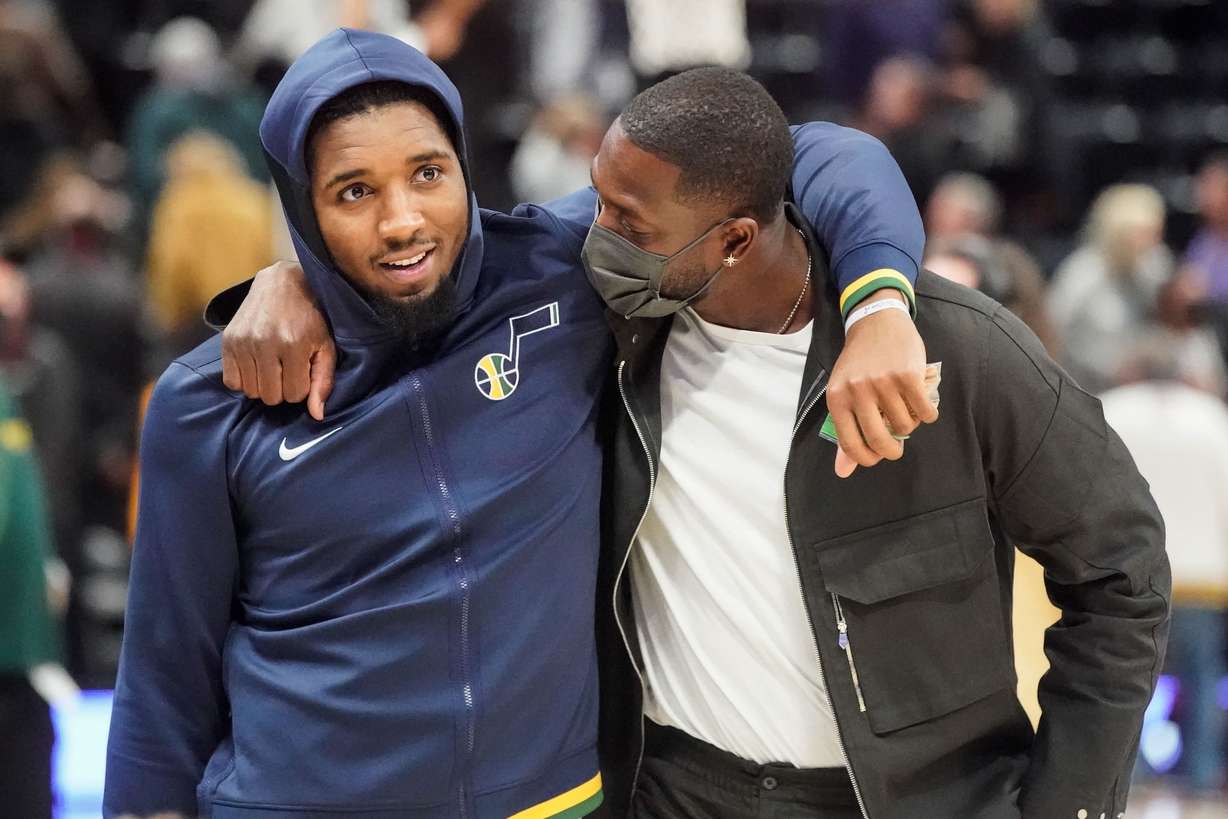 Mitchell hasn't shied away from that.
He's used the preseason, when players of his status can often afford to meander through plays, quarters and even games without much fear of retribution, to set a new standard for himself defensively. He's taken it on himself to stay in front of his man, tried to create turnovers and urgently rotate.
Most important of all, he showed extra effort.
Mitchell played on one leg by the end of last season, but it showed just how crucial every man was to the Jazz defense. Rudy Gobert can cover up a lot of warts, but he can't be in multiple places at the same time. When the Jazz couldn't stay in front of the Clippers' guards, Gobert was forced to the rim to stop layups. That led to wide open 3 after wide open 3, and the Jazz lost four straight.
While he was far from the only culprit, those struggles started with Mitchell.
"Defensively, I think he's got better and better," Joe Ingles said. "I think there's probably another level there for him that he wants to take."
Mitchell came into the league with buzz about his ability to defend on the perimeter. While his athleticism and long wingspan give him some advantages on that end, his heavy workload offensively has often led the Jazz to preserve his energy. Knowing this, Mitchell put in extra work trying to strengthen his legs so they could better hold up over the course of an 82-game season.
His offensive game can help there, too.
When asked what the next level would look like for him, Mitchell said the biggest thing would be efficiency — he wasn't just talking about his field goal percentage.
Mitchell has slowly become a more cerebral player. The improvements over the years have been clear: He wastes less movements on dribble moves, he no longer drives into the lane without a plan, and he's looking to get into the lane to set up teammates and not just score.
"Passing is probably one of the most impressive things (that Mitchell's improved on)," Ingles said. "Not those like, 'look over here and throw there' (passes) but just in general like off double teams, reading the pick and roll or whatever it is."
But, Mitchell admits, there's still room for growth there, too. He's looked at Damian Lillard and how he controls the offense as an example of what he wants to be able to do. Another example he's using? Jazz part-owner Dwyane Wade when he was a young player in Miami. Wade's leap led to a title; Mitchell wants his to end the same way.
Mitchell's got another opportunity. He's trying to take advantage again.
"For us to get to that next level, I'm gonna have to take that jump," Mitchell said. "I'm ready for it — mentally, physically — so now I got to go out there and do it."
×
Related Stories